Get to Your Data Anywhere and Anytime: Tools and Tips
Page 7 of 10
Local Storage, Online Editing
Conversely you can keep all your documents on your hard drive but edit them using the online apps you need. That way you retain a safe local copy of your data and don't need to rely on the apps loaded on whatever PC you have to use when you're away from your home base.
You can use this strategy with any of the hosted service sites mentioned back in the first section of this story, uploading documents as needed. Alternatively, you can use services that specialize in single applications, such as word processing, like iNetWord and gOffice.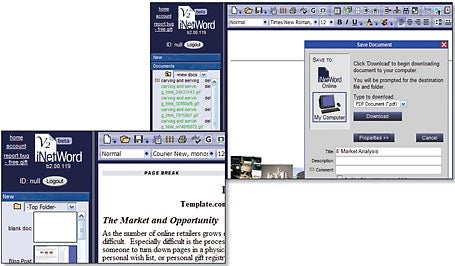 Though it offers only a word processor, iNetWord is so feature-rich that even sophisticated users should find that it satisfies their needs. You also can easily add and edit tables, images, and special characters.
The service's unusual interface takes a little getting used to, but soon reveals itself to be quite useful. In addition to the toolbar across the top, it has two Explorer-like file lists on the left side of the screen. Here you can open documents, insert and manage pictures, and share various folders with other registered iNetWord users. Though iNetWord isn't immediately intuitive, it's one of the few online editor services that offers a full, easy-to-manage folder hierarchy.
You can upload files in Word format and export them as Word or PDF files. A killer feature for power users: FTP access to your directory lets you move files around freely. iNetWord also keeps track of old versions for you, automatically.
The service's storage capacity poses a chronic problem, however. Despite the absence of any listed file size limits, we had trouble getting anything larger than about 2MB into the system. The company has since raised the limit to 10MB, but total storage capacity remains limited to a too-small 25MB.
INetWord is relatively lightweight and mostly bug-free--praise that we can't bestow on many of the tools in this category.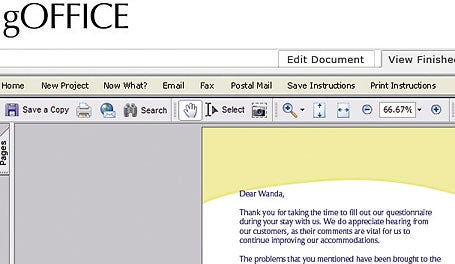 Another option, the venerable online word processor gOffice, is actually a Web version of the LaTeX typesetting tool, wrapped in a simple-to-use package. If you want to create a PDF out of some text and then apply a custom letterhead to it, gOffice may be just right for you. The app fails to include one import feature, however: To get your data into gOffice, you have to copy it and then paste it into a browser window.
A variety of more-specialized online apps have appeared in recent years. For photo editing, you can't beat Picnik; and for online video editing, Jumpcut is worth checking out. (See our full review of Picnik here.)
Shop Tech Products at Amazon