At a Glance
Linksys by Cisco WIRELESS G BROADBAND ROUTER WITH SPEEDBOOSTER (Linksys-WRT54GS)

Belkin SleeveTop Notebook Case, Orange

Samsonite iMobile 360

Interlink Electronics ExpressCard Media Remote for Bluetooth

Logitech VX Revolution Cordless Laser Mouse

Targus Rechargeable Bluetooth Laser Mouse

Creative Live! Cam Optia AF Webcam

Logitech Orbicam

Ubixon UBHS-NC1-3D Lubix Bluetooth Stereo Headset

Kensington Wall/Auto/Air Notebook Power Adapter with USB Power Port
Page 5 of 8
Solid-State Laptops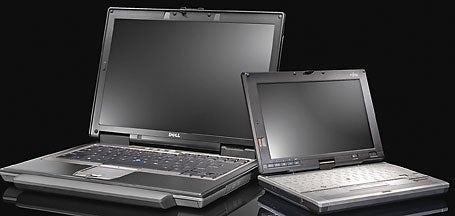 With prices continuing to drop, flash-based solid-state drives (SSDs) have become viable options for your notebook's primary storage. Moreover, SSDs can now hold 32GB of data, making them large enough to satisfy more than just basic storage needs, and making them at least somewhat competitive with 1.8-inch hard drives, whose storage capacity ranges from 30GB to 80GB. SSDs from companies such as Samsung and SanDisk now appear in portables from Dell, Fujitsu, and Toshiba. But are they really worth your money?
Even after price drops, SSDs still carry a hefty $400 to $500 premium over ordinary hard disks. To see whether that additional cost is justified, we tested three pairs of ultraportable notebooks from Dell and Fujitsu. Each pair was identically configured except that we equipped one unit with an SSD and the other with a typical 1.8-inch, 4200-rpm hard drive.
Inconsistent Advantage
We tested each of the three SSD notebooks against its identical non-SSD counterpart. Two of the notebook pairs, Dell's ATG-D620 ($3015 with SSD, $2815 with an 80GB hard drive) and Fujitsu's LifeBook P1620 ($2578 with SSD, $2029 with a 30GB hard drive), ran Windows XP Professional. The third notebook pair, again Fujitsu's LifeBook P1620 ($2548 with SSD, $1999 with a 30GB hard drive), ran Windows Vista Business.
Our WorldBench 6 Beta 2 tests showed no definite pattern of results differentiating SSD systems from ones with standard hard drives. For example, the two Dell ATG-D620 models, packed with a 2.0-GHz Core 2 Duo T7200 CPU and 1GB of memory, each scored 76 on our WorldBench 6 Beta 2 tests. In contrast, the two Fujitsu LifeBook P1620 units, configured with a 1.2-GHz Core Solo U1400, 1GB of memory, and Windows XP Professional, varied a bit in performance: The SSD version scored 42, while the hard-drive version scored 39.
Interestingly, that performance difference grew more pronounced when we tested the pair of Fujitsu P1620 laptops running Windows Vista Business. The SSD version achieved 36 on our WorldBench 6 Beta 2 tests, while the hard-drive version scored only 30. In particular the Vista-based Fujitsu system with the SSD demonstrated a performance advantage on our Adobe Photoshop CS2 image-manipulation test, besting the hard-drive version by 36 percent.
In contrast to the generally inconclusive WorldBench 6 Beta 2 results, we saw quite decisive performance wins by the SSD models when we ran the six systems through the same file-read-and-write tests we use for our regular hard-drive testing. (The tests consist of reading and writing folders of files, and searching for files on a drive.) On these tests the SSD models bested their hard-drive-based counterparts in 11 out of 12 cases. In the most extreme example, the XP Pro Fujitsu with the SSD outperformed the hard-drive model by 63 percent when reading and writing a 3.06GB file.
Numbers don't tell the whole story for solid-state drives. SSDs also tend to be more rugged than standard hard drives because the NAND flash memory of SSD lacks the moving parts of a hard drive. Drop your notebook, and the data on your SSD will probably be safe. Also, SSDs don't generate heat (as hard drives do), and they don't produce a lot of electromagnetic interference.
Ultimately, with an SSD in your notebook, you'll see a boost in system responsiveness, as well as a positive change in the way the system handles tasks that are drive intensive--activities such as reading data off the drive, returning to active duty out of standby mode, and booting up from scratch.
At a Glance
Linksys by Cisco WIRELESS G BROADBAND ROUTER WITH SPEEDBOOSTER (Linksys-WRT54GS)

Belkin SleeveTop Notebook Case, Orange

Samsonite iMobile 360

Interlink Electronics ExpressCard Media Remote for Bluetooth

Logitech VX Revolution Cordless Laser Mouse

Targus Rechargeable Bluetooth Laser Mouse

Creative Live! Cam Optia AF Webcam

Logitech Orbicam

Ubixon UBHS-NC1-3D Lubix Bluetooth Stereo Headset

Kensington Wall/Auto/Air Notebook Power Adapter with USB Power Port
Shop Tech Products at Amazon