At a Glance
Linksys by Cisco WIRELESS G BROADBAND ROUTER WITH SPEEDBOOSTER (Linksys-WRT54GS)

Belkin SleeveTop Notebook Case, Orange

Samsonite iMobile 360

Interlink Electronics ExpressCard Media Remote for Bluetooth

Logitech VX Revolution Cordless Laser Mouse

Targus Rechargeable Bluetooth Laser Mouse

Creative Live! Cam Optia AF Webcam

Logitech Orbicam

Ubixon UBHS-NC1-3D Lubix Bluetooth Stereo Headset

Kensington Wall/Auto/Air Notebook Power Adapter with USB Power Port
Page 6 of 8
Into the Future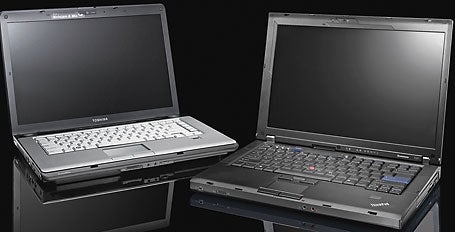 What will the ultimate laptop of the future look like? Next year's notebooks will have Intel's Penryn processor, which is based on a new 45-nanometer manufacturing process. Penryn will shrink the size of the current 65-nanometer Core 2 Duo processor while boosting speed and improving battery life.
Though an important step, Penryn will provide only an incremental improvement. According to Gartner analyst Leslie Fiering, Penryn will "help keep notebook prices down and improve performance a little more, but it won't be earth-shattering." The ground might move more with the arrival of Intel's first mobile quad-core chips, Core 2 Extreme, due out first in high-end gaming notebooks by the end of this year.
More notebook makers are likely to follow the example of Dell, Lenovo, and Toshiba and implement "roll cage" construction, as well as head-parking technology that protects the hard drive when a notebook is tossed around. Eventually, crash-prone, magnetic, platter-based traditional hard drives will give way to solid-state hard drives. The first solid-state units are making their way into Dell and Fujitsu models such as the ones we tested. Though they top out at 32GB now, their capacity will quickly increase to at least 120GB by next year and will soon catch up with today's magnetic drives. Hybrid drives (magnetic drives with a layer of flash storage) will also help to make notebooks faster and more reliable. "There's an overarching trend in the notebook market for increased durability," says IDC's Shim.
While matte-finish screens are making something of a comeback among people bothered by glare, glossy screens should continue to dominate for their higher contrast and richer-looking colors. LED-backlit screens brighten the picture even more. Already available in some Apple and Sony notebooks, LED-backlit screens are thinner and use less power while delivering noticeably brighter displays. New, vibrant OLED screens with colors "that reach out and slap you" might figure in the distant future, says John Jacobs, an analyst with DisplaySearch, but they're still too expensive to manufacture. Traditional tubular fluorescent backlit screens will be around for a long time to come, with a few improvements; one might be A switch to flat tubes, which spread light more evenly.
By year's end wide-aspect screens will become fully dominant over the traditional "tall" notebook screen. Screen size will top out at 22 inches, predicts Shim, possibly as soon as next year in a Dell or HP gaming portable, but most laptops will continue to have 15.4-inch screens for quite some time.
The jury's still out on SideShow, the new Windows Vista technology that allows laptop makers to put a smaller secondary display on the lid to show incoming e-mail and other information without your having to turn on the system. So far only a handful of manufacturers, including Asus and Toshiba, have introduced units with the display.
Notebooks will soon last longer on a charge, but not because of a new technology such as fuel cells. Laptop makers will stick with lithium ion batteries and work on components that suck less power, according to Kamal Shah, Mobility Enabling Initiative manager of Intel's Mobile Platforms Group.
Finally, though conservative notebook makers have toyed with and discarded bright exterior colors in the past, that diffidence will soon disappear. "A lot of personalization is going on, because the consumer market for notebooks has become such a big force," says Shim.
To wit: Dell is partnering with Skinit.com to enable its customers to put any image they choose--say, a logo or even a photograph they took--on a notebook lid.
At a Glance
Linksys by Cisco WIRELESS G BROADBAND ROUTER WITH SPEEDBOOSTER (Linksys-WRT54GS)

Belkin SleeveTop Notebook Case, Orange

Samsonite iMobile 360

Interlink Electronics ExpressCard Media Remote for Bluetooth

Logitech VX Revolution Cordless Laser Mouse

Targus Rechargeable Bluetooth Laser Mouse

Creative Live! Cam Optia AF Webcam

Logitech Orbicam

Ubixon UBHS-NC1-3D Lubix Bluetooth Stereo Headset

Kensington Wall/Auto/Air Notebook Power Adapter with USB Power Port
Shop Tech Products at Amazon