At a Glance
Linksys by Cisco WIRELESS G BROADBAND ROUTER WITH SPEEDBOOSTER (Linksys-WRT54GS)

Belkin SleeveTop Notebook Case, Orange

Samsonite iMobile 360

Interlink Electronics ExpressCard Media Remote for Bluetooth

Logitech VX Revolution Cordless Laser Mouse

Targus Rechargeable Bluetooth Laser Mouse

Creative Live! Cam Optia AF Webcam

Logitech Orbicam

Ubixon UBHS-NC1-3D Lubix Bluetooth Stereo Headset

Kensington Wall/Auto/Air Notebook Power Adapter with USB Power Port
Page 7 of 8
Accessorize, Accessorize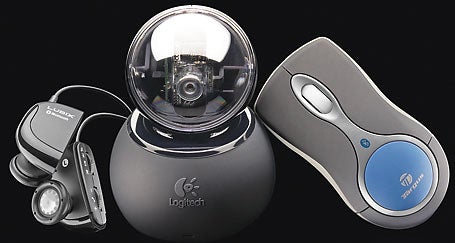 What is the well-dressed laptop wearing these days? I found several pricey but must-have wireless, USB, and ExpressCard peripherals that you'll want to pack.
The $69 Lubix Stereo Bluetooth Headset is marketed as a cell phone accessory but works with laptops for VOIP calls or music, and it has a cool design. When you aren't using the set, the two magnetized halves stick together to make a pendant.
What, your laptop has no built-in Webcam? Creative Labs' $129 Live Cam Optia AF is a sleek, 2-megapixel, USB 2.0 model that clips onto your notebook's lid. It can capture images at almost any angle with its 270-degree swivel.
Like to pace during meetings? Logitech's $119 Orbicam, with an eyeball-like mechanized lens, keeps you in the picture during videoconferences.
If you're still using a wired mouse, ditch it at once for either the $70 Targus Rechargeable Bluetooth Laser Mouse or Logitech's $86 VX Revolution Cordless Laser Mouse. Since the Targus mouse uses Bluetooth, you don't need a separate receiver as you do with USB wireless mice; in addition it uses laser optics, the latest in mousing technology. The VX Revolution requires a USB receiver and an AA battery, but it offers word highlighting, which conducts an automatic search in your favorite search engine.
ExpressCards are the latest way to add neat stuff to your laptop way beyond storage. Interlink Electronics' $60 Bluetooth ExpressCard Media Remote stores and charges in an ExpressCard/54 slot when you're not using it to crank up the volume on the latest DVD blockbuster. ExpressCard mice should be available from HP and Newton Peripherals in early August.
All of these products are great add-ons, but they're useless if your notebook's battery suddenly poops out. The $139 Kensington Wall/Auto/Air power adapter for notebooks works everywhere and can also power your cell phone, PDA, iPod, or MP3 player.
At a Glance
Linksys by Cisco WIRELESS G BROADBAND ROUTER WITH SPEEDBOOSTER (Linksys-WRT54GS)

Belkin SleeveTop Notebook Case, Orange

Samsonite iMobile 360

Interlink Electronics ExpressCard Media Remote for Bluetooth

Logitech VX Revolution Cordless Laser Mouse

Targus Rechargeable Bluetooth Laser Mouse

Creative Live! Cam Optia AF Webcam

Logitech Orbicam

Ubixon UBHS-NC1-3D Lubix Bluetooth Stereo Headset

Kensington Wall/Auto/Air Notebook Power Adapter with USB Power Port
Shop Tech Products at Amazon