At a Glance
Linksys by Cisco WIRELESS G BROADBAND ROUTER WITH SPEEDBOOSTER (Linksys-WRT54GS)

Belkin SleeveTop Notebook Case, Orange

Samsonite iMobile 360

Interlink Electronics ExpressCard Media Remote for Bluetooth

Logitech VX Revolution Cordless Laser Mouse

Targus Rechargeable Bluetooth Laser Mouse

Creative Live! Cam Optia AF Webcam

Logitech Orbicam

Ubixon UBHS-NC1-3D Lubix Bluetooth Stereo Headset

Kensington Wall/Auto/Air Notebook Power Adapter with USB Power Port
Page 8 of 8
Bag a Great Carry-On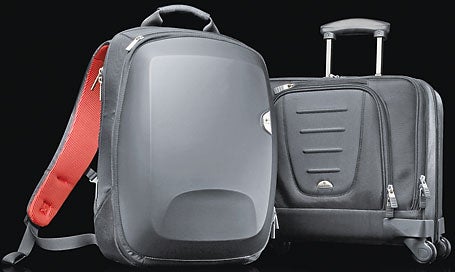 The ultimate laptop deserves an equally snazzy bag. These days that means a stylish carry-on that doesn't scream to thieves, "There's a laptop inside! Steal me!" Here are three worthy contenders.
Samsonite's $99 iMobile 360 is a new breed of wheeled laptop bag. It has four wheels instead of two, and they spin 360 degrees so the bag never sticks or balks. (It can be a runaway on sloped surfaces, however.) Because you can push it in any direction, it's much easier to maneuver down airport corridors and even cobbled pathways than a two-wheeler. Two thumbs up, with a warning not to let go of the handle on steep grades or in a stiff wind.
Logitech's Kinetik 15.4 Backpack, $100, is a sturdy but lightweight semihardshell backpack with lots of nice padded pockets, big and small. (I especially liked the quick-access pocket on top for keys and airline tickets.) It has a freestanding design so it doesn't slump over when set down. Though it's designed for 15.4-inch notebooks, there's room enough for the skinny 17-inch MacBook Pro. My only beef: A choice of interior colors besides bright orange would have been nice.
Belkin's $40 SleeveTop is great for casual toting. Made of neoprene, it has built-in handles and when unzipped stays open like a briefcase so you don't have to remove the laptop to use it. It's a bit too bulky to fit inside another bag and the top doesn't close; but it's fine for room-to-room trips, and it protects your lap from being scorched. The three available colors are silver, fluorescent green, and orange.
At a Glance
Linksys by Cisco WIRELESS G BROADBAND ROUTER WITH SPEEDBOOSTER (Linksys-WRT54GS)

Belkin SleeveTop Notebook Case, Orange

Samsonite iMobile 360

Interlink Electronics ExpressCard Media Remote for Bluetooth

Logitech VX Revolution Cordless Laser Mouse

Targus Rechargeable Bluetooth Laser Mouse

Creative Live! Cam Optia AF Webcam

Logitech Orbicam

Ubixon UBHS-NC1-3D Lubix Bluetooth Stereo Headset

Kensington Wall/Auto/Air Notebook Power Adapter with USB Power Port
Shop Tech Products at Amazon