Early IPTV Uses Only a Little of Its Fat Pipe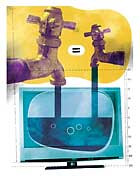 Real IPTV is arriving in a growing number of areas around the country, delivered by fiber-optic cables that have enough bandwidth to eventually show--and let you interact with--nearly any programming you can imagine. But the first versions of the future of TV--Verizon's FiOS and AT&T's U-verse--are relatively tame copies of what you're used to from cable providers like Comcast or satellite companies like Dish Networks.
Both FiOS and U-verse offer better picture quality and usability than standard cable, but they aren't living up to their potential for interactivity and a wide breadth of programming--yet. The prices--around $100 for a well-equipped package including HD programming, DVR, and super-high-speed Internet access--match up well with cable, so despite our disappointment in the limited ambitions of these IPTV services, we think you should seriously consider subscribing if one is available in your area.
Verizon's FiOS TV has signed up almost half a million TV subscribers in 11 Cities since the service was launched in September 2005. The company expects to have between 3 million and 4 million TV customers by 2010. AT&T's U-verse service started in June 2006 with only a few thousand TV customers, but by midyear it had nearly 40,000 subscribers. According to AT&T, U-verse is available in 21 markets in seven states, and 600 new U-verse customers are being added every day.
To take a close look at both services, PC World spent a couple of afternoons watching and experimenting with FiOS TV and U-verse on the couches of relatively new subscribers to the services. Here's what we discovered.
Verizon's FiOS TV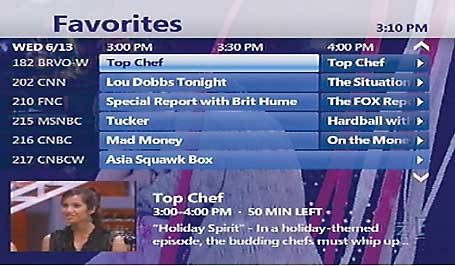 The first thing that jumped out at us during our couch time at a FiOS house was the picture quality. The immense bandwidth offered by fiber-to-the-home services delivers a clear picture without any of the visual artifacts of video compression commonly associated with satellite and cable TV signals.
FiOS picture quality was razor-sharp with no noise or pixelation. Over-the-air broadcast images appeared vivid and crisp; and changing channels, we found, took considerably less time than with standard cable service.
The program guide interface was very slick, with full-color menus and lots of visual flash. As you drill down into content areas, menus expand as if you were navigating through folders and files in Microsoft's Windows Explorer. Depending on your preferences, FiOS can squeeze your TV image into either the upper left corner or a side of your display while you browse the guide.
Calling up the video-on-demand menu took about 5 to 10 seconds. But once we began navigating within the VoD content areas, the content pages loaded very quickly. VoD menus were rich in color and detail with appealing box shots of movie titles and brief descriptions.
One surprise is that FiOS gives you access to the same V Cast Mobile TV content that is available through select Verizon Wireless handsets. Programming includes video from CBS, NBC, Comedy Central, MTV, Nickelodeon, and Fox News.
The FiOS DVR compares well with TiVo. We found it easy to pause live TV, use a 30-second skip button to pass up commercials, or program the device to record a season's worth of programming. All FiOS DVRs come with two tuners, which means that you can record programming on one channel and watch live TV on another or record two different shows at once. The service also comes with a feature called Home Media DVR, which allows you to stream programs on your DVR to other FiOS set-top boxes in your house, though you can't stream in HD.
Widgets on Your TV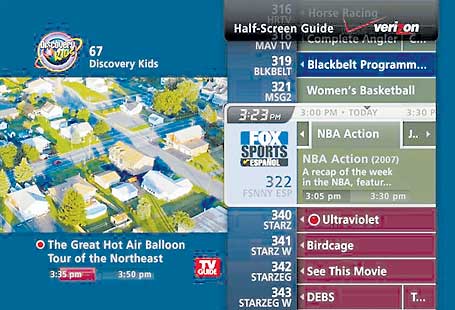 FiOS does offer several neat interactive features. You can call up little widgets to display bits of information such as weather or traffic data at the top of the screen. Additional widgets--for example, sports scores and community information such as local school closings--are in the works, according to Verizon.
One service option lets you use the FiOS set-top box to pull pictures and music from PCs in your house that are connected to the FiOS broadband service. You gain access to your picture and audio content through a FiOS menu option called Media Manager, which presents you with audio playlists and image collections for playback through your TV. Video isn't yet supported, but that capability is coming, Verizon says.
Searching for content on FiOS is a breeze. Using the on-screen keyboard, you can search by show, subject, actor, genre, or keyword. FiOS searches the content of the FiOS program guide, as well as the VoD library and even shows recorded with a FiOS DVR. FiOS lets you bookmark any of the 8600 video-on-demand titles in its library for later viewing.
Still, we can't help feeling that Verizon's service is missing some opportunities. What about streaming Internet radio content or linking to Web services like Flickr and YouTube? Or offering access to special-interest programming that regular cable and satellite systems just don't have room for? Perhaps it could display caller ID information on the TV when someone calls a Verizon standard land line associated with the account. This should all be light lifting for the massive data pipe that Verizon is delivering not only to your PC but to your TV as well. With Verizon already pushing its TV, phone, and Internet triple-play service, a higher level of integration would be nice.
AT&T U-verse
Tests of AT&T's U-verse TV service produced similar results. Our afternoon with U-verse started on the couch of an upscale home in San Ramon, California. Our host, Mike Batongbacal, said that he had purchased the middle tier of U-verse service, which provides 240 TV channels (including 25 coming in HD), one set-top box with a DVR, and two other set-top boxes without. AT&T asks customers for a whopping 7-hour window to set up the service; Batongbacal reports that his installation took nearly 8 hours--but he hasn't had to call U-verse support in the two weeks since it took place.
The U-verse channel lineup contains everything you'd expect in a cable system, but not much more. We saw no content exclusive to U-verse and no extremely "long tail" or specialized content--you won't find a "Knitting Channel" among its offerings. At least for now, U-verse programming seems designed to appeal to mainstream audiences. U-verse video looked clean and consistent; we noticed no jitter or pixelation on any channel, though our host said that he had seen a couple of brief episodes of pixelation in the fortnight since his service began.
'PIP Browsing'
The attractive, Microsoft-developed programming guide in U-verse looks similar to those you may have seen on Comcast and TiVo systems, but it includes some thoughtful additions: A picture-in-picture (PIP) box runs in the corner, showing you what is playing on the channel that you're currently browsing in the guide. On several occasions, however, that PIP grew extremely jittery. Our host said he'd noticed this problem numerous times since his U-verse was installed.
Once you've selected a channel, you can work with U-verse's "PIP Browsing" keys to browse other channels without leaving the one you're on. Browse one way, and the next channel shows up in the PIP box in the corner; underneath it is a little bar showing you the time already expired in the current show on that channel. This helps you avoid switching over to a show that's almost over. Pretty cool.
Microsoft took pains to make changing from one channel to the next "instantaneous." Though it's not quite there--you experience a lag of about half a second before the next channel appears--as with FiOS, changing channels on U-verse is appreciably faster than on standard cable systems.
Untapped Potential
Unfortunately, U-verse fails to go much farther than that. U-verse does let you easily build "Favorites"--pages in the programming guide with all your favorite channels. You'll also find it easy to block channels or programs that you don't want members of the family to watch.
We weren't impressed with U-verse's ability to "learn" our viewing habits and to suggest titles we might like. There's certainly no reason why IPTV services can't compile "Top 50 most-watched" and Amazon-style "If you liked X, you might also like Y" lists to help bored viewers out, but U-verse doesn't offer anything of the kind.
You can type in whole or partial names of shows, actors/actresses, or subject matter, to search for programs that match. We tried searching with all three types of keywords, and got relevant results for each, though U-verse Search begins searching automatically before you can finish entering your keyword, forcing you to wait for what seems like an eternity before the system acknowledges the rest of the characters. It's annoying.
U-verse uses a Motorola set-top DVR with a 160GB hard drive capable of storing 24 hours of HD or 120 hours of standard-def TV. U-verse doesn't yet offer a DVR that allows you to watch shows that were recorded on the set-top box in the living room elsewhere in the home.
The U-verse remote control contains an intriguing button marked "Go Interactive," but for now the button is dead. AT&T says that it will soon bring up personalized weather, traffic, and sports information. This seems emblematic of U-verse TV and FiOS today: The potential for some wonderful IP-based personalization and interactivity features exists, but that potential has yet to be realized.
Internet via Fiber
TV isn't the only draw for fiber-to-the-home services: FiOS offers Internet access at potentially astounding speeds, and FiOS users reported the highest satisfaction rates of any group in our recent ISP survey.
FiOS provides speeds of 15 mbps downstream and 2 mbps upstream for $50 a month, versus Comcast's $43-per-month basic cable-modem service, which delivers 6 mbps and 384 kbps respectively. U-verse has packages similar to cable, with 6 mbps downstream and 1 mbps upstream for $35 per month. For serious (and affluent) speed junkies, Verizon offers 30-mbps downloads and 5-mbps uploads for $200 a month.
Both FiOS TV and U-verse are viable competitors to cable and satellite TV. But it will take more ambition on their part for their services to become truly superior.
More on IPTV
Will issues of class impede the nationwide spread of IPTV? Read about the controversy. Interested in streaming TV sites? Check out our list.