Page 2 of 7
Verizon's FiOS TV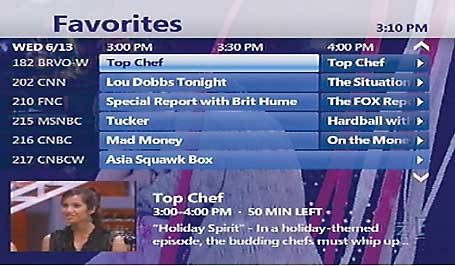 The first thing that jumped out at us during our couch time at a FiOS house was the picture quality. The immense bandwidth offered by fiber-to-the-home services delivers a clear picture without any of the visual artifacts of video compression commonly associated with satellite and cable TV signals.
FiOS picture quality was razor-sharp with no noise or pixelation. Over-the-air broadcast images appeared vivid and crisp; and changing channels, we found, took considerably less time than with standard cable service.
The program guide interface was very slick, with full-color menus and lots of visual flash. As you drill down into content areas, menus expand as if you were navigating through folders and files in Microsoft's Windows Explorer. Depending on your preferences, FiOS can squeeze your TV image into either the upper left corner or a side of your display while you browse the guide.
Calling up the video-on-demand menu took about 5 to 10 seconds. But once we began navigating within the VoD content areas, the content pages loaded very quickly. VoD menus were rich in color and detail with appealing box shots of movie titles and brief descriptions.
One surprise is that FiOS gives you access to the same V Cast Mobile TV content that is available through select Verizon Wireless handsets. Programming includes video from CBS, NBC, Comedy Central, MTV, Nickelodeon, and Fox News.
The FiOS DVR compares well with TiVo. We found it easy to pause live TV, use a 30-second skip button to pass up commercials, or program the device to record a season's worth of programming. All FiOS DVRs come with two tuners, which means that you can record programming on one channel and watch live TV on another or record two different shows at once. The service also comes with a feature called Home Media DVR, which allows you to stream programs on your DVR to other FiOS set-top boxes in your house, though you can't stream in HD.