Page 3 of 7
Widgets on Your TV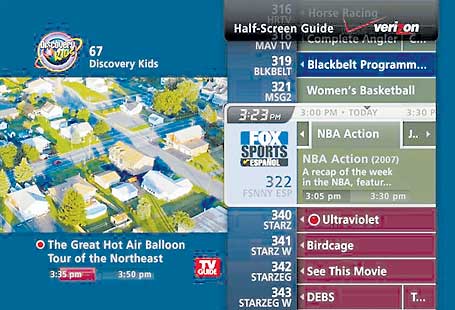 FiOS does offer several neat interactive features. You can call up little widgets to display bits of information such as weather or traffic data at the top of the screen. Additional widgets--for example, sports scores and community information such as local school closings--are in the works, according to Verizon.
One service option lets you use the FiOS set-top box to pull pictures and music from PCs in your house that are connected to the FiOS broadband service. You gain access to your picture and audio content through a FiOS menu option called Media Manager, which presents you with audio playlists and image collections for playback through your TV. Video isn't yet supported, but that capability is coming, Verizon says.
Searching for content on FiOS is a breeze. Using the on-screen keyboard, you can search by show, subject, actor, genre, or keyword. FiOS searches the content of the FiOS program guide, as well as the VoD library and even shows recorded with a FiOS DVR. FiOS lets you bookmark any of the 8600 video-on-demand titles in its library for later viewing.
Still, we can't help feeling that Verizon's service is missing some opportunities. What about streaming Internet radio content or linking to Web services like Flickr and YouTube? Or offering access to special-interest programming that regular cable and satellite systems just don't have room for? Perhaps it could display caller ID information on the TV when someone calls a Verizon standard land line associated with the account. This should all be light lifting for the massive data pipe that Verizon is delivering not only to your PC but to your TV as well. With Verizon already pushing its TV, phone, and Internet triple-play service, a higher level of integration would be nice.