You may not feel the urge to microblog your every thought using Twitter, and not every news story that tops the list at Digg.com adds value to your life. Fortunately, there are enough great Web innovations to please everybody. Free services from Google and other companies large and small mix and mash nicely, allowing you to get your business organized, share and synchronize calendars, or create special-purpose maps. You don't even have to know what an API is (I'll tell you anyway) or how to write JavaScript or XML (though you may want to learn). Naturally, Google isn't the only game on the new Web--our favorite mashable services let you create custom news feeds, widgets, and other tools for applications, limited only by your imagination.
Mark Your Map With Google My Maps...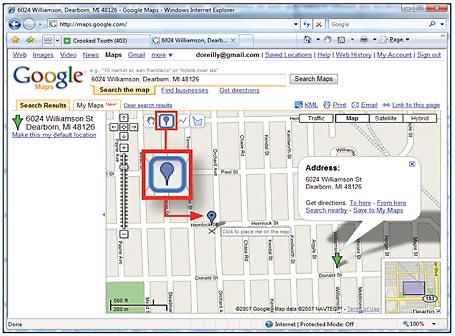 In just minutes you can add maps to your Web site that highlight all of your company's locations, or create a map that shows your favorite roadside diners and cheap gas stations. Google Maps' application programming interface (API) allows anyone to link text and images to any Google Maps location, but you can do the same thing without writing code or knowing anything about the API. Visit Google Maps, select the My Maps tab, and click Create new map. Navigate to the spot you want to annotate (zoom in if necessary), and click the blue "placemark" button to add a marker; drag the marker to set its location. Right-click the marker to change its title or enter a description. To insert a photo, choose Rich text, click the Insert Image icon on the far right, paste the image's URL into the dialog box, and click Save. Choose Link to this page at the right of the Google Maps page to copy your map's URL for sharing via e-mail.
...Then Mash It Up With Other Content
Not content to limit your creativity to map markers, Google also lets you easily merge a select number of other people's Google Map mashups--in the form of widget-like maplets--with your custom maps. To add a maplet, click one of the content items listed below your personal maps, such as GasBuddy.com's database of local gas prices, or Panoramio's collection of geolocated photos. Or click Add content to choose one of the dozens of other maplets available.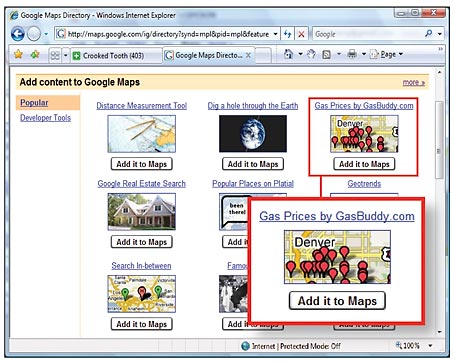 By combining maplets with placemarks, you can create and share a map of your favorite locations along a particular route, annotate each with your own photos and text, and include other people's photos too, as well as the cheapest gas along the way, for example. Or you might build a map of your burg that plots your most frequently visited destinations along various transit and bike routes. As Google adds more maplets, this feature will only become more useful.