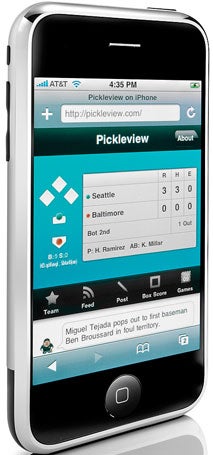 What if Dell released a new computer with nothing but a Web browser on it? Well, as slick as the iPhone is, if it's missing an application you need--instant messaging, for example--a tiny PC with a browser is really all you have. But as today's explosion of Web-based applications demonstrates, you can do a lot with just a Web browser.
Eager developers are already creating new Web-based applications for the iPhone (see some of our favorites on the last page), and high-profile sites like Facebook and Netvibes have gone a long way toward making themselves more iPhone friendly. But questions remain about how much the iPhone's current incarnation can really do and what that means for the future of mobile computing.
Citing security and reliability concerns, Apple opted against releasing a software development kit, or SDK, to allow the creation of native iPhone programs. Instead, Apple provided hooks to let developers access many of the iPhone's basic functions, such as sending e-mail, dialing a phone number, or tying into the embedded Google Maps through Apple's Safari browser. Ideally, developers would use those capabilities to build Web sites and apps that behave just as native iPhone programs do.
So how is the effort going so far? Just one week after Apple shipped the iPhone to droves of drooling early adopters, Richard Herrera traveled to Adobe's San Francisco office for iPhoneDevCamp, a three-day event where Web developers and designers brainstormed ideas for delivering applications to the shiny new device.
Just four hours into the first day, Herrera and three other developers he barely knew delivered Pickleview, an iPhone Web interface that shuttles real-time, interactive baseball scores from MLB.com to a live Twitter chat stream.
"When Apple said that any application fully compatible with Safari 3 would integrate perfectly with iPhone, I knew it would be real easy to build some fun apps," Herrera says. "It's only been a month [since the release of the iPhone], and I've seen some really interesting things being done."
While coders are still getting a handle on what they can and can't accomplish through Safari, impressive applications are already starting to emerge, and events like iPhoneDevCamp have produced some fun new features. But several developers believe that many serious business programs will require an SDK.
Early Applications
Raven Zachary, open-source research director for the technology-analysis company The 451 Group and one of the organizers of the iPhoneDevCamp, says he was blown away by some of the creations that came out of the development event.
"I saw a voting application that was motion controlled, where you could vote 'yes' if the iPhone was horizontal or 'no' if it was moved into a vertical position. That was neat," Zachary says. "Pickleview's interface was really impressive," he adds.
Other software coming out of the camp provides an early glimpse at what can be ported to mobile devices. Telekinesis, for example, turns the iPhone into a remote control device to access Mac OS X computers through a collection of mini Web applications on the phone. There's even an iPhone-specific social network called iRovr that offers MySpace-like functionality for groups of iPhone-using friends.
Some other ideas include Gas.App, which delivers gas prices based on an iPhone user's zip code; txtDrop, which provides free Web-based SMS on the device; iPhone My eBay, for bidding and tracking auctions in a customized iPhone interface; iChess, a touch-screen chess game by Australian developers who have never laid hands on an iPhone; and FlickIM, an AOL instant messaging chat tool designed for the iPhone.
Then there are "launchers," or app aggregators, Web sites that mimic the iPhone screen layout on the Web, giving iPhone users a way to easily access third-party apps without having to bookmark individual Web pages. Three launchers that have gained momentum are AppMarks, MockDock, and Mojits, each offering preloaded programs and the ability to add and delete apps from a single iPhone Web page.