Hands-On: HP MediaSmart Home Server
If you're like me, your digital photos, music, and video are starting to overwhelm you. Hewlett-Packard hopes to help multimedia enthusiasts manage their digital lives with its new MediaSmart Home Server. This handy piece of hardware is a massive storage device intended to serve the average PC household as a digital hub. It's meant to connect Windows-based PCs in a seamless network that requires little effort or expertise to configure and manage.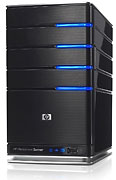 The brains behind the MediaSmart Home Server is Microsofta??s Windows Home Server operating system--a variant of Windows Server 2003. But HP has customized the Microsoft OS with a set of unique multimedia applications and management utilities designed to get even more out of the server.
Microsoft has worked with HP and nearly a dozen other hardware partners to build home servers under various brands. HP has said that it intends to be the first major hardware manufacturer to bring a Windows Home Server-based device to market. I've been testing a preproduction version of its MediaSmart Home Server for several weeks.
HP had originally intended for the version of the MediaSmart device I've been working with to be the shipping model. But Microsoft decided to introduce some last-minute tweaks to the OS late last month, and HP responsed by rescheduling its planned release of the MediaSmart Home Server from September to "sometime this fall," according to HP.
Microsoft says that its last-minute updates include adjustments that fine-tune the out-of-box experience, such as added prompts and dialog boxes to guide consumers through the setup process. Among the other improvements are more-reliable remote server access, tools for automatically setting routers and firewalls, and enhancements to synchronization features.
Nevertheless, the absence of these enhancements didn't diminish my overall experience in testing the HP MediaSmart Home Server.
Using the MediaSmart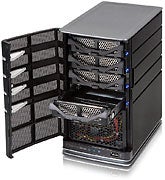 Overall I like Windows Home Server as a platform. I've used network-attached storage devices in the past for backup and multimedia sharing. But by adding smarts to what is essentially a NAS device, Microsoft makes common tasks like setup, media sharing, remote access, and PC backup and recovery as easy as pie.
I also think that HP has done a great job of putting together its handsome hardware package of unique software tools that make this device a useful tool for multi-PC households.
The MediaSmart Home Server will be sold in two models: The $599 server contains 500GB of storage space, while the $749 unit offers 1TB. Otherwise, they're identical.
Both servers will be powered by a 1.8-GHz Sempron processor, and will have four SATA drive bays for accommodating internal storage and four USB 2.0 ports for connecting additional external drives. The 500GB model will come with only one bay occupied, while the 1TB system will have two of them filled.
Core Software Features
To appreciate the unique features of HP's MediaSmart Home Server, you have to understand Microsoft's contribution to the product. The Windows Home Server OS features centralized storage, media sharing, automated data backup, and remote access to PC desktops similar to the access offered by services like LogMeIn and GoToMyPC. Note that only the Windows XP Pro and Windows Vista Ultimate operating systems support remote access.
Microsoft promises and delivers an easy setup experience. To get started, I simply plugged the home server into an empty ethernet port on my Linksys router. Next I installed a small Windows Connector application on each home PC that I wanted to connect to the server. After I rebooted the PCs, each one recognized the MediaSmart server, and I was up and running.
Microsoft fully supports up to ten PCs running the Connector software per home server. Any PC beyond the maximum of ten can link to your HP MediaSmart Home Server to upload and download files; however, if it doesn't have the Connector application running, it can't take advantage of advanced functions such as automatic backup, access to server maintenance tools, and remote desktop access.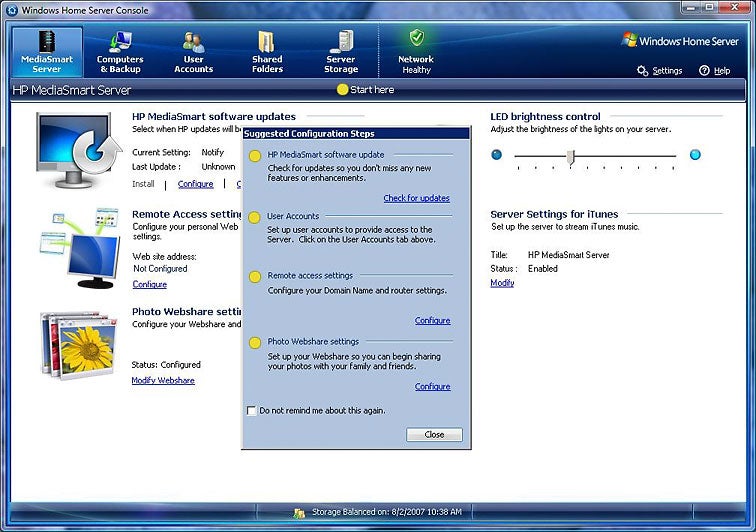 You use the Windows Home Media Server Console application to set up and manage the server, tweak PC backups, and create shared or private network folders. The server itself is "headless," meaning that it doesn't support a monitor, keyboard, or mouse. Configuring the box is like configuring a router--you do it remotely from a connected PC. The Windows Home Media Server Console program is accessible through any PC running the Connector application.
Microsoft provides an adequate set of tools for monitoring how much server storage space is available, creating user accounts, and performing other server management tasks. But HP adds tools that do far more than Microsoft's can.
Customizing MediaSmart Software
At setup, HP presents you with a Suggested Configuration Steps tab that guides you through customizing the server once you've connected it to your network. Here you set up user accounts, thereby restricting or permitting access to the server.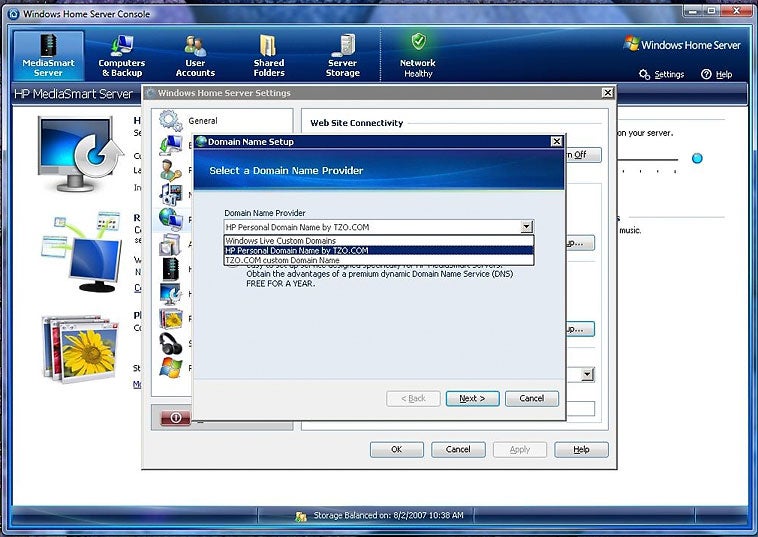 HP also steps you through setting up remote access to the server from outside your home network. This remote-access feature enables you to connect remotely to your home server so that you can upload and download files, or access other PCs on the network via a built-in remote-desktop application.
A tool in the MediaSmart Server Console helps you assign your server a common name, either by using the HP Customizable Domain service or by going to Windows Live Custom Domains, where you can assign your server a domain name such as YourName.hpmediasmart.com or YourName.homeserver.com. Both Microsoft and HP offer the service for free.
Media Sharing
One of the chief benefits of any server is that it establishes a centralized storage location accessible from multiple PCs. In a typical multi-PC home, users want to share multimedia content--as opposed to spreadsheets in an office setting. HP has tools for streamlining content sharing, both from within a network and from beyond it.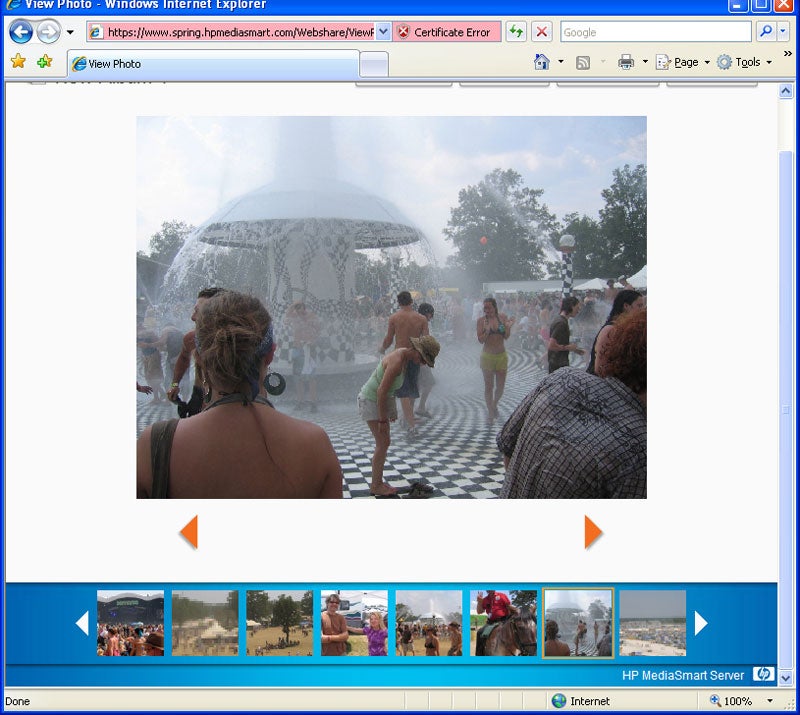 Though I appreciated the Photo Webshare feature, I still think that third-party sites like Flickr do a better job of displaying pictures. They deliver a great slide-show experience, give you flexibility in labeling photos, and make it easy to invite friends to view your photos and leave comments. With Photo Webshare, you lose some functionality, but at least you don't have to upload your photos to a third-party service, which can take a long time.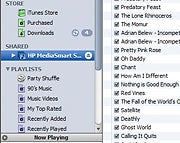 The MediaSmart Home Server shines when it comes to sharing content from within your home network. I easily shared and streamed digital music and video files from any networked PC. One nifty iTunes feature that HP has added enables you to configure the server to sync iTunes libraries on connected PCs to the server, creating a single giant iTunes library that the entire household can connect to and enjoy.
If you have an Xbox 360 or other Windows Media Connect-enabled device, you can stream audio and video content from the Home Server for live viewing, rather than having to download it before playing it.
Easy Backup and Recovery
The HP MediaSmart Home Server automatically backs up all PCs connected to the server--a key function. As a core feature of the Windows Home Server OS, backups are available on all flavors of devices offered by different companies.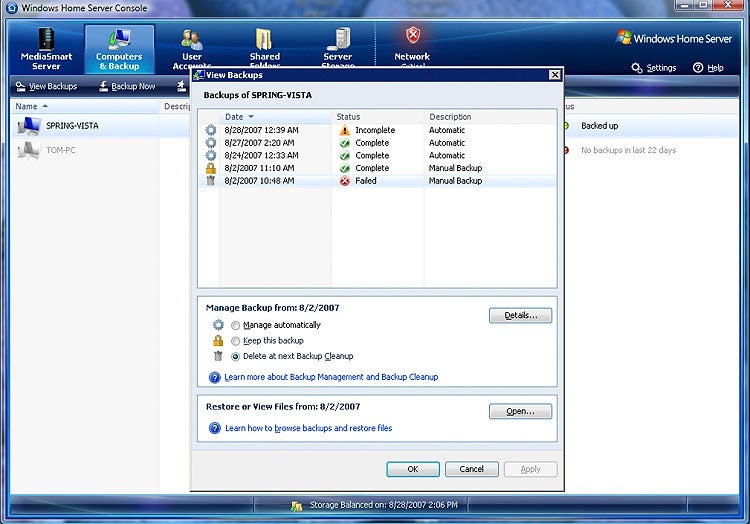 The full-system recovery feature took less than 20 minutes to return a notebook PC that I had intentionally corrupted back to a pristine previous state. I was impressed.
But Windows does more than back up your PC. The Connector software also keeps tabs on the status of firewalls and antivirus software on each PC connected to the server, using a Home Network Health component of the server software.
If you need to update your virus definitions or ratchet up firewall protection on any of the PCs connected to the server, the device pops up a message from the system utility tray with recommendations. This is a great feature for parents who want to ensure that all of the PCs in the house are subject to Internet controls. Instead of checking each individual PC, Home Network Health pops up a message alerting you to potential problems.
HP is one of several hardware vendors that will sell servers equipped with the Windows Home Server OS. Others include Fujitsu Siemens Computers, Gateway, Hewlett-Packard, Iomega, LaCie, and Medio. Each will customize its systems with unique tools and functions. So far, Iomega and HP are the only major manufacturers to have announced that they will have WHS devices available in time for the end-of-year holiday season. For these early entries, my fingers are crossed that Microsoft has successfully completed its prelaunch bug hunting.
From my tests, I can say that the HP version is a good match for the average PC household and that it delivers on its marketing promise of offering an easy-to-manage tool for protecting and sharing data in a multi-PC home.