Hands-On: HP MediaSmart Home Server
Customizing MediaSmart Software
At setup, HP presents you with a Suggested Configuration Steps tab that guides you through customizing the server once you've connected it to your network. Here you set up user accounts, thereby restricting or permitting access to the server.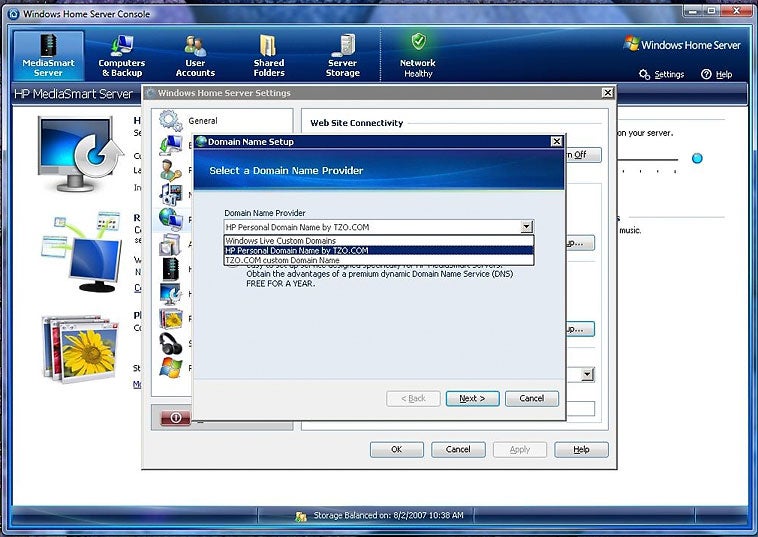 HP also steps you through setting up remote access to the server from outside your home network. This remote-access feature enables you to connect remotely to your home server so that you can upload and download files, or access other PCs on the network via a built-in remote-desktop application.
A tool in the MediaSmart Server Console helps you assign your server a common name, either by using the HP Customizable Domain service or by going to Windows Live Custom Domains, where you can assign your server a domain name such as YourName.hpmediasmart.com or YourName.homeserver.com. Both Microsoft and HP offer the service for free.
Media Sharing
One of the chief benefits of any server is that it establishes a centralized storage location accessible from multiple PCs. In a typical multi-PC home, users want to share multimedia content--as opposed to spreadsheets in an office setting. HP has tools for streamlining content sharing, both from within a network and from beyond it.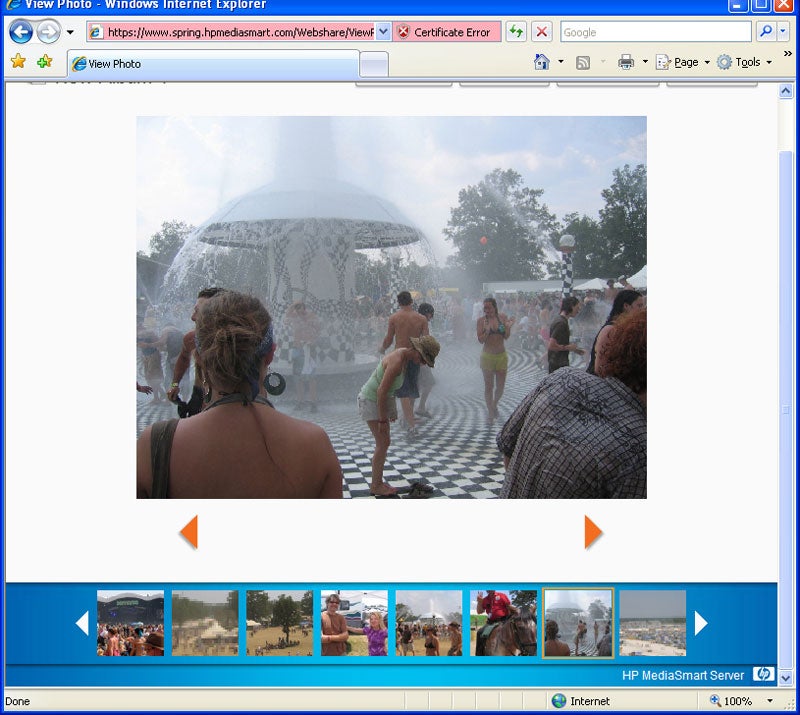 Though I appreciated the Photo Webshare feature, I still think that third-party sites like Flickr do a better job of displaying pictures. They deliver a great slide-show experience, give you flexibility in labeling photos, and make it easy to invite friends to view your photos and leave comments. With Photo Webshare, you lose some functionality, but at least you don't have to upload your photos to a third-party service, which can take a long time.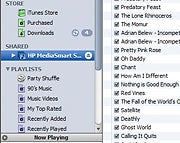 The MediaSmart Home Server shines when it comes to sharing content from within your home network. I easily shared and streamed digital music and video files from any networked PC. One nifty iTunes feature that HP has added enables you to configure the server to sync iTunes libraries on connected PCs to the server, creating a single giant iTunes library that the entire household can connect to and enjoy.
If you have an Xbox 360 or other Windows Media Connect-enabled device, you can stream audio and video content from the Home Server for live viewing, rather than having to download it before playing it.