Page 3 of 3
Easy Backup and Recovery
The HP MediaSmart Home Server automatically backs up all PCs connected to the server--a key function. As a core feature of the Windows Home Server OS, backups are available on all flavors of devices offered by different companies.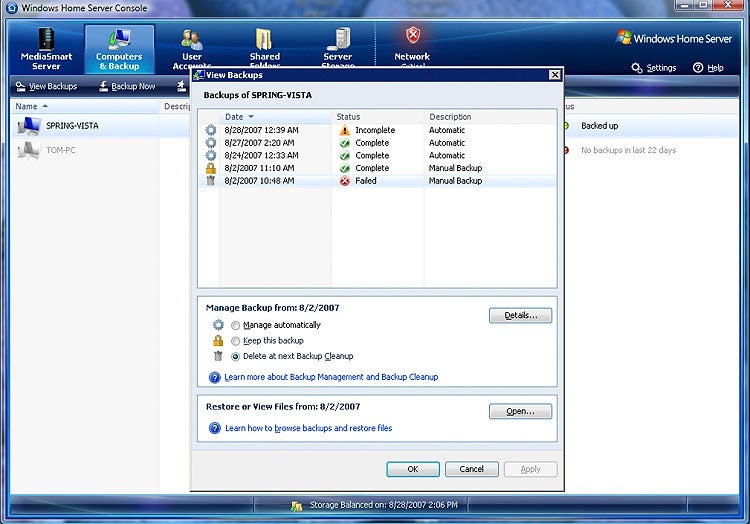 The full-system recovery feature took less than 20 minutes to return a notebook PC that I had intentionally corrupted back to a pristine previous state. I was impressed.
But Windows does more than back up your PC. The Connector software also keeps tabs on the status of firewalls and antivirus software on each PC connected to the server, using a Home Network Health component of the server software.
If you need to update your virus definitions or ratchet up firewall protection on any of the PCs connected to the server, the device pops up a message from the system utility tray with recommendations. This is a great feature for parents who want to ensure that all of the PCs in the house are subject to Internet controls. Instead of checking each individual PC, Home Network Health pops up a message alerting you to potential problems.
HP is one of several hardware vendors that will sell servers equipped with the Windows Home Server OS. Others include Fujitsu Siemens Computers, Gateway, Hewlett-Packard, Iomega, LaCie, and Medio. Each will customize its systems with unique tools and functions. So far, Iomega and HP are the only major manufacturers to have announced that they will have WHS devices available in time for the end-of-year holiday season. For these early entries, my fingers are crossed that Microsoft has successfully completed its prelaunch bug hunting.
From my tests, I can say that the HP version is a good match for the average PC household and that it delivers on its marketing promise of offering an easy-to-manage tool for protecting and sharing data in a multi-PC home.