Ten Great (but Fake) Tech and Science Videos
Page 4 of 4
Bulletproof Stroller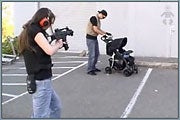 Mom plops her baby in a stroller, and a bulletproof shield drops down around him, just as on the Batmobile (the Michael Keaton version, that is). She then whips out a submachine gun and fires a few dozen rounds into the stroller. Baby comes out without a scratch. Bullet Proof Baby's $599 armored kid cart is obviously too good to be true, but we'd still love to have such a contraption to ensure the safety of our little ones. Don't miss the rest of the site (a viral-marketing bit for the movie Shoot 'Em Up), including the cute-as-can-be My First Riot Helmet.
UFOs Over Haiti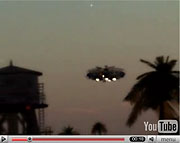 A comparatively new creation, this detailed footage of unidentified flying objects hovering over what is purported to be Haiti looks perfect. Not only is the camerawork appropriately in and out of focus, but who would go all the way to Haiti just to shoot a UFO hoax? Later clips showed saucers over additional locales, including the Dominican Republic. While some skeptics pegged the stunts as viral marketing for the upcoming game Halo 3, the Los Angeles Times tracked the creations back to a French CGI animator who is reportedly using them to develop a sci-fi feature film project.
Alien Autopsy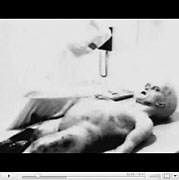 CGI costs a lot, editing takes time, actors have to stay in character: Video hoaxes are usually limited to a few brief seconds, which is what makes this purported footage of an alien autopsy in Roswell, New Mexico (which emerged circa 1992), so intriguing. Shot in 1940s-appropriate black-and-white with no sound, the 17-minute clip features shrouded scientists dissecting a little green man from top to bottom.
Even in black-and-white the video is gruesome and fascinating, so much so that multiple TV networks have crafted specials around it and one guy built an entire Web site attempting to debunk the thing. Real or not (and huckster/creator Ray Santilli later came clean, in part), it's an excellent way to spend a spare 17 minutes, provided you aren't about to eat lunch.
Shop Tech Products at Amazon