The 10 Funniest Sites on the Internet
Page 2 of 2
More of the Funniest Sites
Found Magazine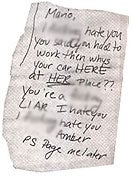 What is it? Here's the Web site of the magazine that grew from a series of books, the first of which was inspired by a note that Chicagoan Davy Rothbart found on his car. It said: "Mario, I [expletive omitted] hate you, you said you had to work then why's your car HERE at HER place?? You're a [expletive omitted] LIAR. I hate you I [expletive omitted] hate you. --Amber. P.S. Page me later." Foundmagazine.com is the online collection of the thousands of notes, love letters, birthday cards, kids' homework, to-do lists, poetry on napkins, doodles, and other items discovered by Rothbart or contributed by his friends and fans.
Why is it funny? People are strange, and funny. The little glimpses Found gives us into their interpersonal relationships are thrilling in a voyeuristic way, and often hilarious.
Brow: Medium
Rating: R
Funny or Die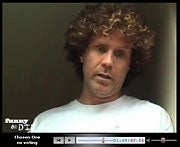 What is it? Like eBaum's World, Funny or Die collects funny viral video, but it mixes that with original content from both established and up-and-coming comedians. Users get to vote on which videos they think are funny and which deserve to die (hence the site's name). According to the site's bio, Funny or Die was created by funny guys Will Ferrell, Adam McKay, and Chris Henchy, with some other more techie people from Silicon Valley. More fun from the bio: "Funny or Die has offices in Japan, Madagascar and Bahn, nine full time lobbyists in Washington and an elite private security force consisting of four hundred soldiers and six attack helicopters."
Why is it funny? The democratic means of weeding out the lame stuff seems to work. Also, some of the short content submitted by people like Louis CK, Will Farrell, and Sarah Silverman is experimental and great.
Brow: Medium
Rating: PG
The Subservient Chicken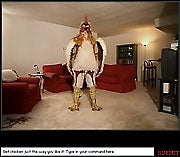 What is it? At Subservientchicken.com, a guy standing in a living room dressed in a chicken costume does whatever you tell him to do, based on commands you type into a text window. The site is a promotion for Burger King that received 15 million hits in its first five days online; to date it has racked up around 450 million hits in total, Burger King's ad agency claims. The agency also claims that the Subservient Chicken has caused "a significant increase in chicken sales." Strange: Giving orders to a big chicken wearing fishnet stockings makes people hungry for chicken parts.
Why is it funny? I'm really not sure. Is it the beige and brown living-room setting? Is it the fishnet stockings? Is it the blank look the chicken gives you while he awaits your next command? You'll have to decide.
Brow: Medium
Rating: PG
Overheard in New York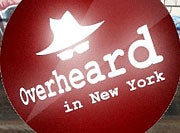 What is it? Among the 8 million people living in the city of New York, there's always somebody willing to say something stupid, embarrassing, and/or hilarious--and they often say it in a grocery store or on a crowded subway train. The people who run Overheard in New York, with the help of a large number of "spies," keep an ear open for this kind of thing and publish it online. Here's a sample: "Teen boy: Anyone on this train wanna buy some candy? It's not for a basketball team or something; it's for me so I can buy more candy." Stuff like that. Not bent-over-laughing funny, but pretty amusing, and the sheer volume of quotes at the site is impressive. Note: Some of the quotes here are of a sexual nature, and some are more than a little coarse, so skip this site if you're offended by that kind of talk.
Why is it funny? New Yorkers are, uh, frank. And many of them, apparently, aren't really concerned about the privacy of their personal lives.
Brow: Low/Medium
Rating: NC-17
Pictures of Walls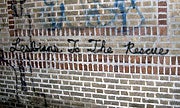 What is it? This British site collects photos of random messages painted by random people in random public places, like fences, walls, or traffic signs. But it isn't the usual fleeting, thoughtless, or dirty stuff you see everywhere, and it isn't gangsta tagging; this graffiti is thoughtful, clever, and usually funny. The images come from fans all over the English-speaking world. Like the Found Magazine site, Pictures of Walls gives little glimpses into the private thoughts of real people, whose only mode of expression might be to spray paint on a wall. From a public toilet in Vacaville, California: "Hey Jesus--We need to talk."
Why is it funny? The people who run the site have a keen eye for the humor in the marks and paintings people make on urban walls.
Brow: Medium
Rating: R
Honorable Mention: The Phil Hendrie Show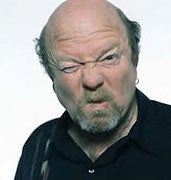 What is it? Phil Hendrie is the underappreciated radio talk-show host who does the voices of both the interviewer (straight man) and the interviewee (usually calling in). The interviewee is designed to be arrogant, stupid, angry, or crazy--usually a clever combination of all of the above. Example: One of Phil's regular characters, Austin Amarka, calls in and explains that he suffers from post-traumatic stress syndrome resulting from the Vietnam War reenactments he and his friends stage with cap guns out in the desert. Austin is demanding full Veterans Administration benefits because of his malady. The back-and-forth between Phil and Austin goes on until angry listeners--unaware that it's all a put-on--begin calling in. Hilarity ensues. You can find a few free clips at PhilHendrieShow.com, and some more recent ones (also free) at the site for his new show.
Why is it funny? Because Hendrie's characters are insane. Also, Hendrie's contempt for talk radio, and especially the people who call in, is always just below the surface.
Brow: High
Rating: R
Shop Tech Products at Amazon