Fifteen Backup Programs to Safeguard Your Data
Page 2 of 4
Traditional Backup
Traditional backup (also called file-based backup) programs read and write data at the file level, and are the oldest type of backup available. The biggest distinctions between products lie in their ability to back up open files (files being edited by apps, or locked by the operating system), support for professional hardware such as tape drives, and disaster recovery--namely, the ability to boot from a CD and restore the system as well as data.
(Note: Roxio is releasing a new version of the venerable Backup MyPC, but it wasn't available in time for this review.)
CyberLink PowerBackup 2.5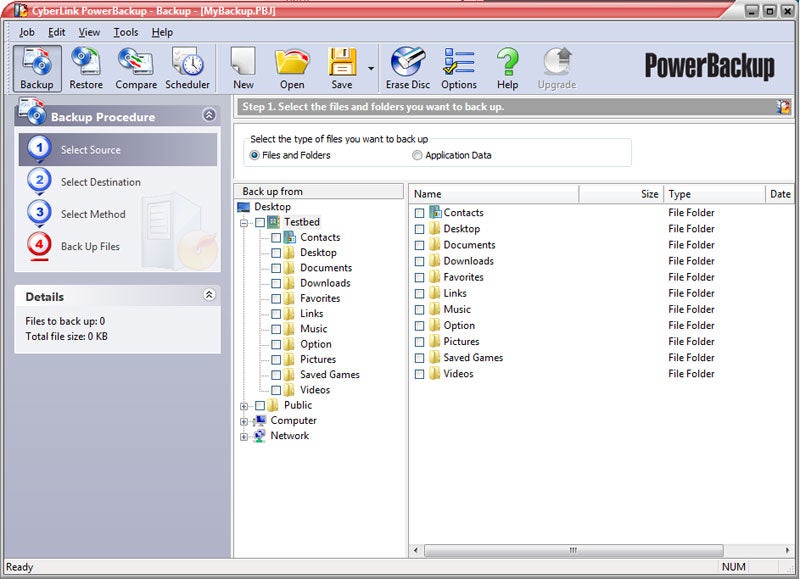 If you're searching for easy-to-use traditional backup but you don't need disaster recovery, look no further. PowerBackup has the friendliest user interface in this roundup. Its approach helps you get up to speed quickly without unnecessarily shielding you from the concepts you need to understand to form an effective backup strategy. The program also has all the features that average users need, including full/incremental/differential backup, files comparison, and versatile scheduling.
What's missing are tape-drive support (not an issue for most users, who back up to hard drive or CD/DVD) and true disaster recovery--it gives you no way to create a boot disc. However, PowerBackup does create self-restorable backups: Simply click on your latest backup (it'll have an .exe extension), and up pops a little dialog box asking if you want to restore the files to their original location or a new one. Since reinstalling Vista isn't that painful, disaster recovery isn't the issue it once was, though it would behoove CyberLink to look into adding a boot-disc option in version 3.
Price: $40; 30-day trial
EMC Retrospect 7.5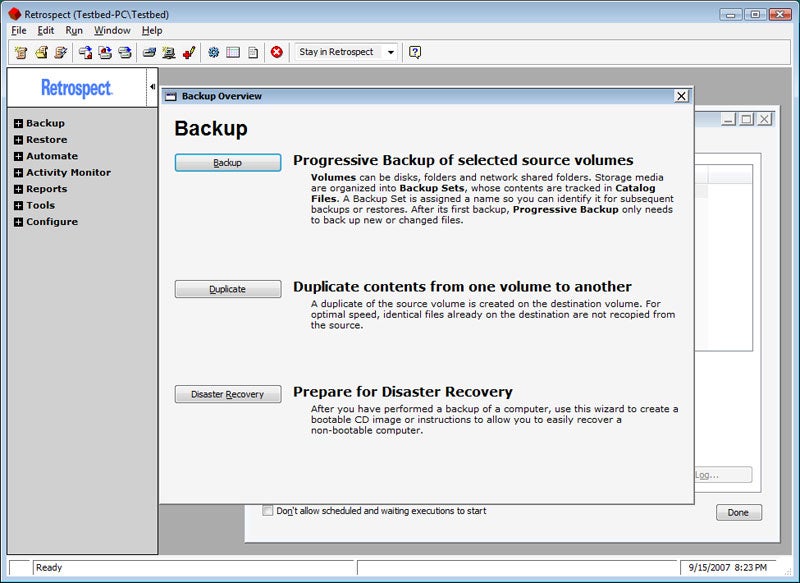 Retrospect is unquestionably the most powerful consumer backup program on the market today. Its features are second to none, covering full/incremental/differential backups, disaster recovery, automatic updating, open-file backup, and even plain file copying. You name it, this program has it. You even get a scripting tool for creating complex backup jobs.
Alas, Retrospect is neither easy to learn nor easy to use. It's conceptually complex (sometimes needlessly, calling jobs "sets," for example), and it has an overall layout and workflow that only a tech geek could love. It's also expensive: The $129 price tag ($119 download) alone will drive most home users into the arms of the competition. Still, if you want the ultimate in control over your backups, as well as support for tape drives and remote backup (invoking backups on other machines on the network), it's the way to go.
Price: $129 box, $119 download
NovaStor NovaBackup 8 Standard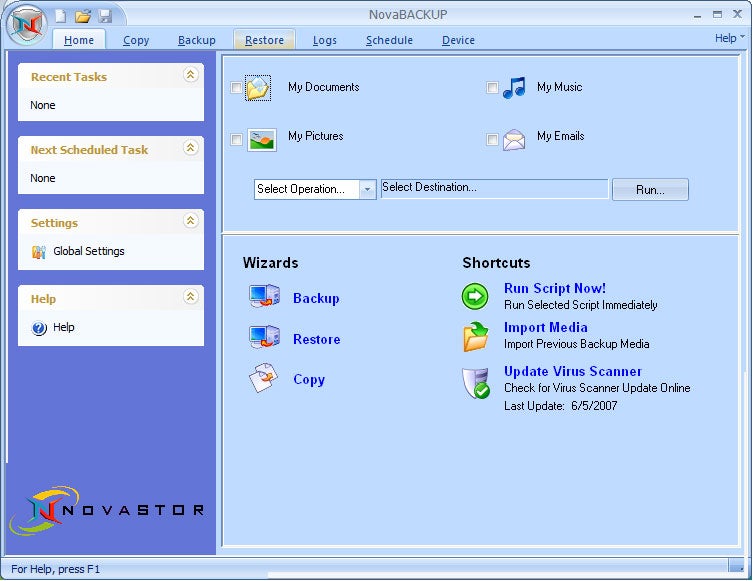 Before the advent of Vista, NovaBackup gave even Retrospect's feature set a run for its money. It doesn't have scripting, but non-IT types rarely employ such functions anyway, and--unlike its pricey rival--NovaBackup is easy to use. The tabbed navigation, well-designed windows, and easy-to-understand language and concepts are a comparative joy.
Unfortunately, NovaBackup's disaster recovery features extend only to XP. If you run the program on Vista, the option to create a recovery disc isn't available. NovaStor has developed a Vista restore function but is currently hammering out the distribution agreement with Microsoft.
Aside from the aforementioned omissions, NovaBackup has a full bag of tricks: full/incremental/differential backup, open-file backup, scheduling, plain file copying, and support for a wide variety of tape drives in addition to the usual hard-drive and optical-drive support. One feature that sets it apart from the crowd is an integrated virus scanner that helps you make sure all your files are uninfected before you back them up.
Price: $50; 15-day trial
Download NovaBackup 8 Standard
Genie-Soft Backup Manager Pro 8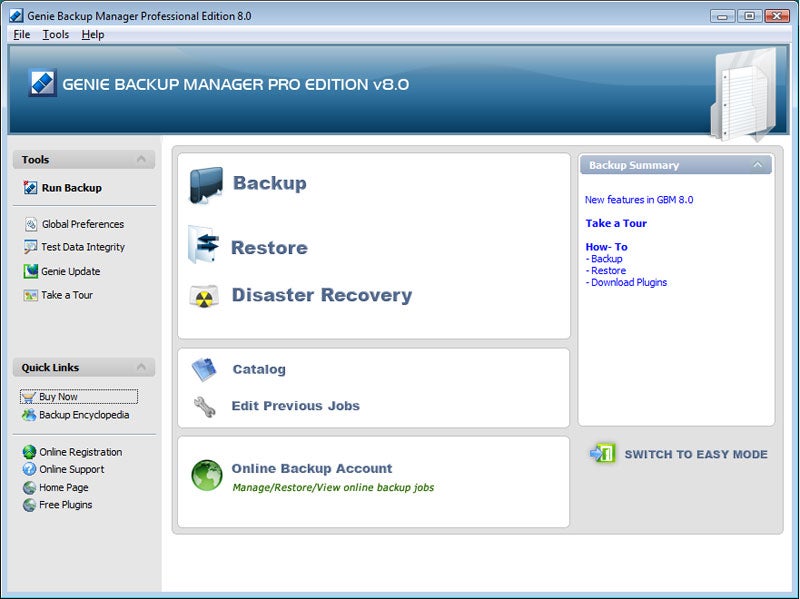 Version 8 of Genie-Soft's Genie Backup Manager Pro is a substantial improvement over previous versions. It has the open-file backup function that was formerly a separate $40 module, and it adds disaster recovery to the full, incremental, differential, and mirror backups already offered. Put bluntly, Genie is playing with the big boys now.
Genie Backup Manger Pro is simple to use, with a versatile interface that has both normal and easy modes. The former features standard restore and backup panes presented in a step-by-step format with access to advanced features; the latter employs the same wizard-based workflow but with a cleaner look, and no tools or advanced options.
The new self-booting disaster-recovery boot disc uses Vista Pre-installation Environment (Win PE 2.0); but unlike others of its ilk, it forces you to use the 'drvload' command in the command line to load drivers, and in my tests it failed to connect to my network. The program has some minor cosmetic and language glitches as well, such as too-tiny text in a dialog box on the disaster recovery disc, but I've never experienced a problem backing up with Genie.
Price: $70; 30-day trial
Download Genie Backup Manager Pro 8
NTI Backup Now 5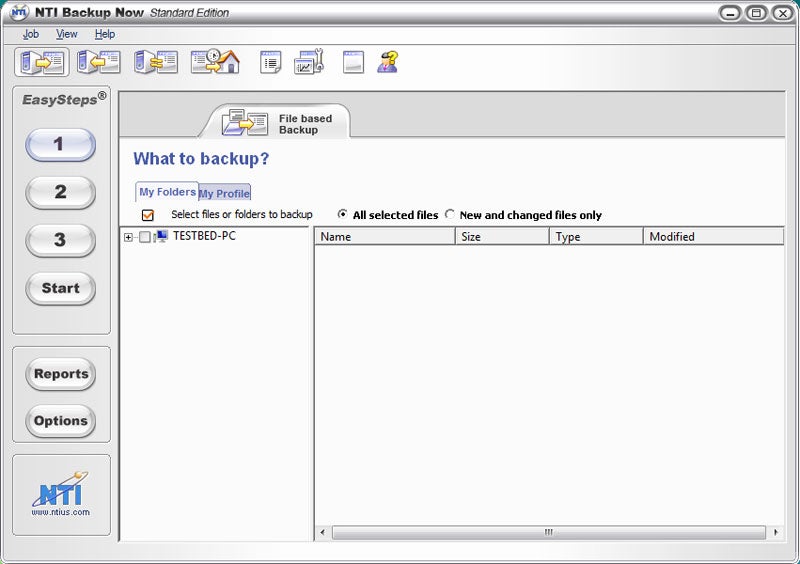 NTI's design philosophy is to keep things simple. Unfortunately, simple isn't always easy to use--take for example the buttons labeled with numbers instead of their function. Still, you'll have far less trouble getting up to speed with this program than with a product like Retrospect, and the look of the Backup Now interface is substantially improved for version 5.
Backup Now 5 offers the usual basics: full and incremental backup, scheduling, and a compare function. It also has a nice set of utilities that display information about your drives, network, and system. Unfortunately, in my testing it failed to back up some open files (files in use by the OS or other programs).
At $50, Backup Now is pricey for a program with no disaster recovery. However, combined in the $60 Deluxe Suite with the Drive Backup imaging component, which does have that feature, it's a much better deal. Drive Backup 5 and Deluxe Suite 5 aren't available at this writing; according to NTI they should ship in November.
Price: $50; 30-day trial
Shop Tech Products at Amazon