Fifteen Backup Programs to Safeguard Your Data
Page 3 of 4
Backups Based on Imaging
"Imaging" is the copying of the entire contents of a hard-drive partition--the boot sector, operating system, and data--to a single file. The beauty of an image is that creating or restoring one takes only a single step--backup and disaster recovery just don't get any easier. That said, the line between traditional-backup programs and imaging apps is blurring. Programs such as Norton Save & Restore and Acronis True Image now have the ability to back up individual files and folders in addition to full partitions, and can even perform incremental and differential backups.
Norton Save & Restore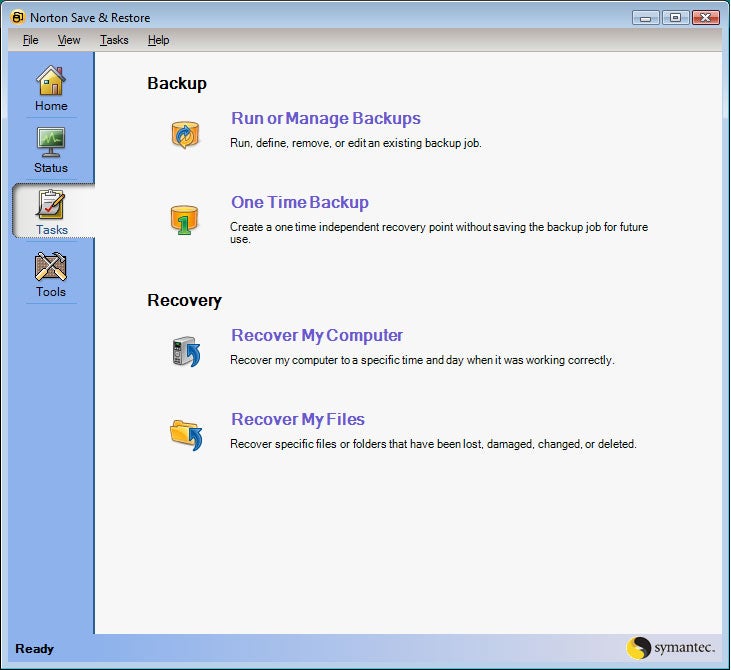 Symantec has taken great pains to make Save & Restore user-friendly by removing the concept of images from the interface--you'd hardly know this program created them, for all the talk about recovery points. But it is indeed an imaging program, with a wide range of features such as full/incremental imaging, file and folder backup, scheduled backups, encryption, and compression. It also has a unique (among imaging programs) housekeeping function that automatically culls previous backups to keep scheduled jobs from failing due to lack of space.
Advanced users might find tunneling down for options such as raw imaging (copying all sectors) a tad wearying, but such options do exist. Unfortunately, tunneling down also reveals a pane with a download link to Google Desktop, completely integrated with the options dialog box. I can't speak for anyone else, of course, but I don't want to spend $50 on a program and find ads in my options dialog box. Symantec should be ashamed.
But the real fly in the ointment is that you can't create an image using the install/boot disc, only restore one. You do get a file-copy utility, but it's a much slower process that leaves room for user error when you're trying to save data from a failed Windows installation. The boot disc is Win PE 2.0-based, though, so you can load drivers as needed; it also provides a virus scanner, an extremely handy item in case of a malware attack.
Price: $50; 30-day trial
Download Norton Save & Restore
Acronis True Image Home 11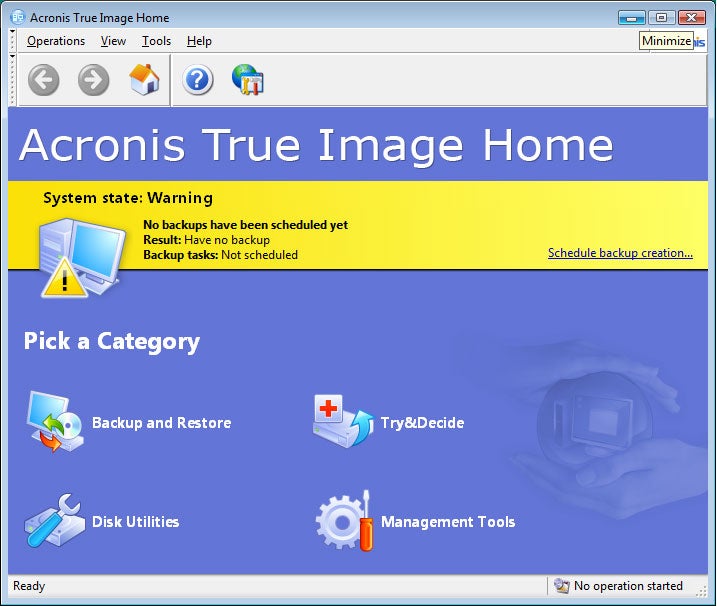 In breadth of features, True Image can't be beat. It runs from within Windows or from a Linux-based boot disc, creates full and incremental images, and also backs up single files and folders. It offers the usual compression and encryption options, and if you opt for the more expensive Workstation version you can also purchase a Universal Restore module that will restore images to a PC with a different hardware profile from the one that the image was created on.
Version 11's interface is friendlier than past editions, though still unintuitive at times, and it presents some very useful new features. Try & Decide mode, for example, works like a proactive Windows Restore, writing changes to the program's Secure Zone hidden recovery partition and committing them later only at your discretion. Turn it on before you install unfamiliar software or browse to suspicious Web sites. In my gold beta it caused a noticeable performance hit, but it's a nice safeguard to have.
In addition, you can now restore individual files and folders from a full image within the main program, as well as perform a quick system-state backup; you also get improved filtering and masking for file and folder backup. The interface may be befuddling in spots, but True Image is the best all-around backup software on the market.
Price: $50; 15-day trial
Download Acronis True Image Home 11
Runtime Software DriveImage XML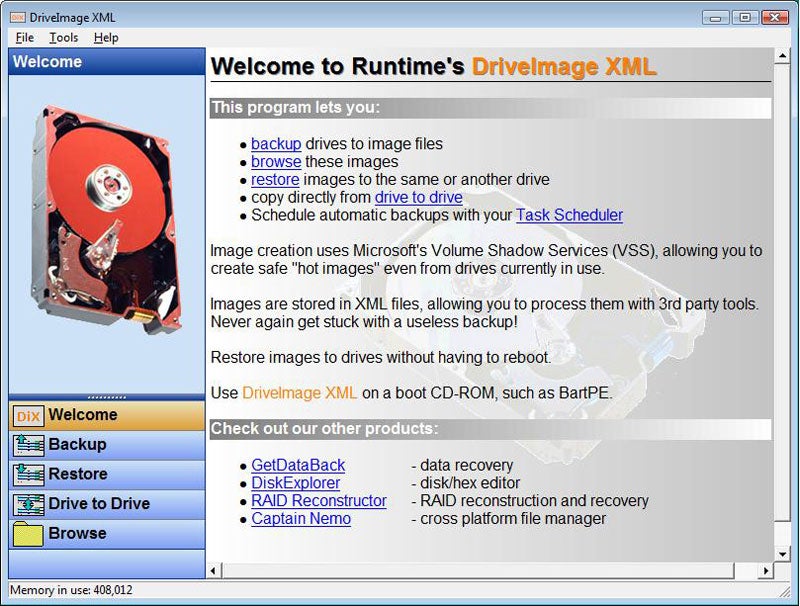 How can you say anything bad about a program that's free? Even if it weren't, I wouldn't. I've used DriveImage XML a number of times over several years, and for basic imaging from within Windows, you can't go wrong. It creates images with or without unused sectors (images of the former type are larger, but great for transferring a partition from a rapidly failing drive to a good one for data recovery), and it restores them whole or retrieves only selected files and folders.
The program is unique in writing header information about the data being backed up (sector locations of files, etc.) in XML format so that it can be read by numerous programs, including Web browsers. This feature may not be useful for the average user, but it does allow us geekier types to process the data in other ways. A module for the popular Bart's PE boot disc is available so you can restore images even when Windows won't boot, though creating a custom Bart's PE disc isn't for technophobes.
DriveImage XML does have limitations. You can't back up individual files or folders, it offers no encryption, and you can't restore an image to a partition smaller than the one it was created from even if the data will fit. But for the price, we're not complaining--the program is the perfect complement to traditional or continuous-protection programs that lack disaster recovery.
Price: Free
Active @ Disk Image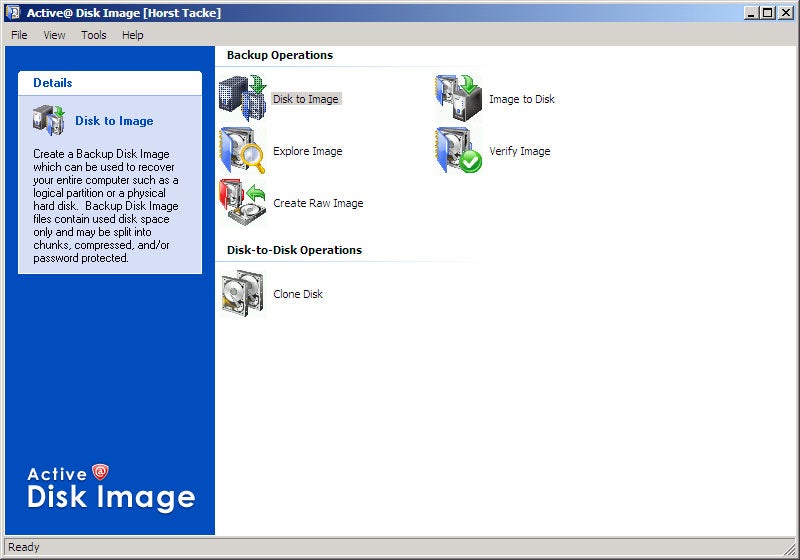 Though the imaging module is only part of the attraction of this handy boot disc, it's a component I've employed often, and it's both straightforward to use and reliable. All the basics are there: You can create compressed, encrypted images and restore them in their entirety or just retrieve selected files and folders. Additionally, you get a raw write mode that copies all sectors regardless of status, plus a drive clone function. Alas, the product has no Windows-installable component, so you can create images only if you boot from the disc, making it more suitable for disaster recovery than regular backup.
The boot disc is based on Vista PE (Pre-installation Environment), so you can install drivers at any time in case you need to attach some esoteric outboard gear like a tape drive. While not as powerful an imaging product as Acronis's True Image or Norton's Save & Restore, the Active @ Boot Disc has some attractive disaster recovery utilities, including partition recovery, deep file recovery, disk wiping, a backup-to-CD/DVD program, a password changer, a Web browser (Vista PE offers network connectivity), and more. They're not weak throwaways either, but industrial-strength applications.
Price: $80
Paragon Drive Backup 8.5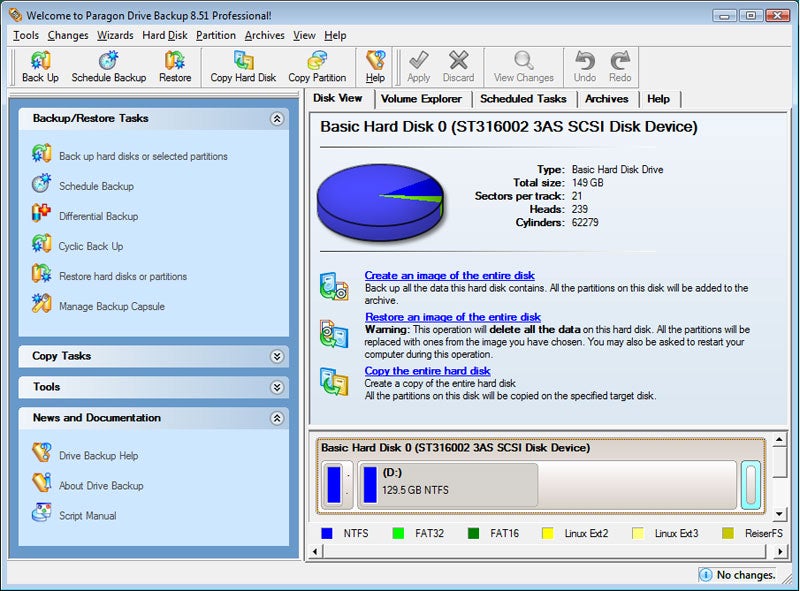 Though reliable, capable, and truly user-friendly, Paragon's Drive Backup 8.5 imaging application falls a few features short of the latest versions of Acronis's True Image and Norton's Save & Restore. It lacks the ability to back up individual files and folders, and has none of Norton's automated housekeeping, or Acronis's Try & Decide or inline selective restore of files from full images.
However, Drive Backup's tabbed interface and exceptionally well-done wizards put advanced options at your fingertips instead of hiding them as Norton does. Some of those options include full and differential imaging, a recovery disc that will integrate the partitioning abilities of the company's Partition Manager if you own that program, and the ability to create a hidden restore partition (which Paragon calls a Backup Capsule).
Note: If you use the download version of Drive Backup 8.5, be sure to download the separate recovery CD as well. The bare-bones recovery disc that the program itself creates has limited driver support, lacking even USB.
Price: $50; 30-day trial
Shop Tech Products at Amazon