Fifteen Backup Programs to Safeguard Your Data
Page 4 of 4
Continuous Backup
Continuous data protection (CDP), sometimes called real-time backup, tracks files and backs them up whenever they change. Think of it as something like selective RAID mirroring, where only the files and folders you choose are copied. Unfortunately, CDP suffers the same weakness as RAID mirroring does: It might back up corrupted and infected files, as well as pieces of malware. The risk is substantially reduced, however, since nearly all CDP programs let you keep multiple versions of the files you back up, and normally you'll be backing up only data, not the executables that are most prone to attack.
All told, CDP may cost you a few CPU cycles here and there, but it's a great way to keep your system backed up at all times.
NTI Shadow 3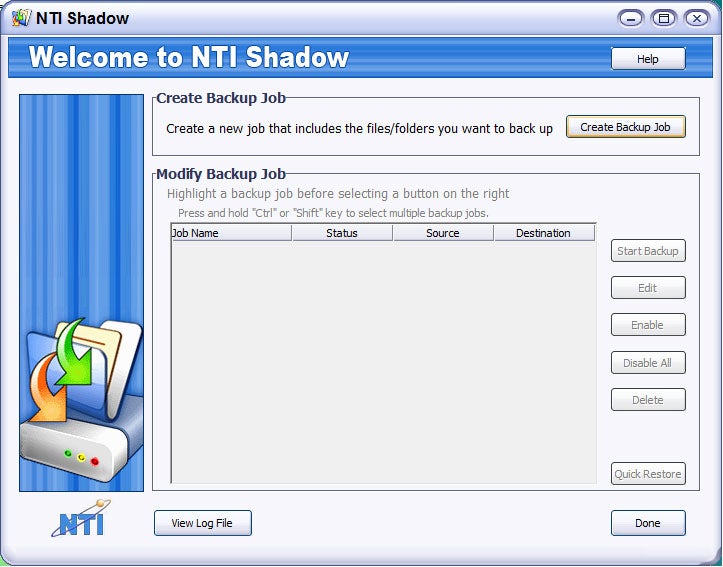 Though the first version of Shadow wasn't ready for prime time (it missed backing up some files), subsequent versions have been relatively reliable. That said, I did manage to crash version 3 once this go-round; and during the initial baseline backup (copying everything the first time), it failed to back up its own locked log files, a shortcoming it shares with NTI's Backup Now. Generally, however, open-file backup isn't important when you're backing up only the My Documents folder--the most common scenario with CDP.
Shadow will back up files either as they change or at specified intervals, a nice option if you don't want the program interfering with CPU- or disk-intensive applications such as real-time video or audio recording. You can also save all revisions of a file, a specified number of revisions, or only the latest copy.
Shadow's interface is attractive and friendly, though I'd rather be able to specify multiple destinations for a backup job instead of defining multiple jobs to accomplish the same thing. Multiple jobs give the program greater flexibility, however. Shadow lacks a true fully integrated restore function, but it does add an Explorer right-click menu option that allows you to restore Shadow backup files to their original location or a new one.
Price: $30; 30-day trial
IBM Tivoli Continuous Data Protection for Files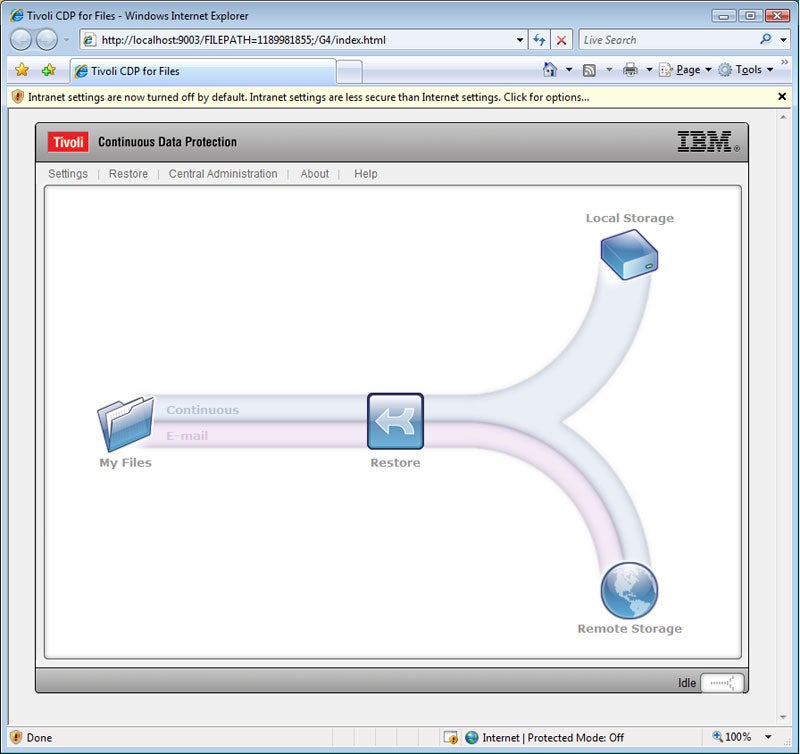 Most users aren't accustomed to configuring programs through their Web browser, as IBM's Tivoli CDP for Files requires. But applications targeting the enterprise market, including Tivoli, often operate through an HTML interface so that users can easily access them across a WAN. I found the latest version of CDP for Files, 3.1.1.2, a pleasant surprise--a swan has replaced the ugly-duckling interface of last year's version 2.2. Among the CDP programs in this roundup, its interface is the slickest and the easiest to use.
Playing on the big corporate stage, where literally billions of dollars' worth of data is at stake, also tends to weed out weaklings--CDP for Files has been around for a while. It does exactly what you need done, does it reliably, and stops there. It watches folders and files you specify and copies them to both a local storage destination and an external destination such as a network drive, keeping as many revisions as you want. You can use encryption and compression or stick with plain file copying.
Once configured, CDP for Files sits in the system tray and accomplishes its duties with minimal fuss. I noticed no system slowdown, but the program does offer a right-click option to disable it temporarily if you're doing something disk-intensive. Though IBM's CDP for Files is a bit pricey, it works well, and there's just something about having software with an enterprise bloodline protecting your data that gives you peace of mind.
Price: $42; 30-day trial
Download IBM Tivoli Continuous Data Protection for Files
StarDock KeepSafe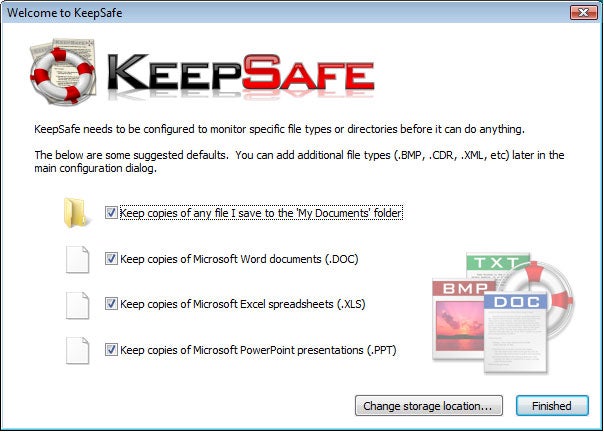 At first glance Keepsafe may appear to be a CDP program, but it's actually a revision-tracking utility. Unlike true CDP utilities, this application doesn't make an initial baseline backup of the files or folders it's watching, and it doesn't back up files copied to a watched directory. It backs up files only after an application has saved them to the folder. This odd design choice limits Keepsafe's appeal, but it's still a suitable adjunct for more traditional backup methods, and it's perfect for tracking projects.
In keeping with its narrow focus, configuring Keepsafe is document-centric, not folder-centric. When you finish installing the program, the setup wizard presents you with a list of document types to include or exclude. For most users the extensive default list will work fine, but double-check it to make sure--the .bmp (bitmap) extension that I use for my screen captures wasn't included. Fortunately, you can add many more predefined types with a single click; and when you select additional locations to watch in the subsequent wizard step, you can turn the exclude function off if you simply want to watch everything.
Price: $30; 30-day trial (limited features)
MirrorFolder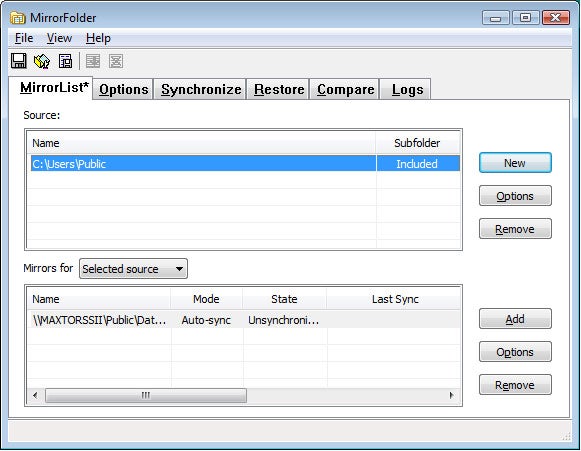 This powerful little gem from Techsoft not only mirrors multiple folders to multiple locations but can also synchronize them. Though MirrorFolder lacks true revisioning (retention of multiple copies of files), it has an option to archive files that are about to be overwritten to a .zip file.
After you set the source and target locations, you have literally dozens of options, including whether the target is a mirror or synced folder, when operations should be performed (in real time or scheduled), who can do them, how overwrites are handled, how long logs are kept, and so on. The large array of settings can lead to a bit of sensory overload until you get up to speed. Fortunately, the program is for the most part logically laid out, and tool tips pop up over every option with a concise explanation of what it is or does.
IBM's simpler-to-configure Tivoli CDP is only a couple of bucks more and probably a better fit for the average user. But MirrorFolder's extreme configurability and advanced options, such as copying folder user permissions, make it a must-have for anyone who wants to do complex real-time backup.
Price: $39; 30-day trial
AJC Active Backup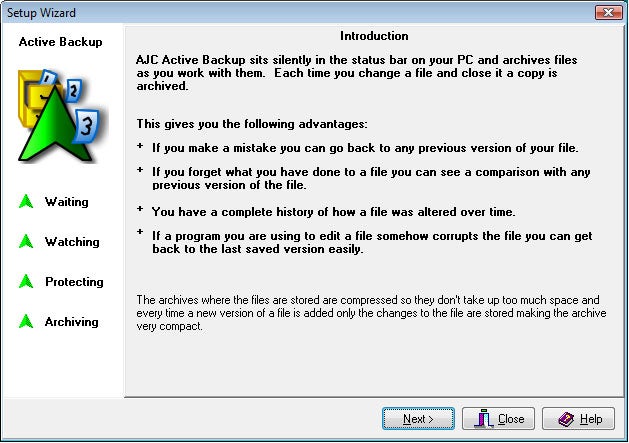 AJC's Active Backup may not have a splashy name or a sexy interface, but its no-nonsense, logical approach to setup, configuration, and backup is a breath of fresh air. That said, I have two decidedly minor setup gripes: It offers no New Folder button when you browse for the location to store your backups (you can select a location and add the new directory name by typing it), and the program is a little too polite, not automatically setting itself to run when Windows boots. Other than that, it's a model of design efficiency.
AJC consists of two modules. One is a backup applet that sits in the system tray waiting to back up files in locations you specify, and the other is a viewer module that lets you browse the revisions of documents added to the program's proprietary .aja compressed archive files. The program performed well in my testing, though it didn't offer to copy previously archived files when I changed the backup location. It did, however, keep track of files that were changed while the backup destination was unavailable (my network-attached storage box was off), and it copied them when the location became available again.
My only other wish is that AJC would back up to multiple locations. I feel better when I know my current articles are backed up both to local storage and to something remote on the other end of the network.
Price: $30; 30-day trial
Shop Tech Products at Amazon