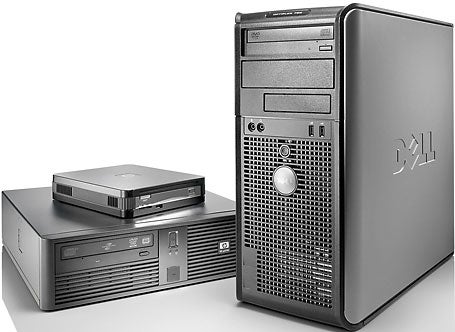 PCs adorned with green-certification logos look and work like their nongreen counterparts. But don't expect a single PC to help you rack up huge savings in your energy bill or significantly shrink the size of your computing carbon footprint. Those benefits come from purchasing in bulk. And whether you buy one PC or a thousand, you'll do more for the environment and your finances by adjusting your system's settings.
We learned this by testing five Energy Star 4.0-rated Vista PCs--three desktops and two notebooks. Dell's OptiPlex 755 Mini-Tower and HP's rp5700 Long Lifecycle Desktop are designed for use as business PCs; Enano Computers' EX7200 straddles business and consumer lines. (Enano gained a measure of fame by supplying the PCs that powered the video streaming for the Al Gore-promoted Live Earth concert.) On the notebook side, we looked at Lenovo's powerful ThinkPad T61p and Toshiba's mainstream Tecra M9-S5514.
In addition to Energy Star certification, HP's rp5700, Dell's OptiPlex 755, and Toshiba's Tecra M9-S5514 earned the stringent Gold certification of the Electronic Product Environmental Assessment Tool (EPEAT). EPEAT rates desktops, laptops, and monitors at Bronze, Silver, and Gold levels, based on the percentage of 23 required and 28 optional criteria the product meets--for example, recycling, reduction in the use of toxic materials, and energy efficiency. While this story focuses on energy issues, all units underwent regular WorldBench 6 Beta 2 performance benchmark testing as well, and you can find standard PCW-rated reviews of them online.
At a Glance
Pros

Low energy use
Easy-to-use

Cons

Closed Linux system
Rental costs add up
Shop Tech Products at Amazon