Vista Resistance: Why XP Is Still So Strong
Windows Vista is facing stiff competition from an unlikely source: Windows XP.
The six-year-old operating system is showing surprising strength more than half a year after the full launch of its successor. In April, Dell acknowledged continued XP demand and resumed offering XP as an option on new systems. In July, Microsoft chief financial officer Chris Liddell ratcheted up the percentage of OS sales the company expects XP to account for in fiscal year 2008 from 15 percent to 22 percent. Finally, in August, Microsoft announced an XP Service Pack 2c release that does nothing more than add new Windows XP product keys so the company can keep selling the OS to businesses through January 31, 2009.
In addition, customers who purchase a Vista machine from Dell, HP, or Lenovo (among other vendors) can use a vendor-supplied XP Pro recovery disc to replace the Vista operating system on their system with XP Pro.

The wait-and-see approach of Mark Sanford, a 40-year-old software developer in San Francisco, seems typical of many users. Sanford's PC--with a 3-GHz CPU, 2GB of memory, and a 256MB video card--could handle Vista, but he says he has no plans to upgrade from XP. Sanford says he's gotten to know XP's idiosyncrasies, and has his network and software running smoothly on the aging OS. "XP is plenty good enough," he says. So nothing is pushing him away from XP, and likewise nothing is pulling him strongly to Vista.
"The Aero interface is beautiful," he says, but "When I look at Vista, there's really nothing there that's a must-have kind of feature."
Behind the Pace
Certainly sales of Vista aren't blowing away XP in stores. Chris Swenson, director of software industry analysis for the NPD Group, says that, from January through July of this year, XP sales accounted for a healthy 42.3 percent of online and brick-and-mortar retail OS sales. By contrast, from January through July of 2002, after XP's launch in October the year prior, Windows 98 accounted for just 23.1 percent of retail sales. (Windows Me launched after Windows 98, but it didn't supplant the older OS.)
Of course, retail sales are only part of the story. With PC prices dropping over the past few years, and with Vista's higher hardware requirements, it's a "no-brainer," according to Swenson, for many people to buy a new PC rather than upgrade an old one. And the large majority of Vista users get the OS on their new systems.
Still, PCWorld.com visitors don't seem to be in any rush to switch to Vista. Our traffic numbers show Vista machines accounting for just 10 percent of the traffic to our site during September (see "Vista vs. XP After 8 Months").
Dell, which offers a choice of Vista or XP on its new computers, is staying close-lipped about how many XP computers it sells compared with Vista. But Michelle Pearcy, manager of the global marketing software team at Dell, confirms that the company is seeing the same trend as Microsoft: XP sales will be higher than expected during its next fiscal year.
Apple Impact?
XP satisfaction might keep many people from picking up a Vista box at the store, but another, more surprising factor may be leading others to buy a new copy of XP instead of Vista: namely, Apple.
While Windows PCs still outnumber Macs by a large margin, the latter are becoming much more popular. Stephen Baker, another analyst with the NPD Group, notes that more than one in six laptops sold at retail are MacBooks. Those figures don't include direct sales from huge vendors like Dell; if they did, Apple's market share would shrink significantly. Nevertheless, the statistic underscores that many people are buying Macs.
In years past, switching to a Mac meant saying goodbye to all of your Windows software. But today's Intel-based Macs can happily run Vista or XP, either natively with Apple's Boot Camp or in virtualized form with Parallels or VMWare Fusion--if the new Mac buyer also purchases a copy of Windows.
That's just what Sanford's mother did recently, he says, when she bought a new MacBook, intending to run Windows on it as well. Given the choice between a copy of Vista that may or may not run all of her current Windows software, and a cheaper copy of XP that definitely will, she opted for XP.
Hurdles for Gamers
Similarly, many gamers are choosing the supposedly outdated OS for new purchases. Dell's Pearcy says that a large majority of consumers buying new PCs decide on Vista, but that the choosy gaming crowd is one niche group that seems to prefer XP. One reason, she says, is the lack of games that take advantage of Vista's DirectX 10. Also, the normal performance and compatibility issues encountered with a new OS might merely annoy an everyday user, but to gamers looking for top speed, they're a killer.
For example, older games that use DirectSound 3D got short shrift in the new OS, since Vista lacks the audio feature entirely. (And without support for that API, sound cards capable of accelerating DirectSound lost much of their utility.)
Newer games using the OpenAL standard that Vista supports won't suffer, but older favorites such as Blizzard's Diablo 2 require a software workaround from Creative Labs to run with surround-sound effects--or in some cases, to run at all.
Transmuting Sound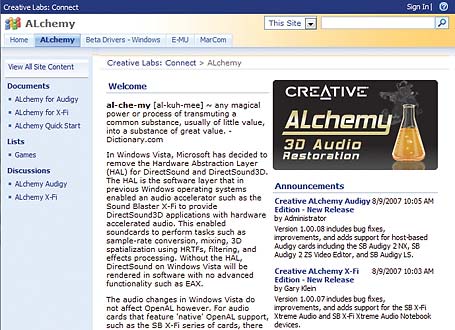 Creative's ALchemy software for older games translates the games' DirectSound output into OpenAL. Having to use ALchemy is a minor annoyance, but absent some compelling reason to switch to Vista, it's one that most gamers would rather avoid.
Michael Gartenberg, vice president and research director at Jupiter Research, says that he isn't surprised to see many people still choosing Windows XP over Vista.
"Microsoft's competition is always what their last operating system revision was," he says. "And in this case, XP was pretty good."
Gartenberg doesn't see the same kind of "burning drive" to upgrade from XP that many people had when upgrading from Windows Me, for instance. He notes that people lined up to buy XP; but now, "consumers and businesses have learned to be a little hesitant about adopting new products."
Vista SP1 Is Coming
And businesses are understandably hesitant. Vista's improved security and other features could be a boon to business, but IT staffs that have spent the past six years smoothing out an XP network and training users are loath to consider upgrading to a new OS before it has had much time to settle.
"Any number of people are saying, 'Wait for SP1,'" Gartenberg points out.
Dell officials echo that observation. "We're hearing that from our customers today--that they're waiting for SP1 as a signal of code stability," Dell's Pearcy says. "That's historically very much in line with what has happened in every major OS transition."
But such waiting now has an end date, since Microsoft announced that it will release a final SP1 for Vista in the first quarter of 2008. That will follow a September release of an SP1 beta, giving on-the-ball companies time to test its many compatibility and performance fixes.
According to Microsoft's overview document for the SP1 beta, Vista's first service pack will offer improvements for security, reliability, and performance, and more support for emerging hardware and standards. In addition, the company will continue to introduce drivers to support more devices, bumping Vista's count from 1.7 million in January 2008 to 2.2 million in July. But SP1 "does not deliver substantial new operating system features," according to the document.
BitLocker Drive Encryption will receive an upgrade, and security companies will get long-awaited programming interfaces to work with the 64-bit version's kernel patch protection. Microsoft also says that SP1 will boost reliability on systems upgraded to Vista from XP, and that it will offer better compatibility with printer drivers.
Performance Tweaks
After the release of SP1, Vista should be faster at copying and extracting files, according to Microsoft, and should wake more quickly from Hibernate and Resume modes. Company engineers should have corrected a bug involving slow network file-share browsing, too, as well as the occasional 10-second delay before a password prompt pops up when you press <Ctrl>-<Alt>-<Delete> to log in after resuming your PC.
Also, we may see further Vista-focused game development after SP1 adds support for Direct3D 10.1, which expands the API to allow game developers to "better take advantage of a new generation of Direct3D graphics hardware," according to Microsoft's SP1 overview.
So what does all of this mean for Microsoft? Though the company might not have liked adjusting its 2008 forecast to account for more people buying XP, CFO Liddell says that the expected income from OS sales "is still exactly the same," and Redmond's bottom line should be fine. "We tend to get paid either way," Liddell says.
These fixes, along with the many others promised for SP1, may suffice to lure current consumer and business holdouts to the new operating system. But come January, you may not have much of a choice for new computers, even if you're still on the fence. Pearcy says that for Dell customers, "XP as a readily available OS will come to an end" next January for consumer PCs, in keeping with Microsoft's current plans. Businesses will have a wider window: The new SP2c build of Windows XP will be available through January 2009.
Key Dates in the XP/Vista Transition
January 2008: XP no longer sold to consumers
First Quarter 2008: Vista SP1 release
January 2009: XP no longer sold to businesses
April 2014: XP extended support cutoff
Vista vs. XP After 8 Months
How is Windows Vista doing in comparison with XP? Visitors to PCWorld.com are adopting the new OS far more slowly than they adopted XP, as numbers from our Web site tracking data indicate. Click on the icon below to see our bar graph of the percentages.