Before They Spoiled the Software
Page 2 of 6
Instant Messaging Programs
Do you think your instant messaging application is bloated? Welcome to the club.
AOL Instant Messenger (AIM)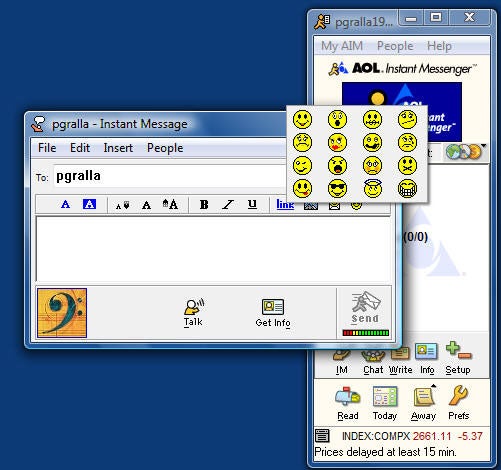 OldVersion.com's Alex Levine, like many others, complains that the newest version of AIM features more pop-ups, more advertising, and a difficult-to-use interface. "A lot of our users use AIM 5.5.x or 5.9.x simply because [those versions] do what users need the app to do and don't use as much CPU," he says.
"They made the newer versions way too foofy and filled with [stuff] I don't need," one OldVersion user says of AIM. "The older versions work much better; they do just what I want, which is allow me to communicate with people with a minimum of fuss and without a slick interface that I don't need."
"The smilies are unbearable in the newer versions," another user adds. "Not only do they do that horrible explosion thing, but for some reason you can't make them any smaller than the default, and the really tiny smilies are so much cuter :)."
ICQ
America Online seems to have a knack for wrecking good instant messengers. ICQ was at one time the big boy of the instant messaging world. Then AOL bought it. Ever since, people have been complaining about the software's bloat.
"I still use ICQ 2003 Pro, primarily because it still has the original single message mode instead of the split chat window," says PC World's Elliott Kirschling. "I would prefer to use an even older and less bloated version, but they no longer connect to the newer clients and network."
"It used to be a wonderful little IM program, then they just couldn't leave well enough alone and kept adding more and more," complains one OldVersion.com user. Oldversion.com has previous versions of both ICQ and ICQ Lite, an even slimmer client. If you want to check out what people are complaining about, you can download ICQ 6, the current version.
Windows Messenger, MSN Messenger, Windows Live Messenger
This Microsoft instant messaging program has gone through so many name changes and incarnations, we defy anyone to name them all. The latest is Windows Live Messenger, which some people complain is a system hog.
"Windows Live Messenger is all flair and no guts," says one OldVersion.com user. "I want a messenger to send messages to people, not eat up my system resources with transparent skins and flashy interfaces." This IM devotee says he uses, instead, MSN Messenger 7.5.
Shop Tech Products at Amazon