The Laptop Gear You Must Have
Page 3 of 4
Lug and Secure Your Laptop
A good-quality bag can make all the difference when you're on the road, where you'll always need to protect your laptop from theft and damage.
Carrying Options
Laptop bags come in all shapes and sizes--wheeled bags, backpacks, messenger bags, and briefcases. Wheeled bags are easier on your body but can be difficult to roll down narrow airplane aisles. Backpacks are hands-free but too casual for some people. Messenger bags are stylish but cause shoulder strain. Computer briefcases add a polished, professional look but are cumbersome to carry.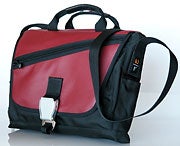 For top-quality bags, go with Tumi, Victorinox, or Briggs & Riley. You'll pay more, but their bags last for years. Waterfield Design makes a variety of stylish laptop bags, including some with airplane-seat-buckle closures. OtterBox sells ultrarugged cases for laptops and other electronics.
Some wheeled carry-on suitcases now include laptop compartments. Briggs & Riley's 20-Inch Carry-On Computer Upright ($325 list) lets you pack clothes, toiletries, reading materials, a laptop, and accessories all in one bag.
When you're ready to buy, Ebags and Luggage Online have plenty of choices and comparison tools.
Securing Your Laptop
Stuff can happen to your laptop during travel--theft, damage, loss. Fortunately, you can do plenty to protect your portable.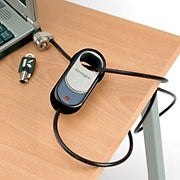 The Kensington Security Slot, which is standard on laptops, enables you to physically secure the computer with a cable and lock. Kensington makes assorted laptop cable/lock sets ($30 to $70), including the MicroSaver Alarmed Lock ($45), which emits an audible alert when tampered with.
Your data is probably more valuable than your laptop. Safeguard sensitive data by storing it on an encrypted USB thumb drive instead of the laptop's hard drive. The Lexar JumpDrive Secure II USB Flash Drive ($30 to $102) comes in several storage capacities and includes software for protecting files with 256-bit AES encryption.
Some laptops offer encrypted hard drives. Dell's Latitude D630 and D830 (each $849 and up) are the first laptops to include hard drives featuring Seagate's DriveTrust technology, which promises transparent, robust, fast data encryption.
You might lose data if you drop your laptop and damage the hard drive. Laptops such as the Panasonic Toughbook Y5 ($1985) have shock-mounted drives designed to protect data should the computer take a tumble.
To help ensure that your laptop will be returned if lost, register it with StuffBak. For $6, you'll receive a sticker that announces a reward for your laptop's return and provides a toll-free phone number. For $50 a year, LoJack for Laptops will help you track, find, and recover a stolen laptop. Safeware will insure your laptop against fire, theft, damage and more.
Shop Tech Products at Amazon