The Laptop Gear You Must Have
Page 4 of 4
Working in Comfort
A laptop is an ergonomic nightmare. Frequently you're typing in awkward circumstances, such as in an airport departure-lounge chair or propped up in bed. Over time, those positions can cause strain and pain. In the correct posture, your eyes are level with the top of the computer screen. Your arms are at a 90-degree angle, your wrists are straight, and your hips are higher than your knees.
Many travelers use their laptop as their desk computer, too. In your office, connect your laptop to an external monitor, keyboard, and mouse, so you can work in comfort. Use an ergonomic desk and an adjustable chair.
Monitor
Match the external monitor you buy to your laptop screen. For example, if your laptop has a wide-screen LCD, buy a wide-screen external monitor. Keep in mind that you may be able to use your laptop screen and external monitor as one continuous Windows desktop, an ideal arrangement for working with multiple documents. For maximum viewing comfort, buy at least a 17-inch monitor, such as Dell's UltraSharp 1708FP ($212).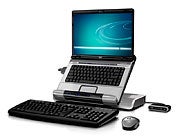 If your laptop's built-in screen is 15 inches or larger, you might forgo an external monitor in favor of a laptop stand that elevates the portable's screen to the proper height. The Xbrand XB-1002 360 height-adjustable laptop stand ($69) also includes a USB 2.0 hub. Some docking stations, such as Hewlett-Packard's Notebook Expansion Base xb3000 ($179) also elevate laptop screens. The xb3000 is designed to work with compatible HP laptops and comes with a wireless keyboard and mouse. (See "Docking Your Computer" below for more about docking stations.)
Keyboards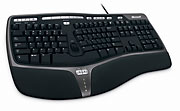 Microsoft's Ergonomic Keyboard 4000 ($35) takes some getting used to. But the USB keyboard helps position your hands properly and provides plenty of customizable hot-keys.
Mouse
To use a mouse effectively, you must grip it and click its buttons frequently with your index finger--risking wrist and hand strain. Some experts believe that trackballs, such as Kensington's Expert Mouse ($82), are more ergonomic because they don't need to be gripped and are easier to click.
Docking Your Computer
Most of today's external keyboards, trackballs, mice, and other input devices connect to computers via USB. Unfortunately, some laptops have only two USB ports. What's more, having to unplug your external monitor, keyboard, mouse, printer, and other peripherals whenever you hit the road is a drag. The solution: a port replicator or docking station, also called an expansion base.
Port replicators and docking stations serve essentially the same purpose. You connect peripherals to the port replicator/docking station instead of to your laptop, and then connect your laptop to the port replicator/docking station. When you're ready to roll, you just disconnect your laptop, rather than a bunch of peripherals.
Docking stations usually offer more functionality than basic port replicators do. For example, the aforementioned HP Notebook Expansion Base xb3000 can also house an optional hard drive for storage or backup.
Check your laptop manufacturer's Web site for compatible port replicators and docking stations. Third-party models are available, too, and may be less expensive than what your laptop maker offers. For example, the Targus Universal Notebook Docking Station ($66) connects an ethernet cable, monitor, printer, speakers, and other devices.
Shop Tech Products at Amazon