Page 7 of 7
Top 5 Third-Party Browsers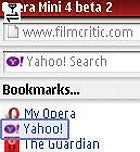 You may not have to put up with the browser that came preinstalled on your phone. Third-party options are available for every platform except the iPhone. Remember, however, that not every browser will run on every device, even if it says it supports the device's OS. Also, many browser builders target service providers and developers instead of consumers, so support can be spotty. Some offer limited-time trials.
Opera Mini 4 beta 2 runs on virtually every smart-phone platform, with free versions available for BlackBerry, Palm, Symbian, and Windows Mobiledevices. (The similar Opera Mobile runs only on Symbian S60 and Windows Mobile handsets). Opera Mini is a very small, very fast browser with no frills and no rendering problems. The current beta version is a bit buggy, but it's the way--the only way--to go if you want a single interface across multiple devices.
If Palm's Blazer doesn't float your boat, give the $30 Mobirus Xiino 3.4E a spin. It generally does a better job than Blazer at displaying complex Web pages, though it still reformats them into a single-column view. The bookmarking system is somewhat better, too. (Blazer's bookmarks are rendered in childish buttons.) For heavy browsing on your Palm device, it's a worthwhile upgrade.
Just as you can replace Internet Explorer on your PC with the open-source Firefox, you can replace IE Mobile with the free Mozilla Minimo 0.2, which runs on Windows Mobile 5 and above. Minimo is a large download (4.5MB), and it runs slowly. It's also prone to crashing. But for a beta browser, it's certainly worth a peek as an alternative to IE (it even has a tabbed browsing system).
Access NetFront 3.4, currently a free beta, is another IE Mobile alternative. It supports Ajax and other modern Web standards and renders most pages closer to their desktop versions than any other Windows Mobile-compatible browser. It has a useful visual thumbnail layout for bookmarks. (Symbian versions cost 10 Euros.)
ReenSoft PIEPlus 2.2 isn't a stand-alone browser, but rather, a $15 add-on to make IE Mobile less useless. It can't fix IE's poor rendering, but it does add tabbed browsing, iPhone-like screen dragging and zooming, and many other features. However, like some of the other alternative browsers we tried, PIEPlus is prone to crashes.
Christopher Null is a veteran journalist who covers technology topics daily on his blog at Christopher Null, The Working Guy.
Shop Tech Products at Amazon