Life Without Desktop Software
Page 3 of 4
Words and Numbers
It's too soon to tell whether I will encounter a show-stopping shortcoming in Google Docs. I like the collaboration features: If someone I have invited to edit my document accepts and begins working on it, a little box appears at the bottom of the screen, informing me that the person is editing the document. The changes take effect when the editor clicks Save; and I can see the changes when I click Save or refresh the browser.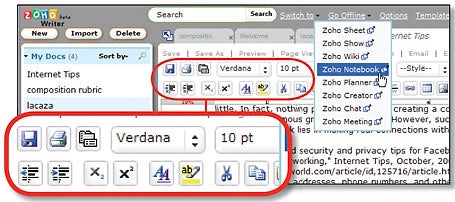 But I did run into problems. First, my documents printed with tiny headers and footers. Eventually I discovered that these were inserted by the browser (duh!), and I figured out how to make them go away. Also, neither Google Docs nor Zoho Writer could correctly display or print a tabular Word document that used space-bar characters--rather than tabs--to align table elements vertically. Both OpenOffice.org and Word rendered the file correctly.
And though you can send a Google document to someone in your contact list with a single click, Google Docs and Spreadsheets insisted that one PC World editor's address was invalid (it worked fine in Gmail, however).
If a glitch like that one leaves you reluctant to give up your desktop apps, you might like Zoho Office's plug-in for synchronizing local Office files with Zoho's server, making them available both online and off. Unfortunately, Zoho Show had trouble properly displaying several complex PowerPoint presentations. And Zoho Viewer mysteriously refused to open a 5MB PDF file, though its file size limit is 10MB and it had no difficulty reading other PDFs. (Many online applications do put a limit on permissible document size.)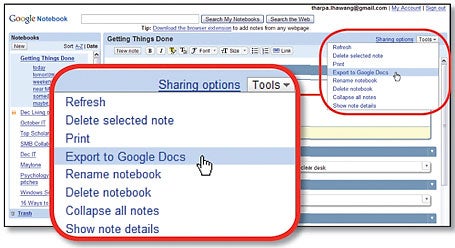 Though I never got into using Microsoft's One Note for organizing research, I now rely heavily on Google Notebook. Zoho Notebook is even better--but using linked applications is just so easy. For example, I can send documents from Google Docs to Gmail with a single click; to mail a Zoho doc with Gmail, I must first save it to disk or manually cut and paste a Web link between the two.
Still, Zoho's suite of online tools includes several that are conspicuously absent from Google, including Zoho Creator for designing databases.
Shop Tech Products at Amazon