22-Inch LCDs: More Screen for Less Green
Page 3 of 4
Value-Monitor Extras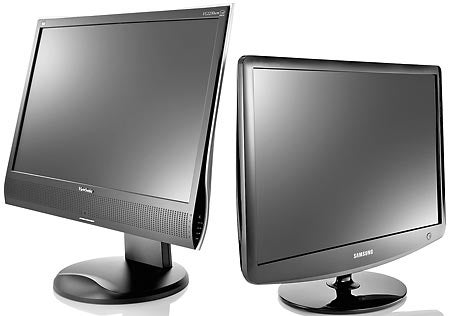 The speakers built in to several of the models we looked at--the AG Neovo, Envision, HP, and ViewSonic--tended to fall short of producing satisfactory sound for applications that require robust audio, such as music or movie playback. Only the Envision G218a1's integrated speakers managed to produce above-average sound for movie dialogue or audio. Unless you're willing to tolerate tinny-sounding speakers or you desperately need to conserve space, you should plan on supplementing these generally weak built-ins with a pair of freestanding speakers.
Few of the models we evaluated permitted full, multiple physical adjustments. All of them include a tilt mechanism, but most stop there. The ViewSonic VG2230wm and HP w2207 come with height-adjustable stands, and the former swivels 360 degrees, too. Only the HP w2207 had a pivot mechanism, but it lacked a true swivel stand.
If you've already moved to Microsoft Windows Vista or bought a PC that runs on it, you may already know that sidebar widget applications (such as those from Google) work best with a wide screen. Sidebars sit on the left or right side of the monitor; and depending on the application, they offer a constant stream of information such as RSS feeds, weather updates, and images. Several monitors in our cohort sported a "Vista Certified" logo--a confusing selling point signifying, among other things, that the screen supports Microsoft-specified technical display standards, such as monitor sleep states and rendering of standard Red Green Blue (sRGB) color spaces. For consumers, the most important Vista-compatible feature is that a monitor have HDCP compatibility, which will enable you to view copy-protected high-definition content, something movie studios are pushing to become standard. This feature may not be paramount for everyone--especially not people who aren't planning to watch movies on their monitors, but it's a feature to think about if you want to future-proof this component of your computer setup.
HP Wins; Neovo's Thin
You can't go wrong with any of these monitors if you simply need a wider screen for word processing and spreadsheets. The HP can even swivel to portrait (vertical) mode, which can be ideal for Web browsing. Each monitor in this segment is generally very good for viewing text and graphics. If you want the thinnest, go with AG Neovo's H-W22, which also happens to be the least expensive of this bunch. If you want one that offers maximum physical adjustability, consider the HP w2207 or the ViewSonic VG2230wm. And if an eye-catching design tops your list, check out the HP w2207 and the Samsung SyncMaster 2232GW, whose unique cabinets are sure to set adjacent offices and cubicles abuzz. Samsung's model also had the best performance numbers, a boon for graphics pros and gamers.
Shop Tech Products at Amazon