Page 2 of 4
Time to Socialize
To create your own group, click Groups in the left pane, and select Create a New Group. Enter a name and description for your group, and choose which network it will belong to. Selecting the Global network makes your group available to every member of Facebook. Choosing a work, school, or regional network limits it to the members of that network; this could make a lot of sense if your new group is strictly work-related, or if it's intended only for students at your school. Pick a category and type for your group in the Group Type drop-down menu to allow Facebook users to browse for your group by its content. The remaining information fields are optional. Note the default settings near the bottom of the page--you control nearly every aspect of what the group home page displays, as well as who can see and join the group. Click Create Group to continue. Next, upload a picture to serve as the group's profile photo and click Continue. Facebook offers you the option of inviting friends to join the group. Once you're done, click Finish and View to complete the creation of your group. Then return to the group's page by clicking its link in the Groups list in your profile page's central column.
Check the news feed: People, groups, and applications make Facebook valuable, but how do you find them? One of the easiest ways is to check your news feed. To do so, click the Facebook logo in your profile's upper-left corner. You'll see a list of your friends' activities, including new friends they've made, groups they've joined, and applications they've installed and removed. The news feed's main column also shows new photos and status messages that your friends have posted, along with the occasional advertisement or message from Facebook itself. The smaller right-hand column summarizes your recent status notifications, plus another crucial item: your friends' upcoming birthdays. As with most other aspects of Facebook, you can control how much and what kind of information Facebook delivers to your news feed. To adjust feed settings, click Preferences at the top of the News Feed column. Hover over each slider control to display its name above it, and move the slider up or down to increase or decrease the amount of each that the feed displays. If you'd rather not be notified every time one of your friends hooks up with a new love interest, for example, slide the Relationships control all the way down. You can adjust the news flow on individual friends by entering their names in the 'More About These Friends' or 'Less About These Friends' feed at the base of the page.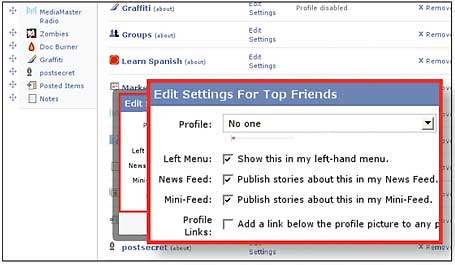 Tidy your layout: The first thing to know about Facebook is that you control the horizontal and the vertical. With a few notable exceptions, if you don't like where your photos, your wall (a place to scrawl public messages), or your zillions of other applications are located, you can drag and drop them to a new spot. Here are the exceptions: You can't drag anything in or out of the left column, which is reserved for your applications list and for the all-important vertical advertisement box. Your default network's friends display has to be the first item in the central column (just below your profile photo), and the mini-feed is always the first item in the right column (just below your basic profile information). In some cases, applications or other Facebook-supplied elements won't move to an adjacent column because they are too narrow or too wide--in these instances, Facebook simply displays an error message and restores the item to its previous location. If your application list is cluttered with items that you've never heard of and never use, get rid of the dross: Click edit next to Applications in the left pane to display the list of applications in your profile. Click Remove next to each application to uninstall it, or click Edit Settings to control how and where the application displays, among other behaviors. For example, a few applications install links to themselves in your friends' profiles just under their profile picture. To spare your friends this intrusive behavior, uncheck Add a link below the profile picture to any profile in each application's settings, and click Save (see the screen above left). To remove these unwanted links from your own profile, click Remove next to the link in the Applications list.