15 Downloads That Will Block Annoying Ads and Pop-Ups
Page 2 of 4
Pop-Up Killers
PopUp Ad SmasheR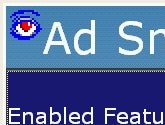 PopUp Ad SmasheR has a weird name, but it stops most of the typical browsing annoyances in Internet Explorer. You can configure it to stop pop-up and pop-under ads, animated and floating ads, Flash ads, timer ads (which can prevent you from accessing a Web page), deceiving dialog box ads, and message box ads.
In my tests it worked well, though it allowed a couple of static ads to slip through. Its "Smart Pop-Up" feature permitted some pop-ups to appear, too, until I tweaked the settings. The Ad Control feature gave me a way to allow, or block, specific pop-ups and ads--or to block everything on a site. Unfortunately, applying the rules, even through the wizard, is a little kludgy and takes multiple steps.
The program also keeps browser helper objects from downloading, removes Web bugs, and automatically cleans your Temp folder. You can configure any of the settings to meet your security needs.
Ad SmashR is free to try and only $20 to keep. If you find IE's security settings and pop-up stopper lacking, this program is worth a try.
Price: $20 (15-day free trial)
Ad Annihilator
Ad Annihilator is good--very good, in fact--at blocking pop-up ads, banner ads, Flash ads, and other distractions, including cookies. Once you've started blocking ads, the program's "suppression mechanism" (which sounds like an antibiotic) recognizes and kills similar banners and pop-up windows. If you identify a keyword or character string that often appears in ads, you can add it to the program's Web content filtering and blocking feature.
The application also gives you options to block specific ads and pop-ups from the right-click menu in Internet Explorer.
A warning, however: Unlike other, set-and-forget ad blockers, Ad Annihilator is a geeky tool. You'll need some spare time to configure it perfectly. Ad Annihilator works with any version of Windows, but only with Internet Explorer (5.0 and newer). After the 15-day trial, you'll have to pony up $30 to keep using Ad Annihilator.
Price: $30 (15-day free trial)
AdBarricade
AdBarricade is a network-based ad-blocking service that supplies you with new DNS (Domain Name System) numbers; as a result, ads are blocked before they get near your PC. You have nothing to install, and the service works with every browser and operating system.
To make the change, you'll need to reset your PC's DNS numbers; if you're running Windows XP, use AdBarricade's downloadable program to handle the task. (If other people are on your network and want to use AdBarricade, you'll have to make the change manually through the router.) Be sure to download AdBarricade's small autoremove tool, as well, just in case the new DNS settings prevent you from accessing the Internet.
AdBarricade does a terrific job of killing banner ads, and a reasonable job of blocking most Flash ads. Unfortunately, in my tests the service had no effect on pop-ups, pop-unders, or fly-ins, so you'll still need to use a free pop-up blocker. You can give AdBarricade a workout for seven days; if you like its performance, it'll cost you $20 per year.
If you're interested in speeding up your Internet connection, consider changing your PC's DNS settings. You can read about how to do it, and the service that can help you do it, in "25 Web Sites to Watch" (scroll to OpenDNS).
Price: $20 per year
Shop Tech Products at Amazon