15 Downloads That Will Block Annoying Ads and Pop-Ups
Page 3 of 4
Ad Assassins
Super Ad Blocker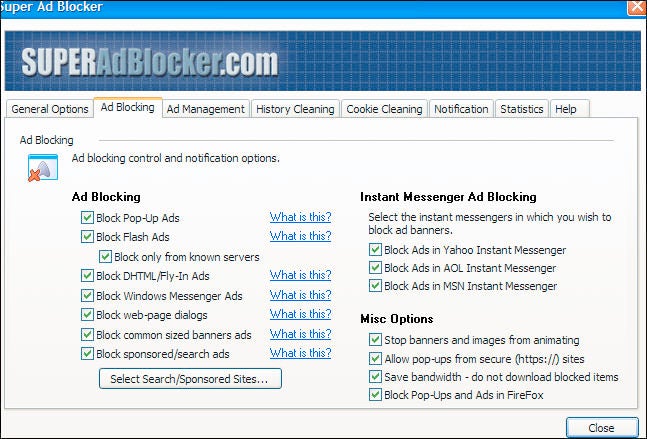 Super Ad Blocker tackles even the most annoying ads, including pop-ups, banners, and the distracting fly-in and slide-in types. It works nicely on all counts; if you're curious about how well it does, you can obtain detailed logs for all the blocked ads. Super Ad Blocker comes with a comprehensive configuration panel showing you its options for stopping ads, including those that annoy you while you're using instant messaging programs.
The program is smart, too, in that it lets you stop images from animating and allow pop-ups from secure sites, such as Microsoft. For an extra level of security, Super Ad Blocker includes cookie- and history-cleaning tools, plus an antispyware scanner. Take the program for a spin in either Firefox or Internet Explorer for 15 days; if you decide that it's a keeper, it will cost you $30.
Price: $30 (15-day free trial)
ZeroAds
ZeroAds tries to remove all types of ads, but it's most proficient at blocking simple banners and pop-ups; it didn't touch most of the Flash ads on the sites I tried. The program includes a cookie remover and an active antispyware module. The 15-day trial will help you decide how well the $30 product works at blocking ads on the sites you visit.
Price: $30 (15-day free trial)
KillAd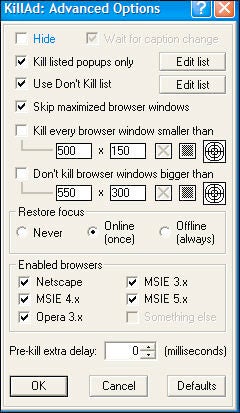 The free KillAd adequately removes pop-ups and tries its best to eliminate banners and other ads, such as Flash, but it's not always effective. It has no standard installation process, either: You'll need to unzip KillAd, move it to a folder, and manually add it to your startup group.
Price: Free
Popup Free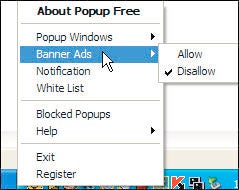 Popup Free is a small, no-frills tool that stops pop-up, banner, and Flash ads, and loads into the system tray when Internet Explorer launches. It halts most banners and some Flash ads reasonably well, yet has trouble stopping slide-in and fly-across ads. If Popup Free nails a legitimate pop-up window, you can add the item to your whitelist to let it through in the future. The tool is free, but to continue using it, you'll need to obtain a free registration code within 14 days.
Price: Free
Shop Tech Products at Amazon