15 Downloads That Will Block Annoying Ads and Pop-Ups
Page 4 of 4
Browser Add-Ons and Extensions
Adblock Plus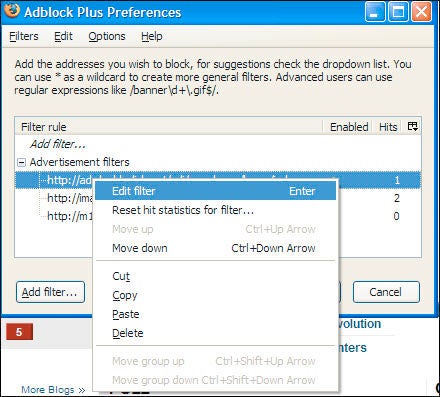 Take it from Firefox fanatics: If you want to stop ads, use Adblock Plus, one of the most popular Firefox extensions around. Installation is a snap--just download Adblock Plus, and while you're in Firefox, click Install Now. Once the free extension is installed, it blocks pesky online ads based on their source URLs, so if you're not interested in fiddling, you can just let Adblock Plus do its thing. Undoubtedly you'll run into an ad that wasn't blocked (or an image that was but shouldn't have been). Just right-click on the ad, select Adblock Image from the context menu, and blast the ad into the bit bucket. And if you're a tweaker, you can bring up Adblock's Preferences (also from the context menu) and create your own filter rules.
For more on lots of cool Firefox (and Internet Explorer) add-ons, check out our "Build the Perfect Browser" feature. Then turn to "15 Undocumented Firefox Tips" and learn how to customize your browser.
Price: Free
Google Toolbar Pop-Up Blocker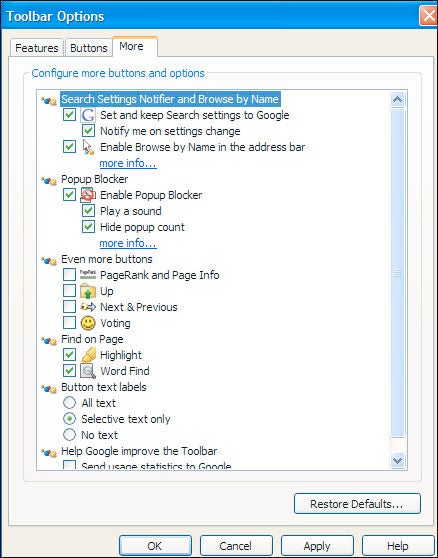 You probably know the Google Toolbar as a terrific search tool for Internet Explorer or Firefox. But it also comes with a free pop-up blocker that works as well as some of the pricey ones do; it's amazingly accurate at diagnosing and blocking pop-ups that I don't want to see while letting "good" pop-ups appear. The toolbar supports Web-based bookmarking, and throws in a spelling checker and an automatic form-filling feature.
You say you're using Firefox? No sweat: A version of Google Toolbar is available for you, too.
Google's toolbar has plenty more to offer, and you can read about it in "First Look: Google--The Toolbar You'll Keep" (the article is a tad old, but the info is still current).
Price: Free
Yahoo Toolbar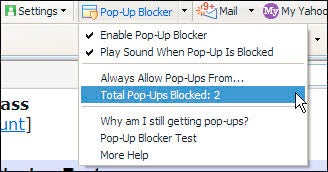 Yahoo's free Toolbar fits snugly into your browser, right under the address field, and protects you from pesky pop-ups.
Unfortunately, it doesn't do anything about the other annoyances, namely banner and Flash ads. If you don't find those bothersome, however, Yahoo's customizable Toolbar might be the choice for you. It's loaded with other features, too, including competent Web searches, the ability to check Yahoo Mail, and free Norton antivirus and antispyware scans. The Yahoo Toolbar also lets you create Web-based bookmarks that are separate from your system-based bookmarks, ideal if your other browsers also have the Yahoo Toolbar installed.
Using Firefox? No problem--Yahoo has a Toolbar plug-in for you, too.
Price: Free
IE AdBlock
IE AdBlock is a small, unobtrusive, set-and-forget freebie that removes many but not all pop-ups, banner ads, and other annoyances. Unfortunately, the tool doesn't know how to handle Flash ads, and it doesn't give you a way to modify the blocking filters.
Price: Free
IE7Pro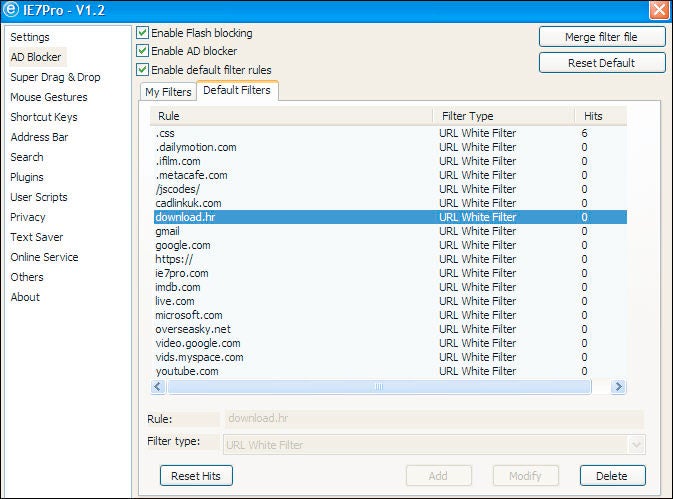 If you want a smart, free add-on for Internet Explorer, download IE7Pro. The free tool has tons of ways to make IE easier to use, and you can access everything via one button in the Status bar.
IE7Pro stomps on banner and Flash ads (it successfully removed most ads of that type from the sites I visited), but it has a tougher time removing pop-up ads; in my tests, most pop-ups passed through like water through a sieve. But IE7Pro isn't just about ad blocking.
The tool provides helpful functions that plain IE doesn't, such as Super Drag Drop, a way to drag a link to any spot on the page to open a new tab, and Mouse Gestures, a cool feature that lets you scroll, open, close, and navigate through open tabs. It also has a built-in spelling checker and a handy recovery feature just in case IE takes a nosedive and crashes.
Price: Free
Quero Toolbar 4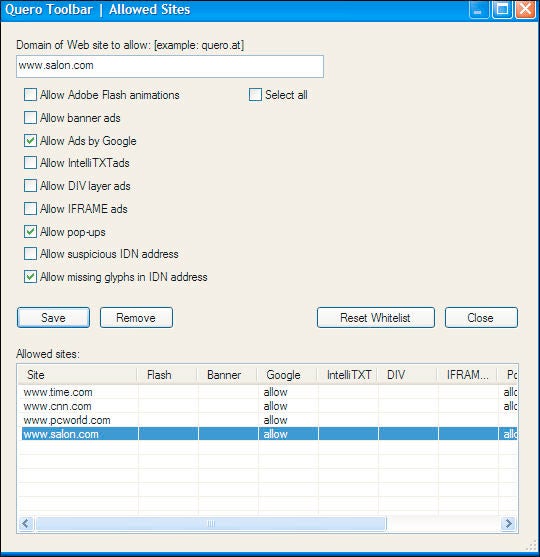 Quero Toolbar 4 is a free toolbar for Internet Explorer that blocks pop-ups, banners, Flash ads, framed ads, layered ads, and even Google text ads; it's also a great search helper with access to 18 search tools. In addition, Quero has an array of other useful features, including a means to change IE's windows into prearranged sizes, modify the size of the text on a page, and guard against phishing expeditions.
One nice touch is that you can add plenty of other search-engine choices to the 18 engines that Quero already has in its search box. What's more, you can separate the collection of search engines into categories, such as "shopping" or "help sites."
Another cool feature: You can use Quero to bring the more familiar look of Internet Explorer 6 to the IE 7 interface. For instance, after installing the toolbar, choose Hide standard address/navigation bar under the Appearance option, and then move the menu bar back up top. Quero Toolbar 4 works with any version of Windows, but only with Internet Explorer (5.0 and newer).
Whether you use Quero or not, you can save yourself some Web surfing grief by reading "Thwart the Three Biggest Internet Threats of 2007."
Price: Free
sQusi 2.0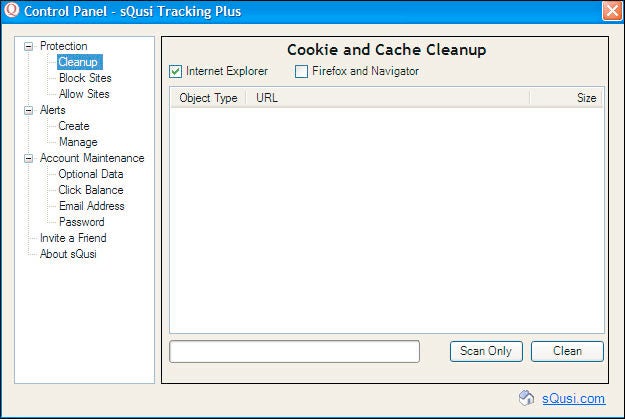 sQusi is an IE add-on and Firefox extension freebie that blocks ads, stops Flash and pop-ups, and nails Google's inline IntelliTXT. The program also automatically blocks cookies, stops embedded music players, and halts advertisers' Web beacons. It blocks ads embedded in Windows Messenger Live and Yahoo IM applications, too. The program lets you blacklist or whitelist entire sites and clean both Firefox and Internet Explorer cache folders, as well as remove cookies.
Price: Free
Shop Tech Products at Amazon