Page 3 of 4
Socks' Master
Julie Wainwright
1999: CEO of Pets.com
Now: Strategic consultant

From flying toasters to sock puppets, Julie Wainwright has touched her share of high-tech history. The itinerant chief executive has run some of the seminal startups in technology, starting with Berkeley Systems, which morphed from a maker of wacky screen savers to the force behind popular games like "You Don't Know Jack." From there Wainwright moved to Reel.com, the movie database that morphed into a brick-and-mortar video rental operation before being purchased in 1998 by Hollywood Entertainment for $100 million.
But Wainwright is probably best known for her role at Pets.com, the last big IPO to launch before the dot-bomb implosion (and number 7 on our list of The 25 Worst Web Sites). Wainwright signed on in March 1999. By November 2000, Pets.com had morphed into...well, nothing. The shuttered site ultimately sold its URL to rival Petsmart.com in June 2001.
"I am probably best known as the CEO of Pets.com, the leading pet supply company with its famous sock puppet," she writes in her profile on networking site LinkedIn. "That was the ride of a life time. The Internet bubble burst and I was in position of either running the company to bankruptcy or shutting it down to return money to shareholders. I chose the latter. [It was a] tough decision made with the support of world-class team and board."
Since the Pets.com debacle, Wainwright has filled the top job at an Internet consulting agency, venture capital firm, and photo editing software maker. Now Wainwright is seeking her next big high-tech adventure--preferably one that doesn't involve sock puppets.
QRIO
2003: The future of consumer robotics
Now: Teacher's helper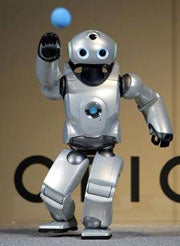 At one time he seemed destined for stardom. QRIO (pronounced "curio," short for "Quest for Curiosity") could do it all: run, jump, throw a ball, recognize voices and faces, and dance like a robotic, less scary Michael Jackson. True, at 23 inches he was a tad short, yet Sony thought enough of QRIO to name him its corporate ambassador, "an expression of the Sony Group's dreams, entertainment and technology."Time Magazine named him one of the Coolest Inventions of 2003.
Then QRIO's luster began to dull. Though he steadily added functionality--like fingers with "pinch detection" to keep from crushing the digits of his human fans--QRIO still cost upwards of $65,000. He soon found himself surpassed by lesser but far more affordable robots like Wow Wee's Robosapian. Attempts at a comeback--including a starring role in a Beck music video--failed to ignite the public imagination. In January 2006, Sony pulled the plug, stopping all development.
Like many never-has-beens, QRIO left show business and went into education. Now at the University of California at San Diego, he works in the university's early childhood educational center, interacting with children age 10 to 24 months. Researchers at UCSD's Machine Perception Lab use QRIO to measure how toddlers deal with their cyborg peers. The verdict? They like him, provided he doesn't dance too much.
George Grayson
1993: Co-founder of 7th Level
Now: CEO of The Imagination Station

For a brief period in the early 1990s, it looked like CD-ROMs would herald a new era of interactive entertainment--and no stars shined brighter than those at 7th Level. The company offered an intriguing mix of technology and glitz. CEO George Grayson, cofounder of Micrografx, brought the tech expertise. Executive VP Scott Page, former sax player for Pink Floyd, brought the talent. EVP Bob Ezrin, a record producer for some of the biggest acts in music, had the Hollywood connections.
At first, the collaboration was hugely successful, producing two best-selling titles: Howie Mandel's Tuneland and Monty Python's Complete Waste of Time. The company threw lavish parties at trade shows, featuring entertainment by Tower of Power and the B-52s, with a guest list that included Quincy Jones, actress Nastassja Kinski, and former financier Michael Milken.
But 7th Level's next efforts didn't do quite so well. In March 1997, when the company decided to drop its line of educational titles and focus entirely on games, Grayson left to form his own software firm, The Imagination Station. By the end of that year 7th Level had merged with Pulse Entertainment and left the gaming business entirely. The CD-ROM market eventually collapsed, thanks to both the medium's notorious technical problems and the rise of the Net. Imagination Station, however, continues to provide Internet-based educational materials to elementary schools across the nation.
We don't miss CD-ROMs one bit. But we do miss the parties.