Desktops: Penryn PC Takes Power Prize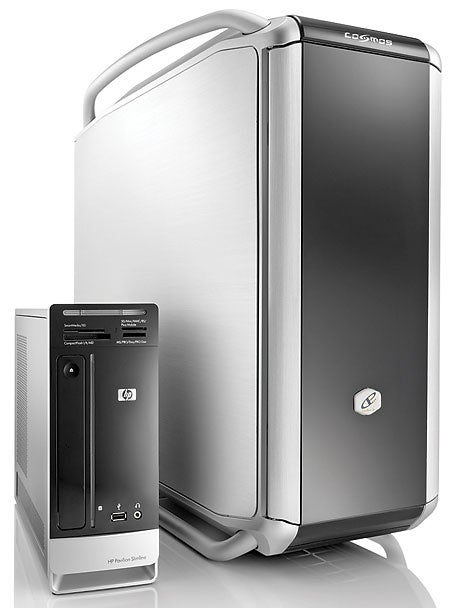 The first computer we've tested that features Intel's new high-end Penryn processor and a well-designed small-form-factor PC from HP are the highlights of this month's batch of power systems.
CyberPower's Power Infinity Pro, which leads our Top 5 Power Desktops chart, is equipped with Intel's recently released 3-GHz QX9650 Core 2 Extreme CPU, code-named Penryn. Unlike existing Core 2 chips that the company produces using a 65-nanometer manufacturing process, Penryn CPUs such as the QX9650 are fabricated in a 45nm process that packs more transistors--in effect, more processing power--into the same amount of space on a chip.
We pitted the Power Infinity Pro against power desktops that use Intel's previous high-end CPU, the 3-GHz Core 2 Extreme QX6850: HP's Blackbird 002 LCi, the third-ranked CyberPower Infinity Pro, Polywell's P3503-3DT, and War Machine's M1 Elite. Running our WorldBench 6 Beta 2 and graphics tests, we compared the Power Infinity Pro's scores against the scores that these other systems earned in imaging, 3D rendering, video encoding, and gaming.
The results showed an average performance gain of just 8.5 percent in imaging, 12.5 percent in 3D rendering, 8.5 percent in video encoding, and 12.5 percent in gaming. Granted, those aren't quite the percentages that Intel claims, but they still show a definite performance boost.
One possible explanation for these results is that the applications in our WorldBench test suite are not yet optimized to take advantage of Penryn's new instruction set, called Streaming Single Instruction, Multiple Data Extensions 4 (SSE4), which can greatly speed up tasks such as some key operations in video encoding in an SSE4-enabled app. (Intel's in-house benchmarks, and the demonstrations that we saw at last fall's Intel Developer Forum, back up those claims for SSE4.)
Shop Tech Products at Amazon