Desktops: Penryn PC Takes Power Prize
Page 2 of 3
Power Without Penryn
As our chart indicates, you don't need a quad-core Penryn PC to obtain a desktop system capable of stellar performance (click on the icon at the bottom of this page or visit the current Top 5 Power PCs). The Xi MTower PCIe's high scores for its overall performance and design, combined with a reasonable price, helped it reach second place. Using a 3-GHz Core 2 Duo E6850 (a dual-core CPU with a smaller L2 memory cache and a lower price than quad-core, QX-series chips), the Xi MTower PCIe earned a WorldBench 6 Beta 2 mark of 121.
That score is one point better than the QX9650-based Power Infinity Pro's WorldBench 6 Beta 2 score of 120--a difference due to the latter PC's inexplicably lackluster results in our Nero image-burning and WinZip tests. But thanks to its sterling graphics performance, the Power Infinity Pro did well enough overall to become our Best Buy.
The older, QX6850-based CyberPower Infinity Pro's WorldBench 6 Beta 2 score of 124 remains the highest we've seen to date; this result and its excellent graphics scores helped it to third place on our chart. However, its very steep price--it costs even more than the newer Power Infinity Pro--kept it from ranking higher.
Three new QX6850-based systems--the HP Blackbird 002 LCi, the Polywell Poly P3503-3DT, and the War Machine M1 Elite--have solid credentials as worthwhile power PCs, but they didn't make the chart.
The superbly designed Blackbird 002 LCi is a creation of boutique gaming-PC maker VoodooPC, which HP acquired in 2006. Its WorldBench 6 Beta 2 score of 123 was second-fastest in this group, but our test model missed the Top 5 because of its premium $5900 price. (See our video and full review of the system.)
The Poly P3503-3DT earned high marks in our graphics tests, but its mundane design and steep price offset its benefits enough to keep it from ranking.
The M1 Elite received high scores for its overall performance and its considerable expandability, but it wasn't as well equipped as other models (only one optical drive and no card reader, for example)--including some systems that cost less.
Affordable Gateway and HP Media Centers
Two brand-name media center PCs made our chart, and though they can't match the performance of other chart models, both are very inexpensive compared with the performance-oriented power PCs we test in this category.
The stylish and compact HP Pavilion Slimline s3200t is designed for small spaces; it would make an ideal living-room PC. Our loaded test system came with a TV tuner, a remote control, and a Blu-ray/HD DVD (reader) and dual-layer DVD/CD (writer) combination drive. The bundled HP w2207 monitor--a 22-inch wide-screen LCD and our current Best Buy--delivers great color images and has both pivot capability and double-hinge height adjustment.
The Gateway GM5632E is a minitower system with reasonably impressive specs and expandability options. It comes with a DVD burner, a TV tuner, and a terabyte of hard-disk space for recording hundreds of hours of shows. Best of all, our test configuration's price includes Gateway's own 24-inch LP2407 wide-screen LCD that delivers gorgeous color images and sharp text.
Aside from their intended use as basic multimedia systems (or lounge-room PCs), neither the Slimline s3200t nor the Gateway GM5632E is well suited for fast-action gamers; the 256MB nVidia GeForce 8500GT graphics card that both units use earned comparatively low ratings due to plodding frame rates in our graphics tests. But if you want an entertainment PC that's easy to set up and use, both remain good choices.
Visit Top 5 Power Desktop PCs for full reviews of all the power systems on our chart.
Find the Very Latest Desktop PC Charts
Click on the links below for the latest online desktop PC rankings or a comprehensive list of all desktop PCs we've tested.
Top Value Desktop PCs From the January 2008 Issue of PC World Magazine
Click on the icon to see our chart.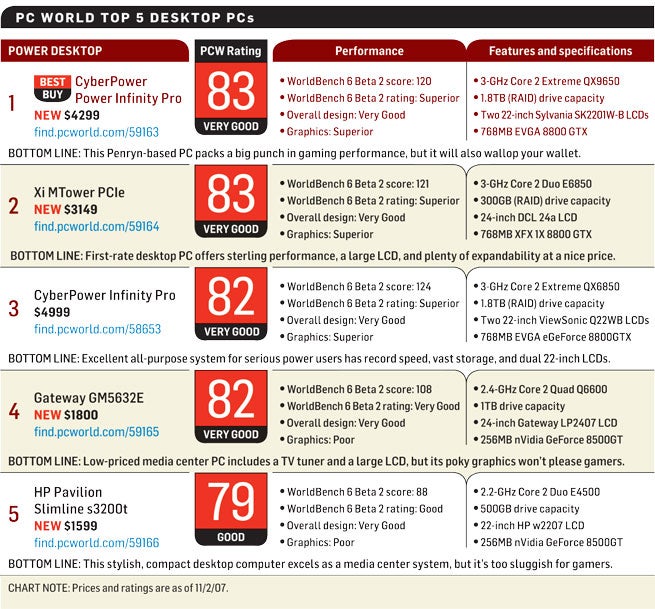 Shop Tech Products at Amazon