Desktops: Penryn PC Takes Power Prize
Page 3 of 3
Back to the Future With Commodore's Designer Desktop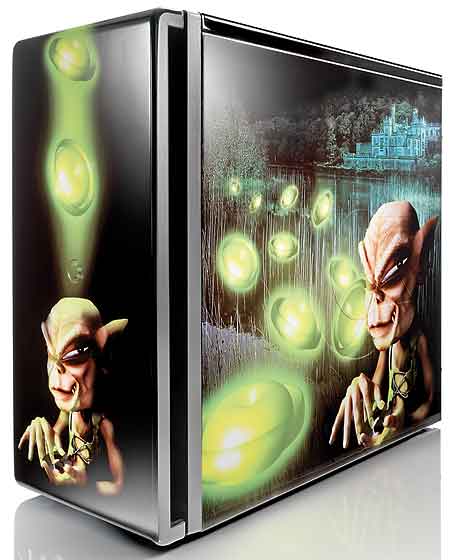 For those who grew up in the 1980s, the name Commodore is synonymous with computer gaming. The latest rebirth of the legendary name comes via Commodore Gaming, which is now taking orders in North America. The company gave us first dibs on testing the Commodore GX, a PC boasting features that any power user might want, including a 2.4-GHz Core 2 Quad Q6600 CPU, plenty of room for expansion, and dual graphics board capability; we opted, though, to test a $3000 configuration that has a single 768MB GeForce 8800 GTX graphics board and a 22-inch wide-screen Samsung monitor, so as to compare it against other models in our power-PCs chart, which is oriented toward mainstream users.
You can choose from over 100 different paint jobs, ranging from colorful gaming-themed artwork to landscapes, photos, and retro art concepts. The design is baked onto four panels (both sides, the top, and the front), and covered with an antiscratch layer. The GX also sports Commodore's unique cooling system, called Ice Cube, which converts heat from the power supply into cold air that is then circulated throughout the machine; it uses a built-in sensor to measure the dew-point temperature to prevent condensation.
The GX's performance wasn't strong enough to help the system earn a spot on our chart (see our full review). But be sure to stay tuned: We'll test a high-end GX soon for our Top Gaming PCs chart.
Shop Tech Products at Amazon