Advanced Google: Search Faster, Find More
"Google it."
Whatever you're looking for, just type the appropriate words into your browser's search field, or into the Google search field, and press Enter. In most cases, the information you're looking for will appear somewhere in the first page of results. But this won't always happen.
If your search targets a specific aspect of a common topic--say, contemporary analyses of Albert Einstein's Special Theory of Relativity--then finding it in the results can be a needle-in-the-haystack affair.
To guide Google to your search goal, you may need to use some of the service's advanced features. Once you're familiar with these great, free tools, you can access them with no extra clicks by entering Google's command-line options directly into the familiar search box. I'll show you how to speed up your basic and advanced searches, and how to generate more-accurate search results.
For a look at recent search alternatives to Google, see "Search Evolution: New Ways to Get Better Results."
Narrow Your Search

Looking for pages that mention Albert Einstein? (Who isn't?) If you simply enter Albert Einstein in the search field, you'll pull up a trove of Einsteiniana, starting with photos, biographies, official archive sites, and extensive Wikipedia articles. In short, it's more than you can deal with. To narrow your search, add terms; Google accepts up to ten. Searching for 'Albert Einstein Swiss patent clerk relativity' yields lots of pages detailing how the good doctor developed his revolutionary theories while working his day job. You'll know that you have introduced too many search terms if Google either reports no matches or coughs up only pages containing useless dictionary-like lists of words. Enclosing terms in quotation marks instructs Google to match the quoted terms literally; when you enter "Albert Einstein" and "patent clerk", Google skips pages that discuss Tom Einstein and grocery clerks.
The wild-card character * lets you search for terms that include other, unknown words: Type Einstein "* theory of relativity", and Google finds not only pages that mention Einstein's general and special theories of relativity, but also pages that mention all of those other theories of relativity as well.
Dig Deeper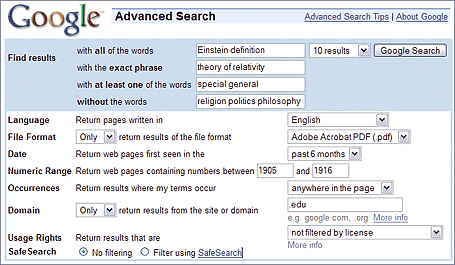 Adding and subtracting search terms, and using quotation marks and wildcards are simple tricks that facilitate casual searching. But Google's search tools let you do much more than that. To view your search options, click Advanced Search on Google's home page. The blue 'Find results' section at the top of the Advanced Search page replicates some of the techniques that are described above. For example, entering your terms in the 'with all of the words' field is the same as a plain Google search. Entering search terms into the 'with the exact phrase' field returns the same results as enclosing your search term in quotes. The 'with at least one of the words' field lets you search for pages containing any of several words, but not necessarily all of them; and the 'without the words' field excludes from the results all pages containing the unwanted terms that you entered.
The search shown in the screen above left finds pages that mention the name 'Einstein' (only about 44 million in all do so) and that contain both the exact phrase "theory of relativity" (this reduces the results to just 1.8 million pages) and either the word "special" or "general" (now we're just under a million pages). This search also excludes pages that mention religion, politics, or philosophy (which gets us down to just over half a million total).
The Google command-line version of the same search is easy to follow; it even appears in the search field that's located at the top of the results page: 'Einstein special OR general "theory of relativity" -religion -politics -philosophy'.
Half a million is still a lot of pages to sift through. Assuming that you speak only English, you can winnow things further by selecting English from the drop-down list on the Language line. But suppose you want to find a good, recently authored, English-language document in PDF file format from an academic source that examines Einstein's thinking about relativity during the decade or so when he published his special and general theories. To the previous search terms, add definition in the 'with all of the words' field; select Only and Adobe Acrobat PDF (.pdf) on the File Format line; choose past 6 months from the drop-down menu on the Date line; enter 1905 and 1916 (the years in which Einstein published his papers on special and general relativity, respectively) on the Numeric Range line; and select Only and type .edu on the Domain line (see the screen above). When you click the Google Search button, wham! Your earlier half-million results have now been narrowed to just 18 documents hosted at Harvard, Princeton, MIT, and other academic institutions.
To perform the same search from the Google command line, type Einstein definition special OR general "theory of relativity" -religion -politics -philosophy site:.edu filetype:pdf 1905..1916. Now let's say you're looking for a PC World article from a few years back that describes the backup software built into Windows XP. You know it came out before Vista's release, and you're pretty sure it was written by some joker named Scott, but you're not sure whether it was Scott Spanbauer or Scott Dunn. Here's the appropriate search command to use: backup software Scott Dunn OR Spanbauer "Windows XP" -Vista site:pcworld.com 2004..2007 filetype:.ht*.
The site: and filetype: operators are only two of many such search helpers that Google supports. For example, if you know that the term you're looking for is part of the page's URL or title (the text that appears in the very top-left of the browser), specify that fact in the Advanced Search page; by default, Google searches for terms in all page elements. Alternatively, to find pages with the words "Denver Broncos" in the page title, but without the words "Oakland Raiders," enter the relevant terms in the 'with all of the words' and 'without the words' fields, respectively. Then select in the title of the page on the 'Occurrences' line, and click the Google Search button. The corresponding command-line search in Google to obtain these results is allintitle: Denver Broncos -Oakland -Raiders.
The Hunt for Files
Command-line searches are the only way to search different parts of the page simultaneously for different terms (the Advanced Search page searches for your terms in only one location at a time). Looking for non-HTML files available on the Web is one of the most popular uses of these Google power searches. Google will search for any kind of file you tell it to--not just the file types that are listed on the Advanced Search page. For example, if you would like to find a directory of MP3 files of music by Louis Armstrong available for download, use the command -inurl:htm -inurl:html intitle:"index of" mp3 "Louis Armstrong". Presumably, some of the older songs are public-domain versions that are legal to download. Be forewarned, however, that downloading copyrighted media and document files may be illegal. It's a dangerous activity, too, because of the numerous viruses that exist in such files, and because of the security flaws in the programs that open the files on your PC. If this fails to scare you off, you can search for open directories of other file types, such as movies, by replacing 'mp3' and 'Louis Armstrong' with other search terms. For a complete list of Google's advanced search operators and how to use them, browse to Google Help Center.
Get a New View of Your Results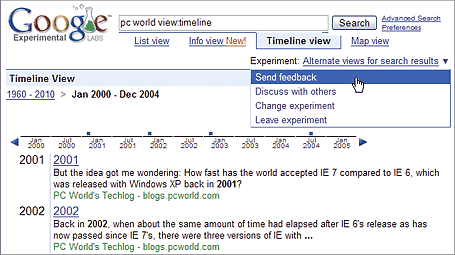 One of the problems with searching Google is that no matter how well you craft your query, you still end up with a big list of text that you have to scroll up and down to read. Couldn't the geniuses at Google come up with some other way to display the results of Google searches? Well, it just so happens that they're working on it. Browse to the Google Experimental Search page to see and try several experimental results options that put a new spin on your googling. One adds timeline and map views to the Google interface, enabling you to see graphical interpretations of search results (shown in the screen above). Another lets you navigate search results using keyboard shortcuts, so you can quit reaching for the mouse every time you want to move up and down the results list. Two others add contextual menus with items related to your results to the left or right side of the page when you conduct deeper topical searches. To roll out one of these pages for a test drive, click Join this experiment, and take a gander at what could be Google's Next interface upgrade.
Try One of These Search Helpers
Trust your friends, but cut the cards. Trust Google, but use Ksoft's $30 G-Zapper (30-day free trial) to block the service from tracking the keywords you search for. The program also blocks Google Analytics from recording the sites you browse to.
My friend, coworker, and idol Steve Bass will tell you all you need to know about the free Google Hacks search compilation in his article, "Please Do Not Use These Programs for Illegal Purposes." Google Hacks, which was written by Jason Stallings, makes advanced Google searches as easy as entering your keywords and selecting a category.
Finally, for the collective educated guess of 37 different experts at how Google's ranking algorithm works, check out SEOmoz.org's Search Engine Ranking Factors.