Page 3 of 3
The Hunt for Files
Command-line searches are the only way to search different parts of the page simultaneously for different terms (the Advanced Search page searches for your terms in only one location at a time). Looking for non-HTML files available on the Web is one of the most popular uses of these Google power searches. Google will search for any kind of file you tell it to--not just the file types that are listed on the Advanced Search page. For example, if you would like to find a directory of MP3 files of music by Louis Armstrong available for download, use the command -inurl:htm -inurl:html intitle:"index of" mp3 "Louis Armstrong". Presumably, some of the older songs are public-domain versions that are legal to download. Be forewarned, however, that downloading copyrighted media and document files may be illegal. It's a dangerous activity, too, because of the numerous viruses that exist in such files, and because of the security flaws in the programs that open the files on your PC. If this fails to scare you off, you can search for open directories of other file types, such as movies, by replacing 'mp3' and 'Louis Armstrong' with other search terms. For a complete list of Google's advanced search operators and how to use them, browse to Google Help Center.
Get a New View of Your Results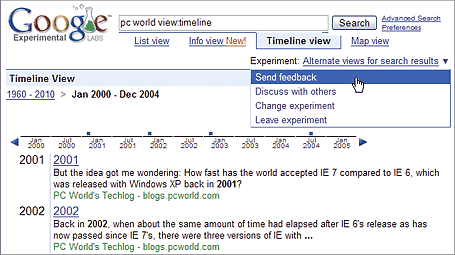 One of the problems with searching Google is that no matter how well you craft your query, you still end up with a big list of text that you have to scroll up and down to read. Couldn't the geniuses at Google come up with some other way to display the results of Google searches? Well, it just so happens that they're working on it. Browse to the Google Experimental Search page to see and try several experimental results options that put a new spin on your googling. One adds timeline and map views to the Google interface, enabling you to see graphical interpretations of search results (shown in the screen above). Another lets you navigate search results using keyboard shortcuts, so you can quit reaching for the mouse every time you want to move up and down the results list. Two others add contextual menus with items related to your results to the left or right side of the page when you conduct deeper topical searches. To roll out one of these pages for a test drive, click Join this experiment, and take a gander at what could be Google's Next interface upgrade.
Try One of These Search Helpers
Trust your friends, but cut the cards. Trust Google, but use Ksoft's $30 G-Zapper (30-day free trial) to block the service from tracking the keywords you search for. The program also blocks Google Analytics from recording the sites you browse to.
My friend, coworker, and idol Steve Bass will tell you all you need to know about the free Google Hacks search compilation in his article, "Please Do Not Use These Programs for Illegal Purposes." Google Hacks, which was written by Jason Stallings, makes advanced Google searches as easy as entering your keywords and selecting a category.
Finally, for the collective educated guess of 37 different experts at how Google's ranking algorithm works, check out SEOmoz.org's Search Engine Ranking Factors.