Page 4 of 4
Gave Us That Warm Fuzzy Feeling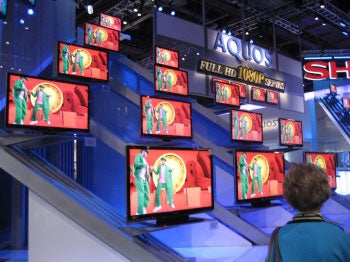 Free HDTV Calibration: All of Sharp's new Aquos HDTVs that are 42 inches or larger will come with free calibration. The best part is, you don't need to wait at home all day for a TV guru to show up at your house: The sets each have an ethernet port that Sharp's customer service can use to calibrate your TV via the Internet. A tip of the hat to Sharp for making our lives easier. --Greg Adler
Intel Hearts AMD:Intel representatives showed me the company's first motherboards that support CrossFire, the two-graphics-card setup devised by AMD's ATI group, and explained that they worked closely with AMD engineers to implement the feature. Okay, so the two companies may still be fierce archrivals, but it's nice to see they cooperated to enable something that a lot of gamers might want in their next PC. --Harry McCracken
Blu-ray Surges Ahead: The Blu-ray Disc format has been on a roll all week long, starting with Warner Brothers' preshow announcement that it would back Blu-ray exclusively and ending with word that Universal is doing the same. The buzz around Blu-ray stayed strong in between, with big excitement surrounding Sony's demo of copying a movie from a Blu-ray Disc to a PlayStation Portable. --Melissa J. Perenson
Did Somebody Say 'Go Green'?
CES Goes Green... This year, event organizers announced that CES was "going green" by reducing the show's carbon footprint, and they promised to promote energy-efficient practices. To offset the event's 20,000-ton carbon footprint, the Consumer Electronics Association said it would make donations to tree-planting organizations and other eco-friendly causes. --Tom Spring
...Or Does It? Kudos for the green practices, but I'm skeptical. The largest U.S. trade show aims to offset carbon by investing in environmental projects through Carbonfund.org. That's 20,000 tons, people! Exactly what projects will measurably do that on an annual basis? Let's be honest: CES is meant to be a huge, ostentatious light show. It's Vegas! Why make the empty claim? I'd like to see the CEA make a more serious effort to cut down on the excessive amount of paper and nonrecyclable swag at the event, and encourage members to lengthen product life cycles and employ reusable materials so we don't have to recycle as much. That would be more meaningful. --Narasu Rebbapragada
See PC World's ongoing coverage of the Consumer Electronics Show at our CES InfoCenter.