Five Ways to Get Over Your iPhone Envy
Page 2 of 2
3. LG Voyager VX10000

Carrier: Verizon Wireless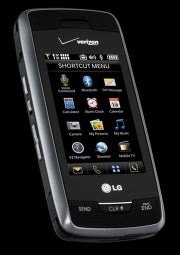 If I seem obsessed with phones that have hidden QWERTY keyboards, it may be because I've spent too much time tapping out text messages on tiny cell keypads. The LG Voyager sports an iPhone-like touch screen on the outside, and flips open clamshell-style to reveal a screen and a full keyboard on the inside. One of the increasingly rare smart phones that do not run Windows Mobile, the Voyager comes with a slew of useful applets: You can record voice memos, set alarms, calculate tips, snap 2-megapixel photos, and use its integrated GPS when you get lost. Full media capabilities are available via Verizon's V-Cast mobile TV and music service (starting at $15 per month), and you can play your own MP3s and WMA files too. The Voyager costs around $300 with a two-year plan, but since it lacks Wi-Fi, you're stuck paying for Verizon's 3G network when you want to surf the Web. You also can't sync your contacts or calendar with Outlook, making the Voyager more suitable for play than work.
Comparable models: Sprint HTC Touch, Samsung SCH-u740 (Verizon)
4. Palm Centro
Carrier: Sprint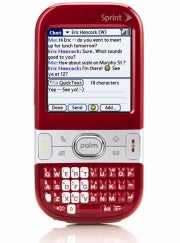 At the risk of ticking off half the population, this is a smart phone for the women in the audience--and not just because of the Palm Centro's curved lines and stylish red color scheme. Palm has taken the Treo and slimmed it down: At 4.2 ounces, the Centro is 25 percent lighter than the Treo 755p, but it has the same Palm OS that many folks can't live without. The small QWERTY keyboard will probably be too tiny for fat-fingered adult males, though the touch screen gives easy access to such apps as PocketTunes, Google Mobile Maps, and the built-in camcorder. The price is light too--just $100 with a two-year plan. But don't look for Wi-Fi or GPS support, as you won't find any. As cool as an iPhone? Probably not. But the Centro does give you the benefits of Palm's Treo software without making you look like a refugee from Camp Nerd.
Comparable models: BlackBerry Curve 8320 (T-Mobile), Palm Treo 755p (Sprint, Verizon)
5. Nokia N810 Internet Tablet
Carrier: None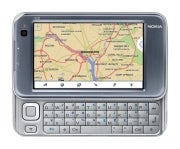 In my sometimes humble opinion, what the iPhone does best is put the Internet in your pocket, allowing you to switch quasi-seamlessly from AT&T's cell network to Wi-Fi for access. So if you're really looking for a portable Web browsing device, Nokia's N810 might be a better call (no pun intended). Since the N810 is a Wi-Fi device, not a cell phone, you don't get that "All Internet, All the Time" experience. (Then again, AT&T's coverage isn't exactly universal.) At 5 inches wide and nearly 8 ounces, it's closer to an ultramobile PC, but without the hefty price tag or Windows OS. A 4.1-inch screen slides up to reveal a 42-key QWERTY keypad; a Webcam and a GPS chip are also built in. The Linux-based unit supports a Mozilla browser, Flash 9, and the Rhapsody music service; when you're in range of a hotspot, you can use Gizmo, Google Talk, or Skype for voice calls. At $479 (with no carrier subsidy), the N810 ain't cheap. On the other hand, you won't be forking over $50 to $100 a month for a voice-and-data plan.
Comparable models: Asus R2H, Samsung Q1B
Shop Tech Products at Amazon