Page 2 of 3
More Ways to Reduce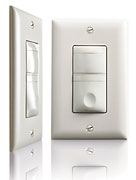 At home: Every light in your house uses energy. Lighting-control systems such as Watt Stopper's Wall Switch Vacancy Sensors (about $45 online) can replace your light switches with motion sensors that turn lights on when they detect people in a room. More-comprehensive systems like Green Switch (starts at $1125) can reduce your energy costs by at least 25 percent by retrofitting your house with a master switch for simultaneously turning off all light switches, wall plugs, and air-conditioning systems you put under its control.
Outdoors: Water conservation is becoming a major issue. WeatherTrak provides a service to regulate your lawn-watering system, reducing water use and runoff. The company's irrigation system will automatically schedule watering based on the soil type and slope of your lawn along with data gathered from local weather stations and NOAA satellites.
Get money to conserve: Various state, local, and federal entities have established incentives for switching to renewable energy or boosting your energy efficiency. Use DSIRE, the Database of State Incentives for Renewables and Efficiency, to find out what else you can do to reduce your use (and get some rebates, grants, and tax deductions while you're at it).
Reuse and Recycle
Technology enthusiasts tend to buy lots of new gadgets. But instead of dumping the old ones, why not recycle them?
PCs: Perhaps the best thing you can do with an old computer is to donate it to a charity that will reuse it. Some local United Way chapters give refurbished computers to schools and families in need. Another option is to donate your computer to a Microsoft Authorized Refurbisher, which will ultimately give your computer to a charity, nonprofit organization, school, or public library.
Cell phones: There are lots of ways to recycle phones, PDAs, cell phone batteries, chargers, and related accessories (some companies will even take your old appliances and other electronics). You can drop off old mobile phones at Best Buy, Office Depot, or Staples. Or you can mail out-of-date handsets back to Sprint, T-Mobile, Samsung, or Motorola. The Environmental Protection Agency maintains a comprehensive list of providers and retailers that operate recycling programs.
Everything else: The EPA keeps track of recycling, donation, and refurbishment programs for just about anything that requires electricity to run. Check out the master list at the EPA's eCycling Web site.