25 Days That Changed Everything
Page 4 of 7
September 4, 1995, through July 9, 1997
eBay Bidding Begins
September 4, 1995

Don't believe the PR fable claiming that eBay founder Pierre Omidyar created the site to help his fiancée trade Pez dispensers. The first item sold on a little site called AuctionWeb was a broken laser pointer, which went for $14.83. Omidyar wanted to call the site Echo Bay ("it just sounded cool"), but he had to settle for eBay. These days, eBay supports an economy bigger than that of most countries.
Palm Pilots a Course for PDAs
March 1996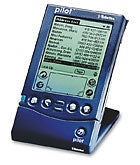 It held 750 contacts and addresses, a year-long calendar of appointments, and 100 to-do notes or memos in a pocket-size gadget, and you could synchronize it with a PC or a Mac. Palm's $299 Pilot 1000, providing 128KB of memory and Graffiti handwriting recognition software, became the tech generation's Rolodex--until it was eclipsed by RIM's BlackBerry device and by other phones with keyboards.
AOL Goes Flat-Rate
October 30, 1996 Dial-up users once paid for their online time by the hour--and watched the meter carefully. AOL's controversial switch to a fee of $20 a month for unlimited access immediately overloaded the company's modems.Three years later, however, AOL had garnered 10 million subscribers, and flat-rate fees were the norm. To circumvent busy signals, subscribers simply stopped disconnecting--and accidentally discovered the benefits of being always on.
Steve Jobs Returns From Exile
July 9, 1997 A decade after being ousted from the company he founded, Steve Jobs persuaded Apple to acquire his subsequent company, NeXT--thereby giving Apple both the basis for OS X and, after a boardroom coup, its once and future CEO. In short order, Jobs killed the failing Newton portable, secretly developed the translucent-blue iMac, convinced Bill Gates to retain Internet Explorer and Microsoft Office on the Mac, and acquired professional-caliber digital multimedia applications such as Final Cut. Though he's not as rich as Gates or the Google guys, today Jobs is tech's biggest rock star.
Shop Tech Products at Amazon