Penryn, Phenom PCs: Fast, Not Phenomenal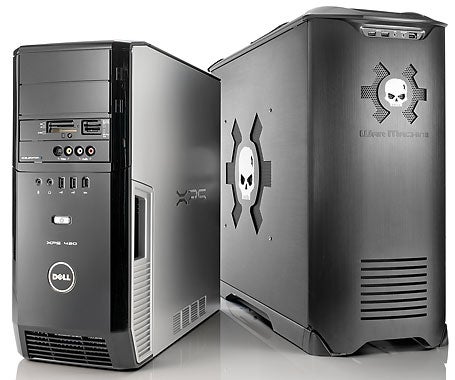 Mainstream and boutique PC vendors are having a field day releasing new systems with next-generation Intel Penryn and AMD Phenom processors. We found Intel Penryn-based desktops to be substantially faster than the one similarly priced AMD Phenom system we tested, but in general not much faster than systems configured with Intel's previous-generation processors.
Penryn and Phenom are designed differently. Whereas Phenom chips use four distinct cores, quad-core Penryns consist of two dual-core processors sharing the same piece of silicon and a bus interface. The Phenom approach may eventually lead to better multitasking performance. On the other hand, Penryn CPUs are manufactured using a 45-nanometer process that fits more transistors into less space, allowing manufacturers to produce more chips from the same amount of material while consuming less power than is required for the 65-nm last-generation dual/quad-core Intel CPUs and the AMD Phenoms. Aside from the die-shrink, the biggest change Penryn introduces is Intel's new SSE4 instruction set, which can speed up applications written to work with it. For example, Adobe is updating the next version of its Premiere Pro video editing application with SSE4 support.
On the system level, AMD takes the concept of linked graphics cards (an idea that it calls 'CrossFire' and that nVidia refers to as 'SLi') up a notch, offering the ability to use four cards in a single PC. We plan to test such systems as they become available.
We looked at three new PCs configured with Intel's top-of-the-line Penryn chip, the 3-GHz QX9650 Core 2 Extreme: Dell's XPS 420, Puget Systems' Puget Gaming Computer, and War Machine's M1 Elite. We also took a sneak peek at a not-yet-available Dell XPS 420 system carrying Intel's mainstream Penryn processor, the Q9550. Dell says it plans to release PCs with this CPU in the first quarter of 2008.
On the AMD side, the system we looked at (Polywell's $2999 Poly 790FX) carried AMD's 2.2-GHz 9500 Phenom CPU and its equally new 790FX chip set.
Four of the five systems in our test group captured spots on our Top 5 Penryn & Phenom Power Desktops chart, though first place on the chart went to a PC we examined a couple of months earlier, CyberPower's Power Infinity Pro.
Find the Very Latest Charts of Penryn & Phenom Desktops and of Power Desktop PCs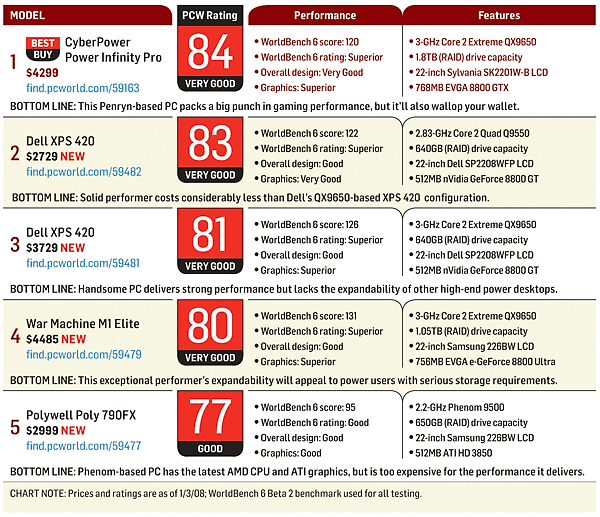 We can update online charts more rapidly than the charts appearing in the print magazine, so sometimes the two versions will differ. To see the chart that appeared with the print-magazine version of this story, click the graphic. Click on the links below for the latest Intel Penryn or AMD Phenom Desktop PC rankings or a comprehensive list of all Power Desktop PCs we've tested.
Products reviewed in this article:
Shop Tech Products at Amazon