Penryn, Phenom PCs: Fast, Not Phenomenal
Page 2 of 3
Dell's XPS 420 Shines
Loaded with 3GB of memory, the Q9550-equipped Dell XPS 420 earned a score of 122 in our WorldBench 6 Beta 2 benchmark. That's just shy of the 126 posted by its pricier QX9650-based (but otherwise identically configured) XPS 420 sibling. Meanwhile, the QX9650-equipped War Machine M1 Elite scorched its way to a WordBench 6 Beta 2 result of 131. It performed strongly in every facet of the test suite, and put up excellent gaming numbers as well.
Puget Systems' Gaming Computer, which was configured almost identically to the War Machine, scored 124. On many components of our WorldBench 6 Beta 2 test suite, the Puget ran neck and neck with the War Machine, but it fell behind in large-file-intensive tests such as creating disc images in Nero 7 Ultra edition, most likely because it was one of the few systems competing for a spot on our chart of top Penryn and Phenom PCs that didn't employ two hard disks in a striped array.
In our tests, despite the War Machine's blazing performance, Penryn 3-GHz QX9650 Core 2 Extreme-based machines in general didn't significantly outperform PCs based on Intel's older 65-nm processors. This is evident from the WorldBench 6 Beta 2 scores posted by the CyberPower Infinity Pro (124) and the E6850-based Xi MTower PCIe-two systems equipped with Intel's previous high-end CPU, the 3-GHz Core 2 Extreme QX6850; both achieved high rankings on our online Power Desktop PCs chart But since none of the applications in the WorldBench 6 Beta 2 test suite are optimized for the four cores offered by the Intel Q and QX chips or their Phenom competition, we're essentially comparing just the first two cores on all these processors.
Polywell's Phenom PC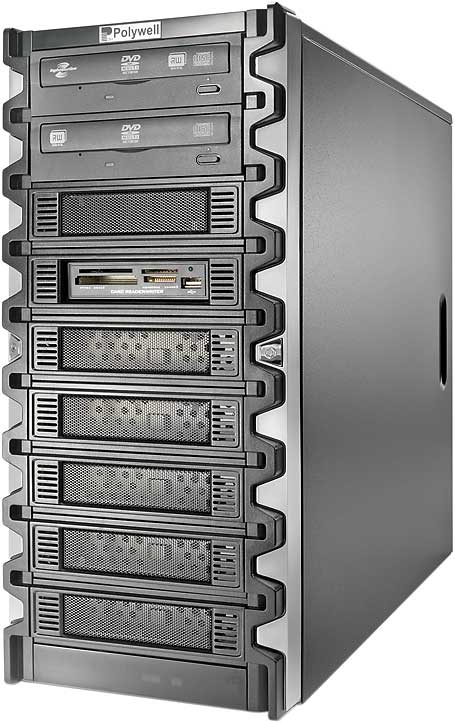 The 2.2-GHz Polywell Poly 790FX costs $270 more than the 2.83-GHz Q9550 Dell XPS 420 that outscored it on WorldBench 6 Beta 2, 122 to 95. The Poly 790FX had only one graphics board (a 512MB ATI HD 3850), installed in one of four PCIe x16 slots; but it had a 1000-watt power supply, simplifying the task of upgrading to four graphic boards if you wanted to in the future.
Shop Tech Products at Amazon