5 Ways to Flirt Online
It's Valentine's Day next week, and that means one thing: You have just a few days to get a gift for your loved one(s) or find someone to give a gift to. We can't help much with the former, but we can assist with the latter, or at least start you down the right path.
Finding a mate online doesn't have to entail filling out endless forms, dropping hefty fees at matchmaking services, or navigating the seven circles of social networking hell. It starts with flirting, which you can do cheaply, easily, and at a distance. Better yet: All the rejection happens offline, so you'll never have to suffer the embarrassment of seeing your best lines fall flat or learning that you have spinach stuck in your teeth.
Here are five of the right places to look for love--or something approximating it.
1. I'm in Like With You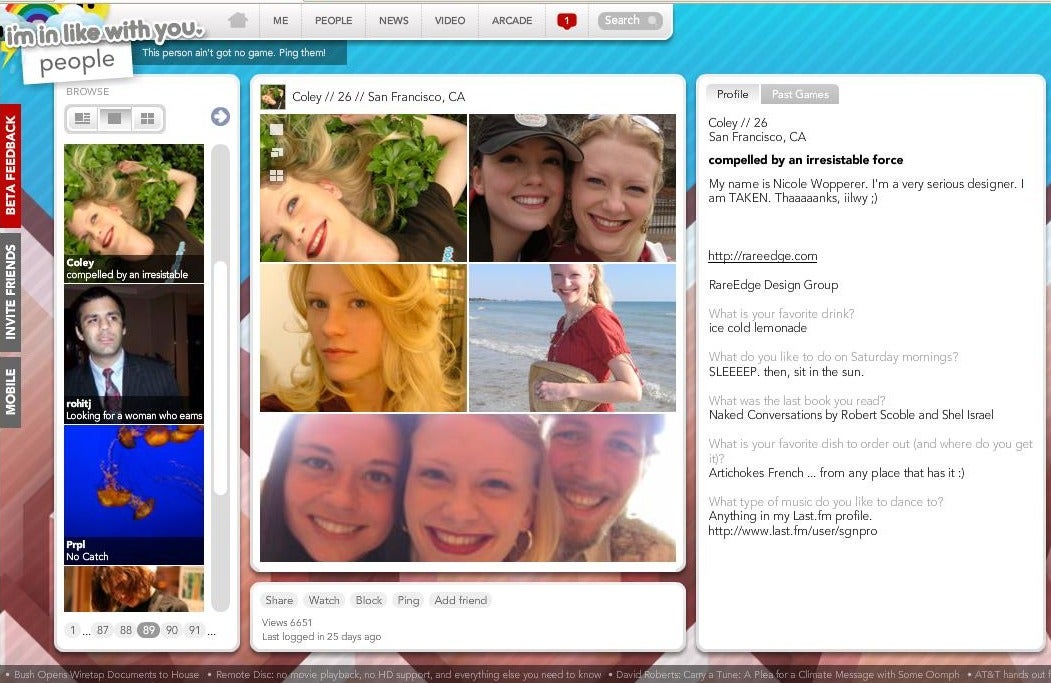 If nothing else, I'm in Like With You is worth visiting just to check out one of the wildest, most innovative Web 2.0 interfaces you'll ever see. But using it to hook up with someone--or even describing how the site works--is a bit tricky. IILWY is essentially a photo-based social network built around an elaborate point system.
You earn points for logging in, posting photos, writing blog entries, and answering random yes/no questions. You spend points by playing auction-style games with other IILWY members, in which someone posts a question (such as "What's the hardest thing you've ever done?") and you bid for the chance to post a brief response. Each time you respond, it costs more points; at the end of the auction, the game's originator may contact the top bidders, assuming he or she wants to. (Hey, I said it was hard to describe.) Since the odds of connecting are slim, IILWY is really more about flirting--and showing off a truly whizzy interface--than finding true love. But it's fun to play with nonetheless.
2. Crush or Flush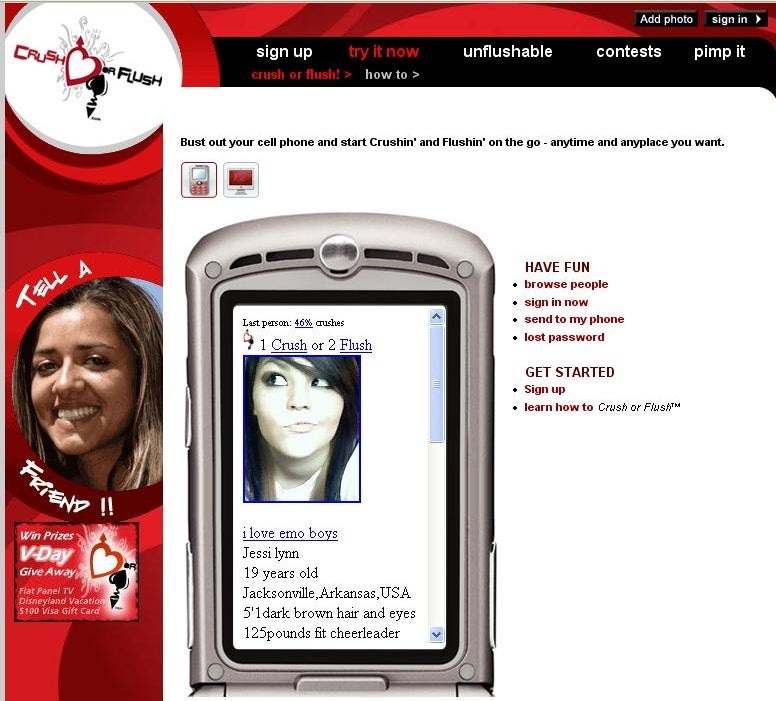 This service is really meant to be used on a cell phone--even the design of the Crush or Flush Web site resembles a handset. The concept is brain-dead simple: You set up a brief profile and upload your picture, and then filter other profiles by gender, age, and location. When someone else's photo shows up on the site or on your phone, you indicate whether you have a crush on them or want to flush them. (Nobody said this was rocket science.)
If he or she turns out to have a crush on you, you can reply with a text message via the site without revealing your contact info. If he or she replies, then it's up to you to take it from there. Did I mention that this is not rocket science? Admittedly, it's hard to look your best in a postage-stamp-size picture that you probably took with a cell phone, so many of the photos look like mug shots (in fact, some of them may actually be mug shots). Be sure to crush with care.
3. Flirting in Traffic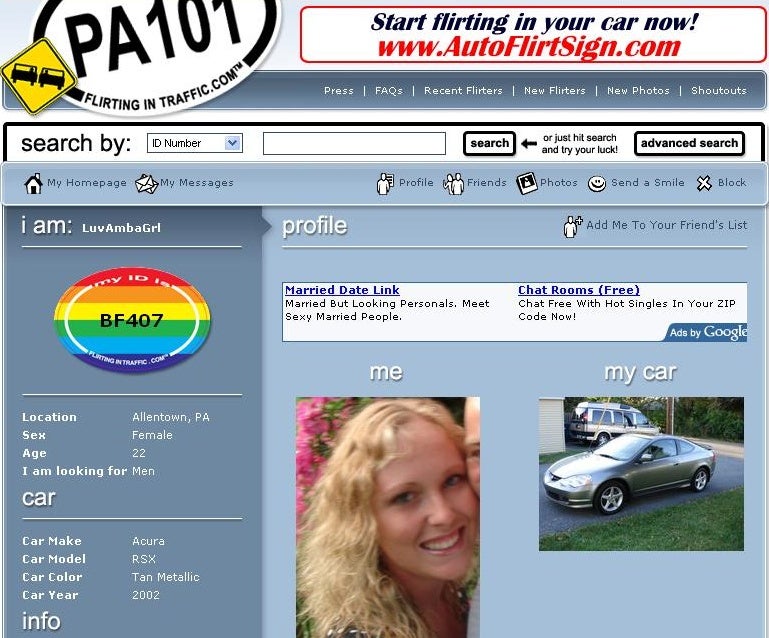 You're driving on the freeway when you spy your future soul mate in the next lane. Your eyes lock, and desperate longing is wordlessly conveyed, but just as you're signaling the driver to pull over so you can chat, you slam into the rear end of the car in front of you. Flirting in Traffic can take such fleeting moments and turn them into lifelong relationships (or just more horrible dating mistakes--see item #5 below).
You set up your free online profile by posting a picture of yourself and your car, along with as many personal details as you care to share. You then print out a PDF of your flirting ID (for example, BN320) or order a $5 sticker and attach it to your vehicle. When you spot another flirter-in-traffic that you want to meet, you can look up the person online and send them a note--or vice versa. Will this be your first stop on the highway to happiness, or the start of your journey on the road to ruin? Your mileage may vary.
4. Hot or Not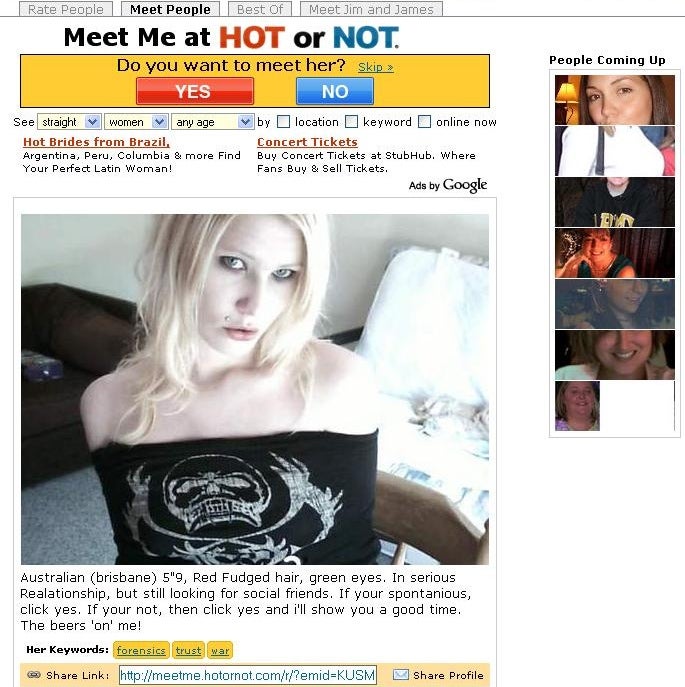 Often imitated (see item #2 on the previous page) but never truly duplicated, Hot or Not is still one of the most entertaining ways to look for love online. In its simplest guise, the site shows you photos of men or women and lets you rate them on a scale of 1 to 10. (Brave souls can also subject their own pics to the wisdom of the crowd, though doing so isn't required.) Rate one photo, and another pops up. Before you know it, 2 hours have disappeared and you've missed dinner.
The flirtation begins when you click the 'Meet People' tab on the home page or the 'Click Here to Meet Me' bar above certain photos. As before, you'll see pictures of varying hotness; click 'Yes' to meet and 'No' to avoid. If that person clicks 'Yes' when your picture pops up, you can exchange messages via the Hot or Not site. Too random for you? Winnow your search by gender, age, location, or keyword (such as "loves sushi"). Some caveats apply, though. To meet people you must register with the site; and to contact another person, one of you has to be a paying member ($6 per month or $60 annually). You'll also need to check in at least once every two weeks, or your account will become inactive. But somehow I doubt that will be a problem.
5. Don't Date Him Girl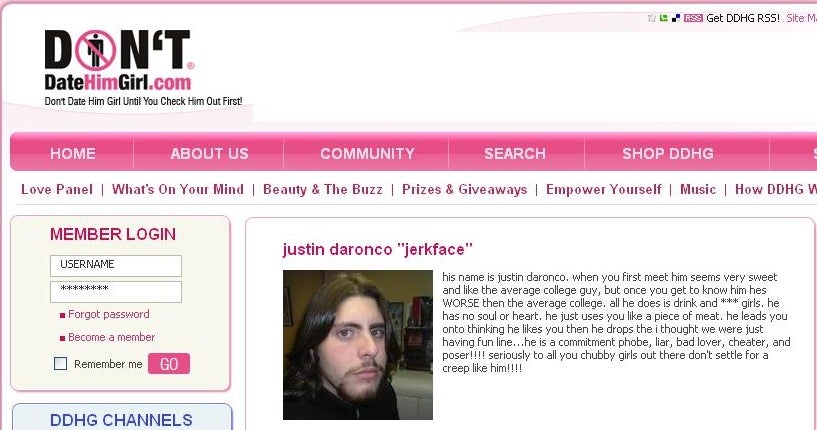 Okay, I lied. This is not a site for flirting. This is a site for women who have been struck by Cupid's arrow only to discover later that it had been dipped in poison. Don't Date Him Girl began life a few years ago as a forum where scorned women could post entries describing the horrible things the men in their lives had done--complete with photos, locations, and the full names of the allegedly guilty parties. Now it has blossomed into a love and relationships portal with offerings for both sexes, including advice columns, shopping, e-cards, and video tutorials that teach guys how to avoid being the kind of jerk who ends up listed in the site's database. At the very least, men will want to make sure they aren't among the 50,000+ names found at DDHG--and to show their loved ones that, relatively speaking, things could be a lot worse.