Page 2 of 2
3. Flirting in Traffic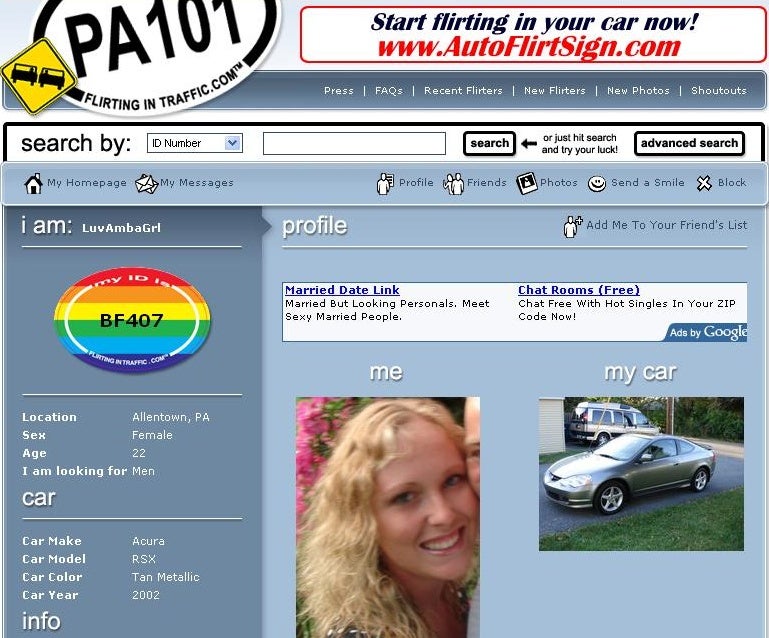 You're driving on the freeway when you spy your future soul mate in the next lane. Your eyes lock, and desperate longing is wordlessly conveyed, but just as you're signaling the driver to pull over so you can chat, you slam into the rear end of the car in front of you. Flirting in Traffic can take such fleeting moments and turn them into lifelong relationships (or just more horrible dating mistakes--see item #5 below).
You set up your free online profile by posting a picture of yourself and your car, along with as many personal details as you care to share. You then print out a PDF of your flirting ID (for example, BN320) or order a $5 sticker and attach it to your vehicle. When you spot another flirter-in-traffic that you want to meet, you can look up the person online and send them a note--or vice versa. Will this be your first stop on the highway to happiness, or the start of your journey on the road to ruin? Your mileage may vary.
4. Hot or Not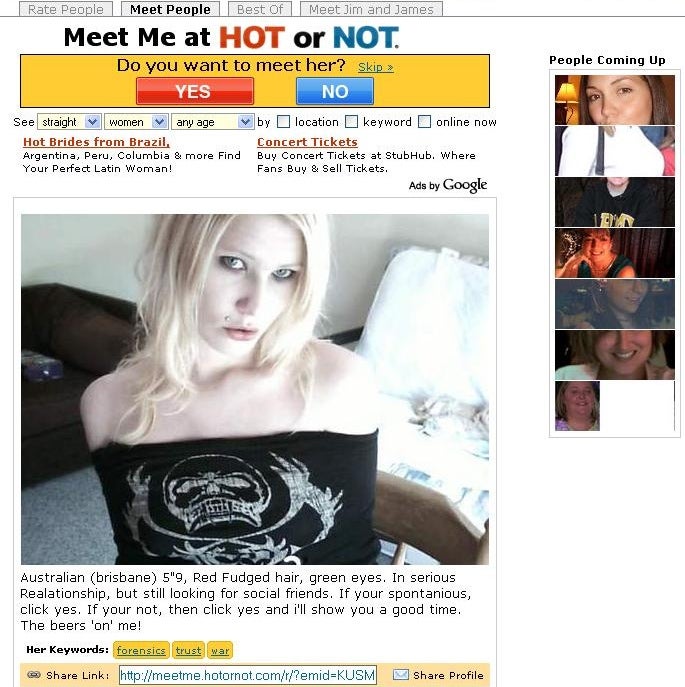 Often imitated (see item #2 on the previous page) but never truly duplicated, Hot or Not is still one of the most entertaining ways to look for love online. In its simplest guise, the site shows you photos of men or women and lets you rate them on a scale of 1 to 10. (Brave souls can also subject their own pics to the wisdom of the crowd, though doing so isn't required.) Rate one photo, and another pops up. Before you know it, 2 hours have disappeared and you've missed dinner.
The flirtation begins when you click the 'Meet People' tab on the home page or the 'Click Here to Meet Me' bar above certain photos. As before, you'll see pictures of varying hotness; click 'Yes' to meet and 'No' to avoid. If that person clicks 'Yes' when your picture pops up, you can exchange messages via the Hot or Not site. Too random for you? Winnow your search by gender, age, location, or keyword (such as "loves sushi"). Some caveats apply, though. To meet people you must register with the site; and to contact another person, one of you has to be a paying member ($6 per month or $60 annually). You'll also need to check in at least once every two weeks, or your account will become inactive. But somehow I doubt that will be a problem.
5. Don't Date Him Girl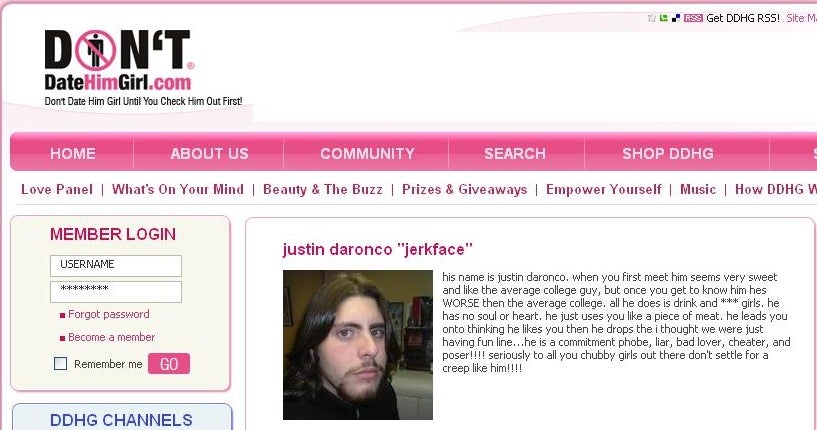 Okay, I lied. This is not a site for flirting. This is a site for women who have been struck by Cupid's arrow only to discover later that it had been dipped in poison. Don't Date Him Girl began life a few years ago as a forum where scorned women could post entries describing the horrible things the men in their lives had done--complete with photos, locations, and the full names of the allegedly guilty parties. Now it has blossomed into a love and relationships portal with offerings for both sexes, including advice columns, shopping, e-cards, and video tutorials that teach guys how to avoid being the kind of jerk who ends up listed in the site's database. At the very least, men will want to make sure they aren't among the 50,000+ names found at DDHG--and to show their loved ones that, relatively speaking, things could be a lot worse.
Shop Tech Products at Amazon