Looking for a computer desk and chair as hip and eye-catching as your new Alienware Area-51 or Macbook Air? These five wacky computer furniture pieces will put you in the pilot's seat--literally--or make you feel like an astronaut, a race-car driver, or a marathon runner.
With prices ranging from $200 to $6500, they're not cheap. But if you spend 40 hours a week in your workspace, isn't it worth splurging for a cool setup?
1. Vision One Computer Workstation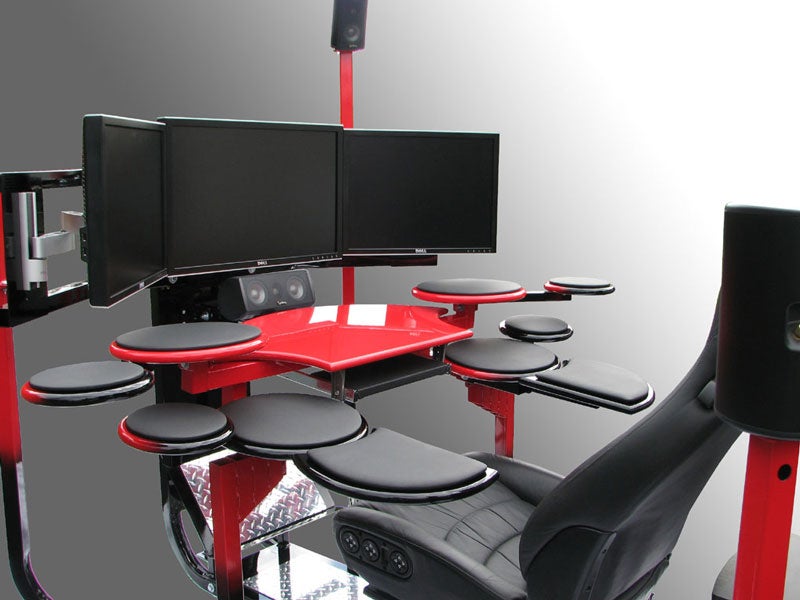 Want a workstation as comfortable and ergonomically healthful as the cockpit of your car (or the car you wish you had)? Look no further than the Vision One line, which comes equipped with your choice of genuine car seats in various colors, finishes, and configurations. The 12-way-powered Porsche leather bucket seat (pictured) is the most popular upgrade; Corvette and Viper seats are available as well. Prices start at $1700.
The Flagship model shown ($2600 and up) supports three flat-screen displays (or maybe one of Alienware's upcoming curved DLP screens), brackets for a 5.1-speaker surround-sound system, padded and pivoting elbow supports, and an adjustable metal foot rest. Together with the optional matching side rack, it supports multiple PCs and game consoles, as well as a plethora of peripherals--all made to order in the United States in the finest hot-rod tradition. But where's the rear-view mirror?
2. X-Rocker Pro Gaming Chair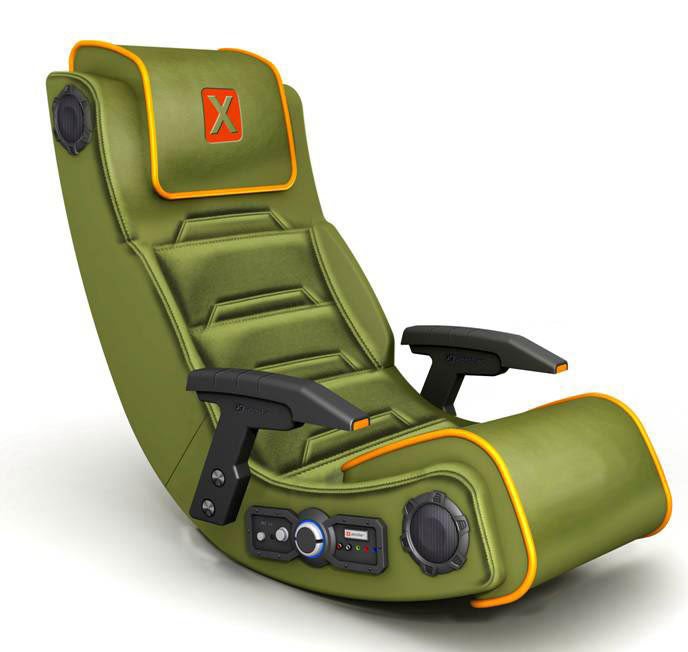 Serious gamers will covet Ace Bayou's new X-Rocker Pro-Series chair (expected to sell for $199), which is scheduled to ship next fall. Like earlier X-Rockers, this one keeps you low to the action, envelops you with sound, and has adjustable armrests so you can wave your Wiimote as freely as you like.
The X-Rocker Pro comes with four internal speakers and a subwoofer for twice the power of the previous X-Rocker. It also has wireless audio capabilities, so you won't be tripping over cords on your way to the fridge for some Red Bull.
A side panel with an array of ports and controls accommodates all your gear. You can even use the chair as a iPod listening station when you aren't playing games. The chair's hollow core resonates with the bass in music and sound effects, providing vibrations to accompany the audio, greatly enhancing the gaming experience. A headphone jack holds out the possibility of keeping parents or roommates happy.
A final bonus: Socially oriented gamers can daisy-chain multiple X-Rocker Pros together, so all participants in a group game can experience the full intensity of every blast.