The Right Social Network for You
Page 3 of 8
Special-Purpose Sites
The problem with the big mass-market social networks is that, to paraphrase Yogi Berra, nobody uses them any more--they're too crowded. How will anyone find your profile among the 400 million MySpace pages? Now, however, thousands of social networking sites have emerged that are built around specific activities, ideas, or interests, or that target particular groups of people, such as Baby Boomers.
Some examples: With help from the no-frills iMedix, you can find information on the Web related to specific conditions or illnesses, and chat with or e-mail other people who have the same concerns. At BlackPlanet.com, African-Americans can connect around various topics or geographic locations; MiGente is a sibling site with similar features intended for the Latino community, and AsianAve.com serves Asian communities. And people who are approaching or already experiencing their golden years can make virtual connections at TeeBeeDee, a site dedicated to social networkers ages 40 and up.
Ning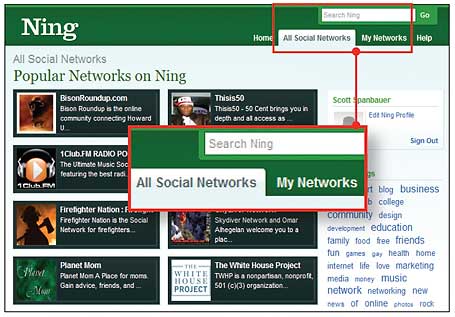 If you can't find an online community that matches your needs, you can build your own. At Ning, you create a customized social network with its own domain name and banner art, individual member profile pages, photo and video sharing, multiple subtopic groups, and discussion forums. Once your custom network is complete, anyone--not just Ning members--can find it in Ning's directory or through the site's keyword tag cluster. Creating a Ning network takes only a couple of minutes: You come up with a name and a domain name (at the end of which the site will add '.ning.com'), enter a description of the network, put in some keyword tags, and insert an icon image, and you're off. To increase the safety and privacy of your network's users, you can make it visible only to members, and you can opt to approve each would-be member or make membership by invitation only.
Shop Tech Products at Amazon