The Right Social Network for You
Page 4 of 8
Taste-Based Sites
LibraryThing
Despite Steve Jobs's recent assertion that nobody reads anymore, a growing number of sites focus on something almost everyone can relate to: what's on your bedside table. LibraryThing lets you catalog the contents of your library, share your reading preferences with other users, and discover books and authors that you might otherwise have ignored. Are you a fan of Spanish author Ramón Del Valle-Inclán? A surprising number of LibraryThing subscribers share your eclectic taste, and are ready for a discussion. At the moment, LibraryThing has about 330,000 subscribers.
You start by adding books to your online catalog one at a time, either by typing in the book's ISBN (International Standard Book Number) or by copying its information from another member's catalog. Alternatively you can find and import multiple books into your catalog by searching for ISBNs on publisher, bookseller, or book review Web pages.
Once you've established your library, LibraryThing can suggest other books for you to read based on the catalogs of members who have similar tastes. Tag-cloud pages for authors and topical keywords permit you to see at a glance what other people are reading. Members with free accounts can catalog up to 200 of their favorite books; unlimited accounts require a $10 annual donation, and a lifetime membership to the site costs $25.
Last.fm
Tired of hearing your same old favorite songs? Wish you could find a bunch more music in the same vein and enjoy those tunes for free? Last.fm's downloadable media player plug-in listens to what you play in your PC's audio player or on your iPod, compares that with the listening habits of Last.fm users with similar tastes, and then suggests music it thinks you'll like. As you click the 'Love' and 'Ban' buttons in response to Last.fm's suggestions, the site learns even more and provides new and different tracks in the same style.
As in the real world, friends on Last.fm are the people who turn you on to great music selections that you would not have known about otherwise; but if you don't end up making many friends at the site, that's okay. You can still browse through the profiles of users who have tastes akin to yours for music that might be to your liking.
Pandora
Though its purposes are similar to Last.fm's--to find out what kind of music you like and to stream it to you--Pandora runs entirely in your Web browser and relies on people to suggest new music. As you select and listen to songs on Pandora and give them a thumbs-up or -down, the site provides you with new songs that human music evaluators have determined to be similar in style. At any time, you can search for a particular artist, song, or genre, and Pandora will create a whole "radio station" for you, full of music drawn from the same category.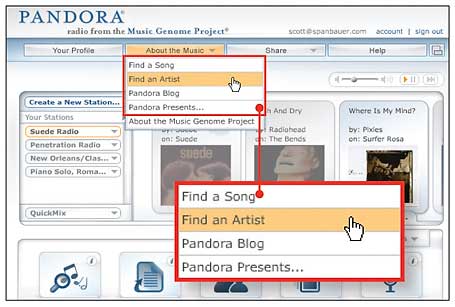 Pandora's social networking features are lightweight. Your profile's half-dozen, optional fields contain nothing terribly revealing about you, but it's enough to introduce yourself--and you can always elect to be completely invisible to others. I couldn't find anyone I knew on Pandora, and the site doesn't offer to search your contacts for existing users. Other fans of the artists or composers you search for do show up on your screen, though, and you can "bookmark" them, as well, to see what they're listening to.
iMeem
Facebook's photo-sharing feature is great, and you can list your favorite shows, movies, and musicians on your profile page there, but that's it. iMeem takes the sharing of movie and music preferences a step further, combining Facebook-like socializing with MySpace-style embedded players, playlists, and profile themes. When you join, you enter as little or as much information about yourself as you like into your iMeem profile, including your location, your schools and employers, your music, movie, and TV favorites, and other interests. Then you can assemble a list of friends--either by adding specific friends or by having iMeem search your Web-mail accounts for existing iMeem users. You can search for music and videos that you like and add them to your playlist, enjoy others' playlists, and join or create groups dedicated to particular interests, artists, or genres.
Most of the audio and video available on iMeem consists of short clips (with links to iTunes or Amazon pages where you can purchase a downloadable version), but you can also upload entire songs for your own playback. Musicians and directors can upgrade their accounts to free professional versions, which showcase their work and include an iMeem subdomain (like elvispresley.imeem.com). Real movie nuts looking for a community dedicated to watching and discussing film might want to try Flixster.com instead.
Shop Tech Products at Amazon