The Right Social Network for You
Page 5 of 8
Mobile Social Networking
Dodgeball
Many social networks offer mobile features, but an emerging field of social networks is designed with the cell phone as the hub. The most practical use of these services appears to involve friends keeping friends apprised of their bar-hopping locations via SMS messages or a phone Web browser so that they can join in the revelry.
Dodgeball, the brainchild of two New York University grad students, provides just such a cell-based location service. After creating a Dodgeball account (by providing your name, city, phone number, and wireless carrier), you start adding friends: Dodgeball detects and sends invites to your Gmail contacts, or you can search the directory of other Dodgeball members. When you hit your favorite saloon and you want your buddies to drop by, you simply send a text message to Dodgeball's SMS code containing the @ symbol and the venue name--a "check-in" in mobile social networking parlance. Dodgeball then fires off a text message to your friends declaring the same (frequent Dodgeball users had better be on an unlimited-text-messaging plan). Other shorthand codes send announcements ("shout-outs") or retrieve venue locations from Google Maps. Dodgeball's main drawback (other than its party focus) is that currently its coverage is limited to just 22 major U.S. cities. Here's hoping that Google, which recently acquired Dodgeball, will soon take steps to expand the service's reach.
Dada.net
Though it was built with cell phone users in mind, Dada.net takes a completely different approach than Dodgeball does. A kind of mobile MySpace, Dada.net lets you create and customize a personalized home page--and more important, upload photos, videos, music, and blog posts. And you can do all of that from your phone's Web browser (or from your PC).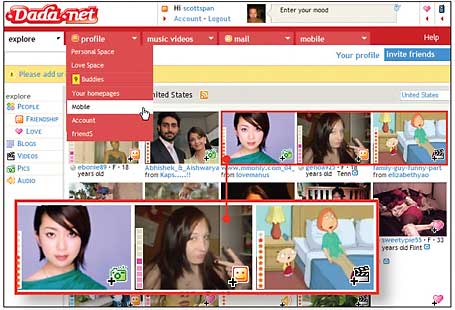 The service makes some of its income from the Google Ads its members view. You can share in the revenue if you have a Google AdSense account: The greater the number of people who see your profile and its ads, the more money you and Dada.net make. For that reason, you'll start receiving friend requests right away from people you don't know; however, the site's privacy settings let you screen out most of those unwanted inquiries.
Dada.net also specializes in hooking you up, and provides a "Love" profile separate from your "Friendship" profile. Many of Dada.net's mobile services are available for free, but some others--including "Love" chats and cell phone ring-tone and wallpaper downloads--require a monthly subscription that can run as high as $10 per month, so be sure to click cautiously.
Shop Tech Products at Amazon