$200 Linux Desktop Systems Are No Bargain
At a Glance
Everex gPC TC2502

PCWorld Rating

Mirus SITLC420

PCWorld Rating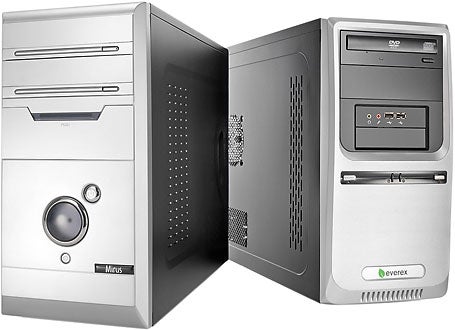 On Sears.com and Wal-Mart.com -- two sites that sell cheap Linux-based PCs -- potential buyers post questions like, "Which version of Windows does this have?" and "Can I run Windows applications on this?" While either the Mirus SITLC420 or the Everex gPC TC2502 might be an option for technically savvy people who want to dabble in Linux, these machines are very poor choices for the folks the two stores usually cater to.
That's because, despite the rock-bottom prices, neither PC qualifies as a bargain. They use lowest-of-the-low-end components--you're essentially paying fair prices for inferior products.
But more important, while the gPC has a slightly easier-to-use version of Linux than the Mirus does, I found both Linuxes to be extremely cumbersome (and I've experimented with Linux distributions before). If you aren't a die-hard Linux fan, these PCs aren't for you.
PC Special in Aisle 5
The Mirus SITLC420 we evaluated comes with a 1.6-GHz Intel Celeron 420 processor, 1GB of RAM, an 80GB hard drive, a CD-RW drive, and the FreeSpire Linux operating system, which is based on a version of Ubuntu Linux. It costs $300 at Sears.com (online only); a $100 rebate is available through Mirus, though Mirus says to allow three to four months for the check.
The $199 Everex gPC TC2502 is sold by retailers such as Wal-Mart; it's available online and at brick-and-mortar stores. The Everex isn't as well equipped as the Mirus; it has a 1.5-GHz Via C7-D processor, 512MB of RAM, an 80GB hard drive, and a CD-RW/DVD-ROM drive. It runs a version of Linux called the gOS, which is based on Ubuntu, as well.
Both PCs have two front-mounted USB ports, and microphone and headphone ports; the Mirus has several media card slots too, hidden behind a small spring-loaded panel. Both have integrated 10/100 ethernet, and the Mirus has a 56-kbps modem.
Both rely on integrated graphics and VGA monitor connections (though the gPC ships with a DVI cable, for some reason). Neither PC includes a bundled monitor, of course. And both systems come with very similar, very bad speakers.
The keyboard and mouse that accompany the gPC are marginal, but the Mirus system's are so bad I felt like stabbing them with a screwdriver after a while. The Mirus's keyboard keys are so mushy that you must hammer on them, and the spacebar is oddly tilted--to make it work properly, I had to reach forward with my thumb before pressing it.
Letter keys on the Mirus keyboard stopped responding at one point, so I started pressing keys at random. The Sleep key still worked, but when I pressed the Wake Up key, the PC asked for a password, even though I hadn't set one up yet. Eventually I had to reboot.
Because these PCs run Linux, not Windows, we couldn't run our WorldBench 6 Beta 2 test suite on them. The Mirus system appeared reasonably quick running apps like the ThinkFree office suite, but the gPC seemed a bit lethargic.
At a Glance
Everex gPC TC2502

PCWorld Rating

Mirus SITLC420

PCWorld Rating
Shop Tech Products at Amazon