Without software, a computer is basically useless. After all, the whole reason we buy computers is to run programs. Some are games; others are utilities that protect us from malware or our own mistakes. Most are applications we need to get a job done.
And they can all cause grief. Here I answer questions from three readers suffering from program problems.
Don't hesitate to send me your questions--about programs or other technology issues. You can reach me at answer@pcworld.com.
One of My Applications Takes Forever to Load. Why?
--c370872, from the PC World Answer Line Forum
Some programs--Adobe's Photoshop Elements, for instance--just load slowly, and there's nothing you can do about it. Ask around and check online forums to determine if your program is one of those. If it is, your options are simple: Replace it with a faster program, or learn to live with it.
But if you're the only person with the problem, there's probably a solution.
Answer Line Forum contributor smax013 points out, "It is possible that something got 'corrupted' and a reinstall might help." But simply uninstalling and reinstalling the application may not be enough, since the uninstall routines that come with most programs seldom remove everything they should. (And no, using Control Panel's Add and Remove Programs applet won't help; it's just another way to launch a program's own uninstaller.)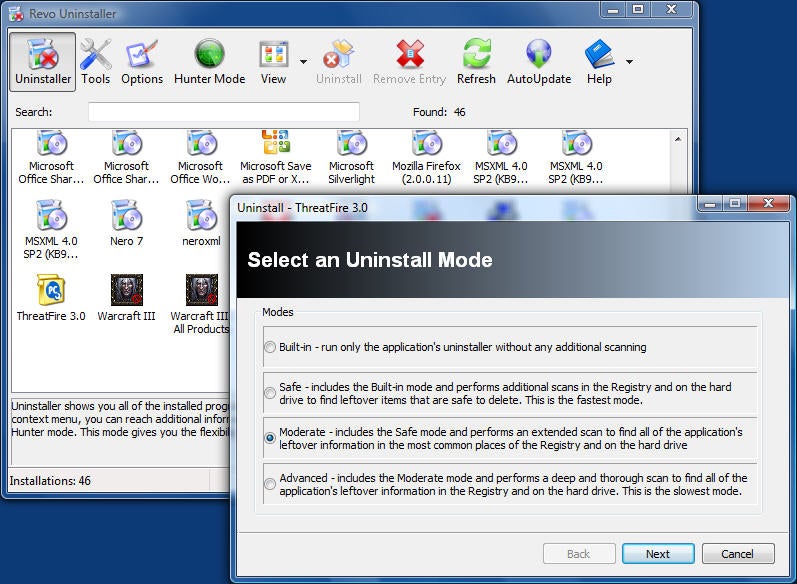 To thoroughly remove an application, you need to uninstall it, remove left-over files that the uninstaller leaves behind, and then clean the Registry. If that sounds scary, try Revo Uninstaller. This freebie runs a program's own uninstaller, then scans the hard drive and Registry for leftovers. It doesn't get everything, even in its Advanced mode, but as near as I can tell, it cleans out the important stuff.
And it automatically creates a restore point before each uninstall. That takes care of the first rule of messing with the Registry: Back it up, first.
A portable version of Revo Uninstaller is available and doesn't require installation. It's nice that properly uninstalling stuff doesn't require you to install something else.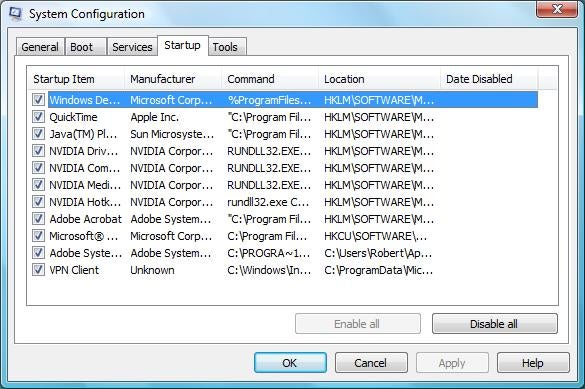 If an uninstall and reinstall doesn't help, look for a conflict with another program--probably one that runs automatically every time you boot. Select Start, Run, type msconfig, press Enter, and click the Startup tab for a list of all such autorun programs. (Revo Uninstaller also has a very nice AutoRun Manager.) Look for anything suspicious or something you don't need, and try unchecking it. Then reboot and see if that solved your problem.
Or you can take the extreme approach:
Create a restore point. In XP, select Start, All Programs, Accessories, System Tools, System Restore; click Create a restore point; and follow the wizard. In Vista, select Start, type sysdm.cpl, and press Enter. Click the System Protection tab, and then the Create button.
Go to msconfig's Startup tab as described above, and uncheck everything.
Reboot and try the program.
If that fixes the problem, return to msconfig and recheck half of the autorun programs. Reboot and try again.
Whether that fixes the problem or not, it will cut in half the number of autostarters that you must test to see if they're causing the problem. By a similar process of elimination, you can halve the number of suspects again to only a quarter of your autostarters.
Continue until you're down to the one program that's causing the problem. (My thanks to forum regular smax013 for suggestions that improved this process.)
By the way, forum contributor rgreen4 correctly guessed that the culprit was Norton Internet Security--which came bundled with c370872's computer and conflicted with the MacAfee security program he preferred. For details, go to our forum.